THE CREAGRUS CALIFORNIA LIST
A personal portfolio
all photos & text by Don Roberson
all photos taken in California
WINTER WREN Troglodytes troglodytes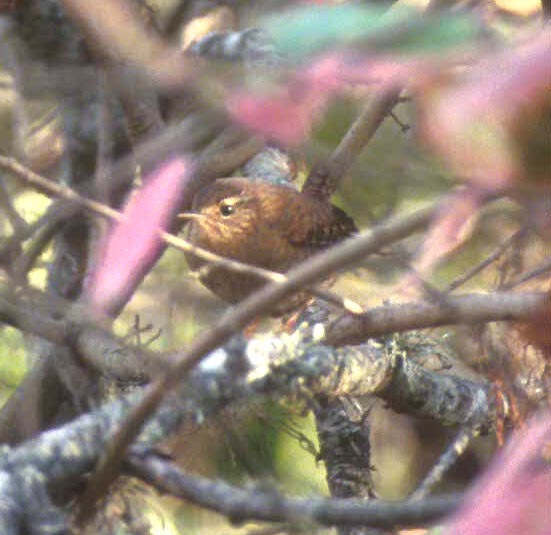 2 Nov 2003 at Big Sur R. mouth MTY

The WINTER WREN is a breeding species of coniferous forest undergrowth in the coastal ranges of northern California and in the Sierra Nevada. It may be most common in moist redwood forests of the northwest, but breeds in similar habitat south along the coast to n. SLO. Wintering birds are more widespread throughout thick undergrowth in the lowlands, but generally avoiding the deserts; rather scarce in southern California.

The only California records are listed below are those with unusual dates or locales. All my other observations are well within normal status & distributional limits. Those preceded by H were vagrants found or co-found by me personally. Within these parameters, these are my personal Winter Wren records of interest:
12/18/77 Tapia Park, Malibu LA scarce here
6/5/82 Pacific Grove MTY in my yard; very late migrant or lost summerer?
See the family page for county abbreviations. All photos & text © 2003 Don Roberson; all rights reserved.
Readers may use this material for their own private enjoyment, study, or research but none of the photos or text herein may be used commercially nor may they be reposted on other web sites without written permission. All material is copyrighted. The posting of photos and text on this private web site is not a submission to review organizations but blanket permission for use of descriptions by North American Birds editors in their research is granted, and serious researchers in general are granted permission to use the records cited herein.

TO CA WRENS PAGE

TO CREAGRUS CALIFORNIA LIST PORTAL PAGE

Page created 23 Nov 2003