In October 2007 we decided, rather at the last moment, to go to the tropics for Christmas vacation. Our trips are usually planned well in advance, based on lots of research, but this one was almost "thrown together" from what was available at that late date. We wanted to visit at least three major habitats and we didn't want to drive ourselves; we also had a semi-strict budget of $2000/each. From these parameters we built what turned out to be a really fun trip that focused on highlight birds, plus mammals, herps, and odonates, and provided plenty of time for photography.
Each of us had been in Costa Rica years ago. Rita spent two-weeks in July 1988 in San Jose in a Spanish language immersion class that included side trips to various parks. She visited Monteverde but missed the quetzal due to bad weather. The photo (left) shows Rita at Monteverde in 1988.

Don visited for 5 days in Nov 1989. Costa Rica was an unexpected port call at the end of one of four months at sea during a NOAA tuna/porpoise cruise, on which Don did seabird surveys. The photo (right) shows Volcan Arenal erupting during that short visit.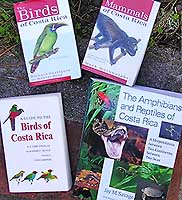 By our visit in 2007, we were older (below), if not wiser. By now there was a variety of great new literature available (right). The classic Stiles & Skutch (1989) field guide is still in print, and remains very useful for habitat, breeding biology, and vocal details. The new bird guide by Richard Garrigues & Robert Dean (2007) was user-friendly, with text & maps facing the plates. The illustrations were good and the text very helpful. Most maps were also accurate, except that a few species on the Osa Peninsula were not shown there in the book. Just out in time for our trip was Wainwright's guide to mammals (2007), an exceptionally well-written book with abundant and interesting life history details. I used the very fine Savage (2002) to identify amphibians and reptile photos on our return. It was color photos of almost all, and expansive text. It was, at ~950 pages, too heavy to carry with us on the trip. So I had to shoot (photos) first and ask all my herp questions later.

Our primary sites were:

San Jose – international airport; we spent only a final afternoon here [Buena Vista Hotel grounds]
Atlantic lowlands around La Selva area – staying at a bed & breakfast in Puerto Viejo de Sarapiqui, with visits to La Selva, La Cinchona & Braulio Carrillo NP
Montane cloud forest at Savegre Mountain Lodge
Pacific rainforest lowlands at Bosque del Rio Tigre on Osa Peninsula
The trip had many highlights but chief among them was the Resplendent Quetzal, the species Rita had missed 19 years ago. A fruiting tree near Savegre was hosting 3 males (one shown, right) and 2 females early each morning.

Other trip high points included Great Curassow, Great Green Macaw, Black-cheeked Ant-Tanager, three cotingas, White-tipped Sicklebill, and Ornate Hawk-Eagle, plus three monkeys, coati, two-toed sloth, agouti, poison dart frogs, two vipers, and some cool odes [see other pages].
Our goals were specialty birds and photography, so no effort was made 'padding' the trip list with widespread species (although obviously some were seen). We got around via taxi or walking, hired drivers for the 3 long drives, and flew back to San Jose from the Osa Peninsula. We recorded 284 nature bird species (not including 'heard only' species pointed out be guides) plus a fine assortment of mammals, herps, and odes. And we only went a little bit over budget.
Literature cited:
Garrigues, R., and R. Dean. 2007. The Birds of Costa Rica: A Field Guide. Cornell Univ. Press, Ithaca, N.Y.
Savage, J.M. 2002. The Amphibians and Reptiles of Costa Rica: a Herpetofauna between Two Continents, between Two Seas. Univ. Chicago Press, Chicago.
Stiles, F.G., and A.F. Skutch. 1989. A Guide to the Birds of Costa Rica. Cornell Univ. Press, Ithaca, N.Y.
Wainwright, M. 2007. The Mammals of Costa Rica: a Natural History and Field Guide. Cornell Univ. Press, Ithaca.
For more pages, all of which have many photos, click on one of the links below