SAN FRANCISCO FORKTAIL
Ischnura gemina
Everything that we currently know about this species suggests that it is now extinct in Monterey County. It was 'interbred' out of local existence by the very closely rated Black-fronted Forktail Ischnura denticollis, whose range has been moving north for decades.
On 11 Aug 1946, somewhere along the lower Salinas River in Monterey County, B. Elwood Montgomery collected a male and a female I. gemina. Montgomery was a renowned odonatist from Indiana. [I don't known why he was visiting Monterey.] He identified the species in-hand and placed them in separate 3x5 envelopes. This identification was later verified by M.J. Westfall. Today the envelopes with their specimens are held by Florida State University. [I am indebted to Bill Mauffray of the International Odonata Research Institute, Gainesville, Florida, for this information.]

There have been no further records of this species within MTY since 1946. Grad students from S.F. State Univ. searched for it in the 1980s, without success. A few limited searches along the lower Salinas River in 2006, including at the Salinas R. mouth, also failed to locate any. Upstream, only Black-fronted Forktails were found.
San Francisco Forktail is nearly identical to Black-fronted Forktail. Indeed, the species name "gemina" was given since it was a virtual twin of I. denticollis. This identification problem is discussed on the Black-fronted Forktail page, and in Manolis (2003). San Francisco Forktail has a very limited range around the San Francisco Bay area, and extending north to southern Sonoma County. Monterey County was once considered the southern edge of its range, but this is no longer the case. The southern portion of its range is now inhabited by Black-fronted Forktail, which appears to out-compete the more local species. The two are known to interbreed, and this hybridization appears to have 'interbred' I. gemina out of existence in the southern portion of its range. Whether any of this may relate to global warming is not known. Changing habitats and urbanization may also be contributing causes.
Dr. John Hafernik of San Francisco State University advises that "our recent work in the SF Bay Area suggests that the range of I. denticollis has shifted northward [in recent decades] with it mostly replacing I. gemina in the South Bay." Graduate student Vicki Moore is working on the molecular genetics of the hybrid zone with I. denticollis. We may expect published information on the changing ranges of these species in the future.
As Black-fronted is known to be replacing San Francisco Forktail around south San Francisco Bay currently, this suggests that the replacement occurred in MTY several decades ago. Under that hypothesis, none would be left in MTY.

However, local surveys have been quite limited. It is not impossible that a relic population of S.F. Forktail might still exist in brackish marshes at the Salinas River mouth or around Elkhorn Slough. You might say that the "jury is still out" — but it doesn't look good for those hoping to see I. gemina in Monterey. . . .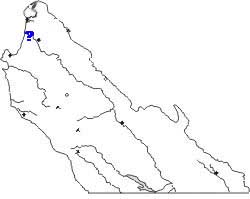 The map shows the probable location of the MTY specimens back in 1946. The label says only "Salinas River" but the species preference for brackish waters elsewhere suggests it may have been near the Salinas River mouth.

The MTY specimens were collected on 11 August. Elsewhere in California, San Francisco Forktails are flying from March to November (Manolis 2003).
Literature cited:
Manolis, T. 2003. Dragonflies and Damselflies of California. Univ. of Calif. Press, Berkeley.
Web resources:
Major identification web sites with much information on California odes include: For sites with excellent photos to compare for identification or to simply enjoy, see: Many of these sites have links to other useful pages. Kathy Biggs's site is particularly useful in her selection of links.
All photos & text © Don Roberson 2007