ABOUT THE PHOTOS
All photos were taken in the wild (with an extremely few exceptions, clearly labeled); most are by me but there are great shots on this site by Greg Lasley, Ed Harper, John Sorensen, Bill Hill, Jeff Poklen, David Fisher, Blake Matheson, Ron Saldino, Trevor Quested, Hans & Judy Beste, Rohan Clarke, Murray Lord, James Ownby, Hideo Tani, and other friends. I am very appreciative of their contributions. All photos are copyrighted by the photographer credited and may not be used without permission.

I am just an amateur photographer who snaps bird pictures while I'm out birding. All the shots are handheld with a comparatively lightweight camera & lens; no elaborate tripods or blinds (hides) or flash systems were used. Only a very few were taken at nests, and then only during the briefest of visits. On rare occasions in the jungle, I will use a small automatic flash but, as you may discover, there are very few shots here of deep-forest birds.
If your interest is in finding professional quality bird photography on the Internet, this site will likely be disappointing. Some of it is good; other stuff is marginal to downright poor (but was the best I had for that avian family). For truly excellent bird photography, try these:

I have friends who are outstanding photographers, including Ron Branson, Herb Clarke, Ed Harper, Greg Lasley, Arnold Small, Brian Small, John Sorensen, and others. Many of them shoot at or near professional level and their images have appeared widely in books and publications. Some make a partial living out of their work. Each has used more professional techniques than I, including blinds at water drips, slave lighting, or Fresnel flash lens. The majority use much better equipment and slower film, but these features add significant weight and many shoot from heavy tripods. Because my photos are just an adjunct to birding, and lightweight, easy-to-use equipment is important to me, I have basically followed in the footsteps of Ed Harper. When he has upgraded his equipment, so have I. My photos are basically for my own enjoyment and to show slides to friends, although over time a number have been published and some originals of rarely-photographed species are archived at VIREO at the Academy of Natural Sciences, Philadelphia. I also often use photography to document rare vagrants to California. Although I have not labeled the photos on this site with details of equipment and film, you can figure it out by noting the date of the photo and reading the next two paragraphs.
My first bird photos in the early 1970s were through an adaptor to my Spacemaster telescope but they were quite fuzzy. From the mid-1970s through 1981 (including my first trip to Africa) I used a standard Nikon manual camera with a Nikon 300mm 5.6 lens. About then Ed Harper started using a very light-weight Tamron 500mm f8 mirror lens with good results, so I followed him with that system. For the next ten years, virtually all my shots were with this outfit. Although very inexpensive, lightweight, easy to focus, and quite portable, there were significant drawbacks. The f8 fixed speed forced the use of faster (and grainier) film and the mirror lens often caused "doughnuts" in the background. In the early 1990s, Ed Harper graduated to a Canon EOS Elan camera with a Sigma 500mm autofocus 6.7 lens. I followed in October 1992, and virtually all photos since them are with this system. I love the ease of switching from manual to automatic (with various priorities) and I am finding, at middle age, that autofocus helps substantially. The f6.7 lens operates as if it were f5.6, so hand-holding shots is still not difficult. While this equipment is much more expensive that the prior stuff, it is still very lightweight and can easily be carried even on lengthy hikes. I have adapted to using tripod-equivalents when I can, such as a beanbag on the car window, or a sturdy tree branch, or my telescope turned sideways.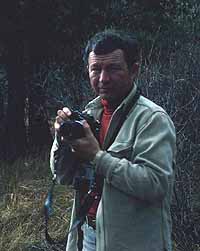 My friend Ed Harper whose equipment I have copied for years
[I took this photo of Ed in Alpine Co., California, back in Oct 1982]
In the 1970s and early '80s I often shot Ektachrome film (up to 400 speed) but by the late '80s I had graduated to almost entirely Kodachrome 200. It is still my film of choice, given my (comparatively) slow f5.6-like lens. I find the colors crisp and lifelike, and the grain not too bad (but still annoying...). When I can shoot from the stability of a car window (as on African safari) I will use a lot more Kodachrome 64 to reduce the grain to minimal. Occasionally I compromise with Fujichrome Sensia 100. I prefer the overall natural colors of Kodachrome to the sometimes garishly bright results from, say, Velvia or other specialty film although my more professionally-minded friends tend to prefer the brighter colors (even if not truly lifelike). I do not shoot enough film that price is an important variable, and rarely shoot more than a dozen shots of the same bird.
The slides are scanned for this site with a Nikon CoolScan III, after which I adjust image size, contrast, brightness, and remove dust & scratches using PhotoShop software. I have saved the images at low resolution to save loading time, and while the computer screen is limited in its ability to show high resolution, sometimes something is lost in all the transfers. The initial design/layout of these pages was created on a Macintosh OS computer using Netscape Composer.

UPDATE: Since writing the above in ~2000, I have gone to digital photography with a Canon digital camera and autofocus, image-stabilized lens. The web pages are now created in Dreamweaver. I need to update this entire discussion, but that must await another time.

All photos on this site are owned by the photographer credited, and each is copyrighted and may not be used, copied, or distributed without their permission. Unless otherwise indicated, the photos are mine and thus © Don Roberson. Inquiries for any use may be directed to creagrus@montereybay.com, or in writing to P.O. Box 985, Pacific Grove, CA 93950 USA.
Page created Feb 1999; updated 5 Jan 2000, briefly again 30 Dec 2008