AFRICA = sub-Saharan Africa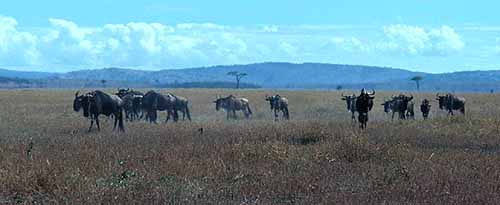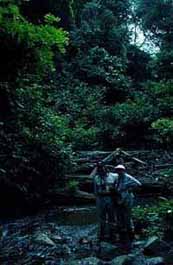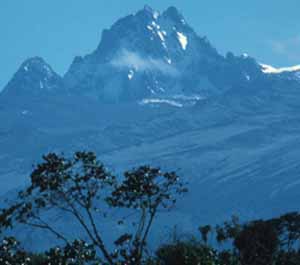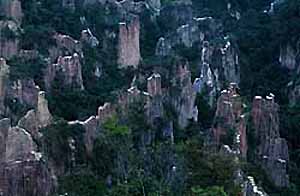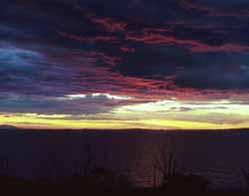 Images of Africa, a spectacular continent which still retains many wild and beautiful places:
(top) White-bearded Gnus on the move across the plains of Masai Mara, Kenya, Nov 1981
(middle left) the rainforest of the Congo basin -- here, Rita Carratello & I are in La Lopé Reserve, Gabon, in July 1996 (photo with my camera at my request by Bill Bouton)
(middle right) Mt. Kenya on a bright clear African morning (photo by Steve Wilson in Nov 1981)
(bottom left) Lekoni Canyon, extreme southeast Gabon, July 1996 [Americans may be reminded of Bryce Canyon in Utah... it was surely an unexpected African landscape to me]
(bottom right) sunset over Lake Victoria on the Kenyan side, Nov 1981. Photos © D. Roberson except as noted.
Unfortunately, much of Africa has been degraded with cattle farming, fences, poaching, and many recent wars. Human populations continue to explode throughout the continent; famines and disease are major concerns. Yet Africans have made an effort to conserve some of their wonderful land and its animals. Parks and reserves provide important refuges, although some work better than others. I try not to be discouraged. There still is plenty to enjoy.

FAMILIES

There are 11 families entirely endemic to the African realm:
| | |
| --- | --- |
| Scopidae Hamerkop | Bucorvidae Ground-Hornbills |
| Balaenicipitidae Shoebill | Malaconotidae Bush-Shrikes |
| Sagittariidae Secretarybird | Prionopidae Helmet-Shrikes |
| Musophagidae Turacos | Picathartidae Rockfowl |
| Coliidae Mousebirds | Promeropidae Sugarbirds |
| Phoeniculidae Wood-Hoopoes/Scimitarbills | |
Two other families are nearly endemic: ostriches used to extend into the Middle East and still get into the Western Palearctic (barely), and one of the 28 species of the Platysteiridae (Ward's Flycatcher-Shrike Pseudobias wardi) is resident in Madagascar:
AVAILABLE REFERENCES
Handbook: The Birds of Africa series is a tremendous venture. Five volumes have been published of an anticipated nine. The first (Brown, Urban & Newman 1982) was a little uneven, esp. in the artwork (e.g., White-eyed Kestrel painted with dark eyes) but the succeeding volumes edited by Urban, Fry & Keith have been wonderful. Use the maps with a little caution (e.g., nightjars in the Congo basin do not reflect reality) but the books are an authoritative compendium of what is currently known about all African species.
Field Guides:
EAST A new guide to Kenya & n. Tanzania (Zimmerman et al. 1996) is a major improvement over what was available during my 1981 visit, and now sets the standard for east Africa.
SOUTH There are a variety of competing guides for South Africa, and a selection of photographic pocket-sized guides as well. I was quite content with Sinclair et al. (1993).
WEST West Africa has only poor overview guides, although the new Barlow & Wacher (1997) for the Gambia & Senegal looks quite good.
CENTRAL The Congo Basin area needs a good guide, as do the tier of countries below it (e.g., Angola through Zimbabwe). Two small guides in French have good art and fairly easily translatable text for southern Gabon and for the islands of Såao Tomé & Príncipe, and so will be of some help around the Gulf of Guinea. Both are authored by Patrice Christy with art by William Clarke: Guide des Oiseaux de la Réserve de la Lopé [Gabon] (1994), and Guide des Oiseaux de SåoTomé et Príncipe (1998).
Journals: The African Bird Club (headquartered in Britain) has published two volumes of the Bulletin of the African Bird Club each year since 1994. It is a wonderful journal full of great color photos, timely information, and in-depth articles to both birding locales and identification problems. I cannot recommend it highly enough. There are also a variety of regional journals that cover local distribution in depth and which have major identification papers from time to time; I have used such papers (e.g., on greenbul i.d.) from Scopus -- an east African journal -- on several trips.

Non-bird Book [nature / exploration / adventure]: I very much enjoyed Cry of the Kalahari by Mark & Delia Owens. In 1974, carrying little more than a change of clothes and a pair of binolculars, two young Americans flew to Africa, bought a third-hand Land Rover, and drove deep into the middle of the Kalahari Desert. There they lived for 7 years, in an unexplored area with no roads, no people, and no source of water for thousands of square miles. Their chosen mission was to study large predators in the last African wilderness. They endured against innumerable odds and mis-adventures, trying to put enough of a research project together to attract funding. That they succeeded is unreal. This is a fascinating book about people (the Owenses) but just as fascinating in what they learned about the social behavior of Lions and the elusive, nocturnal Brown Hyenas. Birds also brighten the pages here and there. A great read (or listen; it is available on tape).

BEST BIRDS [see my explanation for choosing "best birds" here]

There are many great birds in Africa, but some of the rarest and must difficult to find are just too dull or too similar to more common species to make this listing. My choices for the "top 7" birds of Africa -- mostly fairly traditional choices -- are:
Gray-necked Rockfowl [Red-headed Picathartes] Picathartes oreas strange & wonderful birds which nest inside caves on thick mud nests (recalling an overgrown Barn Swallow) but hunt on the forest floor like ground-cuckoos, each rockfowl is large, impressive, secretive, bare-headed, local, rare, and just plain weird... the best of treats! I was very fortunate to obtain a few seconds view of two leaving their breeding cave in northeastern Gabon in 1996; story and photos of habitat are on the Rockfowl page.
White-necked Rockfowl [Yellow-headed Picathartes] Picathartes gymnocephalus the West African representative of the Picathartidae (Gray-necked is in Cameroon & Gabon) to which all of the prior adjectives apply. A good summary of current information on both rockfowl is in Thompson & Fotso (1995) plus details on how to see them
Congo Peafowl Afropavo congoensis a mysterious & elusive bird of the forest interior which had not been seen by westerners in the wild until Alan Root recently photographed it in the Congo Basin (see Bull. ABC 1:27)
Shoebill Balaeniceps rex a specialized lungfish feeder initially called the "King Whalehead," and still debate continues on whether it is a pelican or a stork or something else, it is usually placed in a family of its own. It is only sparsely distributed in remote and usually inaccessible papyrus swamps of central east Africa. It must be among Arnold Small's favorite birds, since his California license plate reads "B. rex." Still unpredictable, it has been more easily located in recent years; a fine summary article is by Collar (1994).
Lyre-tailed Honeyguide Indicator xanthonotus a (perhaps apocryphal) story I've heard is that Cassin, the pioneering ornithologist in the Congo basin, never saw this species despite hearing it on many occasions. It is virtually impossible to see from inside the forest canopy as it make "bouncing-down-the-steps" display flights above the canopy, enhanced by booming notes from its remarkable tail; the sound can be heard for a mile. I did watch one in Gabon (thanks to Patrice Christy & Ian Sinclair) which was displaying at the edge of the forest at La Lopé Reserve.
Standard-winged Nightjar Macrodipteryx longipennis a scarce & local & marvelously strange nightjar with incredibly long "standards" extending up from each wing in breeding-plumaged males. Alas it is a more ordinary bird when the pennants are molted on the winter grounds, or in females. Breeds in the northern tier of the African rainforest (w. Africa to s. Sudan) and then migrates north toward the Sahara in "winter" (=northern summer).
African River-Martin Pseudochelidon eurystomina an enigmatic migratory swallow of the Congo basin -- one of only two river-martins in the world -- which captured the imagination of many due to its inscrutable movements. Recently it has been proven to nest on coastal savannas of Gabon and then migrate inland to disappear far up the Congo and other major rivers. Looks and acts more like the wood-swallows (Artamidae) of SE Asia & Australasia than typical African martins and swallows.
FAVORITE PHOTOS: This link goes to a page with the three favorite African bird photos that I have taken so far.

Literature cited:
Barlow, C., and T. Wacher. 1997. A Field Guide to Birds of the Gambia and Senegal. Yale Univ. Press, New Haven.

Brown, L. H., E. K. Urban, and K. Newman, eds. 1982. The Birds of Africa. Vol. 1: Ostriches to Birds of Prey. Academic Press, London & New York.

Christy, P. and W. Clarke. 1994. Guide des Oiseaux de la Réserve de la Lopé. Ecofac, Libreville, Gabon.

Christy, P. and W. Clarke. 1998. Guide des Oiseaux de Såo Tomé et Príncipe. Ecofac, Libreville, Gabon.

Collar, N. J. 1994. The Shoebill. Bull. African Bird Club 1: 19-21.

Fry, C. H., S. Keith, and E. K. Urban, eds. 1988. The Birds of Africa. Vol. 3: Parrots to Woodpeckers. Academic Press, London & New York.

Keith, S., E. K. Urban, and C. H. Fry, eds. 1992. The Birds of Africa. Vol. 4: Broadbills to Chats. Academic Press, London & New York.

Owens, M., and D. Owens. 1984. The Cry of the Kalahari. Houghton Mifflin, Boston.

Sinclair, I., P. Hockey, and W. Tarboton. 1993. Illustrated Guide to the Birds of Southern Africa. New Hollard, London.

Thompson, H. S., and R. Fotso. 1995. Rockfowl: the genus Picathartes. Bull. African Bird Club 2: 25-30.

Urban, E. K., C. H. Fry, and S. Keith, eds. 1986. The Birds of Africa. Vol. 2: Game Birds to Pigeons. Academic Press, London & New York.

Urban, E. K., C. H. Fry, and S. Keith, eds. 1997. The Birds of Africa. Vol. 5: Thrushes to Puffback Flycatcher. Academic Press, London & New York.

Zimmerman, D. A., D. A. Turner, and D. J. Pearson. 1996. Birds of Kenya and northern Tanzania. Christopher Helm, London.
TOP
BACK TO HOME PAGE
BACK TO LIST OF BIRD FAMILIES OF THE WORLD
Page created 23 Feb 1999; updated 21 Nov 1999