AFRICA FAVORITES
My three favorite African photos at this point in time are highlighted below, sometimes in a larger format than on a Family page. Of course, many outstanding photographers have worked in Africa and these shots -- taken on the run, as it were -- will suffer in comparison to such works as Karmali (1980). But they bring back many fond memories....
All photos © D. Roberson.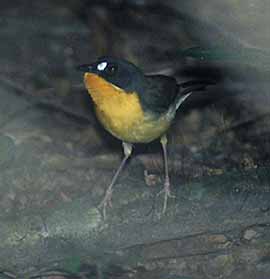 Forest Robin Stiphrornis eythrothorax at La Lopé Reserve, Gabon, on 6 July 1996. This is a forest-floor skulker and seemingly impossible to photograph without elaborate blinds and flash equipment, but this was taken just with my lightweight 500mm lens and a simple Vivator auto flash. Ian Sinclair deserves major credit for calling in and keeping this bird close-by for a short time with a tape. I only got one good chance for a shot -- and here it is. I've never seen another photo taken "in the wild;" all published photos of which I'm aware are hand-held birds from banding operations. I particularly like the long-legged look of this undergrowth specialist which is readily apparent in the photo.
Lilac-breasted Roller Coracias caudata at Kruger National Park, South Africa, in July 1996. This open-country roller is common and easy to see and photograph in the major game reserves of east & southern Africa, but is spectacular nonetheless. I happen to like the arc in the tiny tree top on which it is perched (caused by the weight of the bird) and the wealth of lavender & turquoise against the big blue African sky in this particular shot.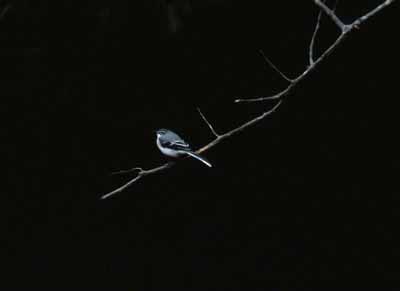 This Mountain Wagtail Motacilla clara at Naro Moro, at the base of Mt. Kenya in Nov 1981, was foraging along the dark river below when I came along and it flushed up onto this sunlit bare branch. I did have the instinct to put the branch on a triangle into the shot, but the "arty-ness" of it all was unexpected. Despite the limitations of Internet posting, perhaps some of the effect comes through -- the photo is actually in good crisp focus but reducing the size of the image to this format (to save space & loading speed) has caused quality loss. It remains, however, one of my favorite photos.
Literature cited:
Karmali, J. 1980. Birds of Africa: A Bird Photographer in East Africa. Viking Press, New York.