ASIAN FAVORITES
My three favorite Asian photos at this point in time are highlighted below, sometimes in a larger format than on a Family page. All were taken with a 500mm mirror lens at f8, a format which has definite limitations, some of which show in these shots. None of the images are particularly artistic (as have some other "favorites" been) but, instead, I was impressed with these particular birds. Each is magnificent and one catches one's breath when they first appear. All photos © D. Roberson.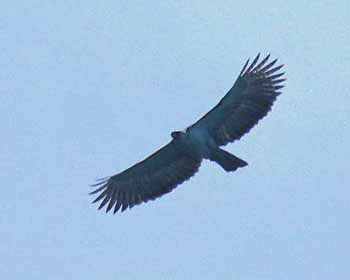 Philippine Eagle Pithecophaga jefferyi on Mt. Katanglad, Mindanao, Philippines, on 27 Feb 1990. After all the weighing and balancing of various tests and criteria, I chose this as the "best bird in the world." Finally seeing it in a remote corner of the Philippines was a highlight of my life. The full story and more photos (including its nest and chick) are on-line at this link. This shot was taken as it soared up its canyon and over my head to forage in the wilderness forest beyond.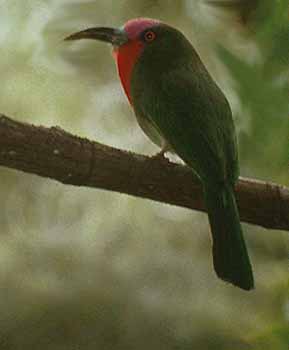 Red-bearded Bee-eater Nyctyornis amictus at Ketambe, west Sumatra, Indonesia, in mid-Aug 1988. A pair were frequenting a burrow in a road cut near the reserve, and I got this shot. Look at the unbelievable colors on this bird! [I have tried to downplay the "doughnuts" in the background produced by the narrow depth of field of the mirror lens, using PhotoShop, but one can still see them. Hopefully, they are not too distracting as the bird really captures one's interest.]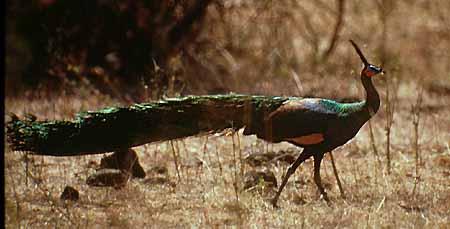 Green Peafowl Pavo muticus at Baluran National Park, east Java, Indonesia, on 15 Sep 1988. This is a threatened species with disjunct populations in remote Burma, China, Vietnam & Thailand, and this population in the open savanna of east Java (a habitat that remains one of northern Kenya). It has already been extirpated in India and other mainland SE Asia areas in which it formerly ranged. I found the males to be totally spectacular with their casque horn and long tail.