NORTH AMERICAN FAVORITES
My three favorite North American photos at this point in time are highlighted below. In fact, since one of my choices is a pelagic bird photographed from the mainland, I've thrown in an "extra" choice just to be fair!
All photos © D. Roberson.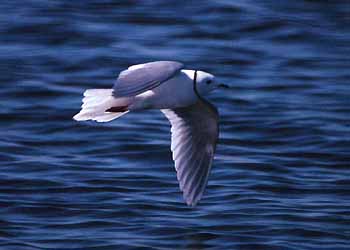 Ross's Gull Rhodostethia rosea while any photo of this gorgeous creature is likely to be looked upon with approval, I thought the background colors in the water enhanced this flight shot substantially. Taken at Churchill, Manitoba, Canada, in June 1988.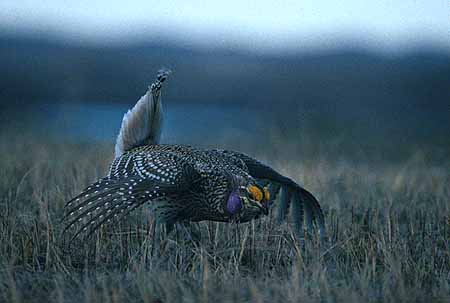 Sharp-tailed Grouse Tympanuchus phasianellus this male is in full display in the crisp cold dawn on his dancing grounds in the American prairies. All of the dancing grouse are spectacular, but I like this shot because one gets a feel for the small hill on which the lekking site is located with a prairie pot-hole in the background. One can also see the motion in the central tail feathers and the feet and going a million-miles-a-minute in its incredible stomping dance accompanied by lawn-mower sounds! His yellow eye combs and purple neck sack are fully inflated. Taken from a blind at Crescent Lake NWR, Nebraska, 14 Apr 1995.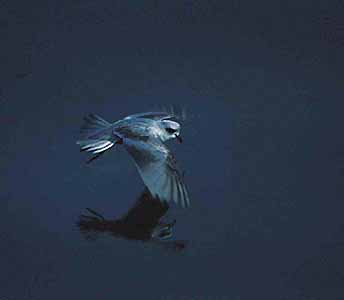 Fork-tailed Storm-Petrel Oceanodroma furcata yes, I know I have a separate "realm" for pelagic birds, but this shot was taken from the continental mainland. Occasionally strong winds offshore will push flights of these storm-petrels into Monterey Bay. I photographed this one and its reflection from the commercial wharf in the Monterey harbor, California, on 25 Aug 1983 [a similar shot was among the prize-winners in "ABA Members' Best", Birding 21: 92 (1989)]. It is actually crystal clear, despite how the photo comes out when posted to this media. It is fortunate that most of these storm-petrels head rapidly back to the open seas. The Western Gulls in the harbor learn these are easy meals within a couple of days and reek carnage on those lingering in the harbor too long.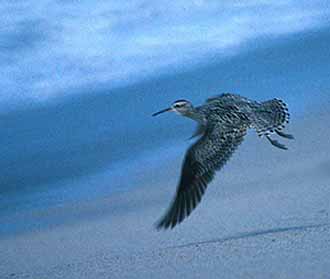 Little Curlew Numenius minutus much of my North American photography has been taken up in documenting vagrants. A lot of these have found their way into the birding literature -- via Western Birds and CBRC reports, or American Birds/Field Notes seasonal reports, or Monterey Birds or Rare Birds of the West Coast. One of the rarest is this Little Curlew which has reached North America only a handful of times; this was the second California record and the first for my home county (Monterey Co.): on Carmel beach in Sep 1994. Flight shots can be difficult, but this one is actually reasonably crisp (despite quality losses when posted to this media) and shows many characters rather well.