NEOTROPIC FAVORITES
My three favorite Neotropic photos at this point in time are highlighted below, sometimes in a larger format than on a Family page. All were taken with a 500mm mirror lens at f8, a format which has definite limitations, some of which show in these shots.
All photos © D. Roberson.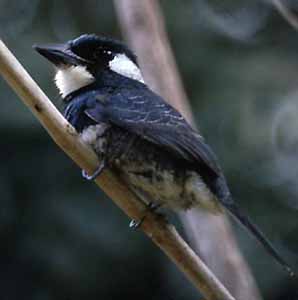 Black-breasted Puffbird Notharchus pectoralis on Pipeline Road, Canal Zone, Panama, 14 Jan 1981. Forest birds are very difficult to photograph, but on this particular day I did have a fill-flash unit and was able to approach this confiding puffbird quite closely. I was pretty happy with the results despite the inevitable "doughnuts" in the background caused by the mirror lens.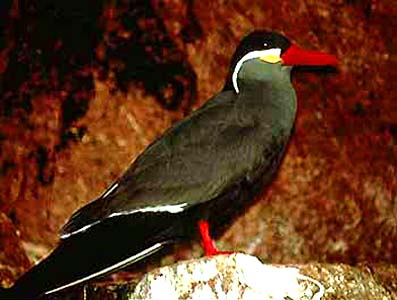 Inca Tern Larosterna inca at Illas Ballestras, off Paracas Peninsula, Peru, on 12 June 1987. I had my entire camera case with me in the small boat we took out to these seabird islands (several miles offshore -- they are mined for guano) and so asked the captain to allow me to set up a flash unit as we began drifting into a darkened cave-like overhang in which these terns were roosting. I had just one opportunity to take one full-frame shot with the flash before the tern departed, and this is the result.
Agami Heron Agami agami in Cocachoca, Tambopata Nature Reserve, Peru, on 24 June 1987. This heron was feeding in the shadows in the shallows of the oxbow lagoon, and we crept up on it in a canoe. Reflections on the bird rippled in the water and reflected back against the heron's chest, creating a Chinese print effect that only partially comes through on Internet posting. Agami Herons are usually quite shy and not often photographed.