WESTERN PALEARCTIC FAVORITES
My three favorite Western Palearctic photos at this point in time are highlighted below, sometimes in a larger format than on a Family page. All were taken in Israeli and the Sinai (then Israeli occupied) in Oct-Nov 1981 while I was on a SCUBA-diving and tourist trip with my father and sister. All were shot with a 300mm lens either handheld (top two) or resting out a car window (bottom). Although soon after I moved on to handheld 500mm lens (because of the difficulty in getting close enough to photograph birds) -- and I still use a 500mm lens today -- this Nikon 300mm f5.6 lens was perhaps the best quality lens I've used. Its depth of field far surpasses that with which I work today.
All photos © D. Roberson.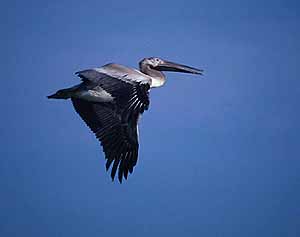 Eastern White Pelican Pelicanus onocrotalus at Huleh Reserve, Israel, on 26 Oct 1981. Focusing hand-held flight shots is difficult enough, but I particularly like this picture because both the back wing and the front wing are in focus, something my current lens can't do. Also, I was 29 years old at the time and my eyes were keener -- I don't think I could manage this shot now, even with the same equipment.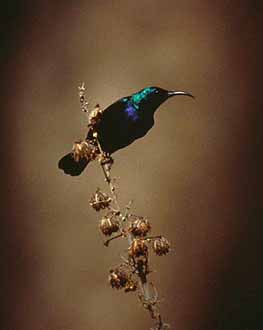 Palestine Sunbird Nectarinia osea at Wadi Ammud, Israel, on 26 Oct 1981. I visited this small desert canyon late in the afternoon as I planned to stay until dark for the Eurasian Eagle-Owl Bubo bubo I had been told lived here (and did see one at dusk). This was just a lucky shot in late afternoon sunlight when the male sunbird perched atop the dry stalk. Again, the fine camera and a narrow shutter opening caused a blending of the background. Less quality cameras would have created "doughnuts" or other background difficulties.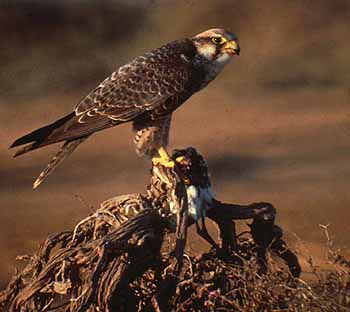 Lanner Falcon Falco biarmicus at Sharm-el-sheik, tip of Sinai Peninsula (now in Egypt), on 6 Nov 1981. After a day's diving in the Red Sea, I accidentally fell off a two-story balcony at the resort in which we were staying, suffering a concussion and head injuries. After being air-lifted to an Israeli hospital, I eventually returned to the resort but (of course) was no longer allowed to SCUBA dive. So I spent my time birding and taking bird photos (and happened to come upon David Hunt & Bill Oddie during that time; photo of Western Palearctic page). Unfortunately, I have no current recollection of that week -- it is just a blank stop in my memory -- but I did write field notes, and from them I learn the date of this photo. I actually have a series -- apparently taken from the car window -- of this Lanner taking a Bar-tailed Godwit off the mudflat and carrying it to several perches to devour.