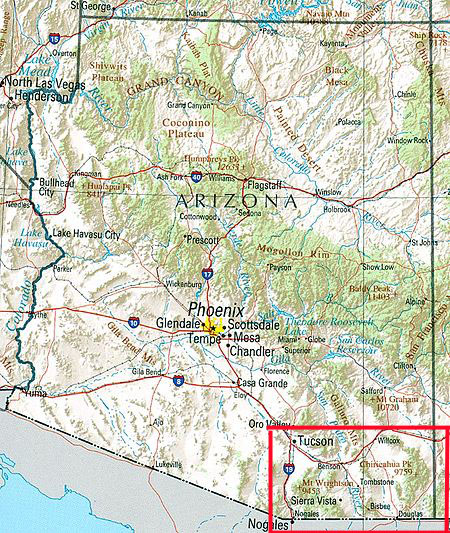 This 5-day trip to southeast Arizona [red box on map] was to search for ABA rare birds that had been present for a time. We hoped to photograph as many of those as possible, as well as other Arizona specialties. We had 9-10 target birds but after failing on the first 3 tries, we rearranged our trip to permit a second try at those. We birded the six areas that are marked on the map below with numbered red locations:
DeAnza trail along the Santa Cruz River near Tubac
Pinery Canyon high in the Chiricahua Mountains, and near Barfoot Park [overnighted at Rodeo, New Mexico]
Hunter Canyon in the Huachuca Mountains
upper Carr Canyon in the Huachuca Mountains
upper Ramsey Canyon in the Huachuca Mountains
Ash Canyon B&B, a private yard with feeders [one late morning & 2 late afternoons], plus nearby Battiste B&B for Elf Owl (below) viewing at dusk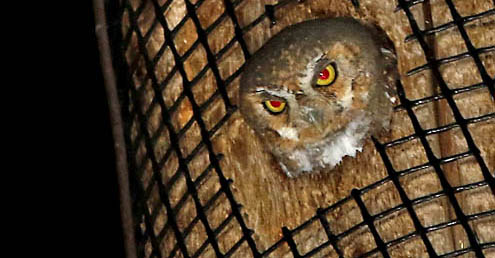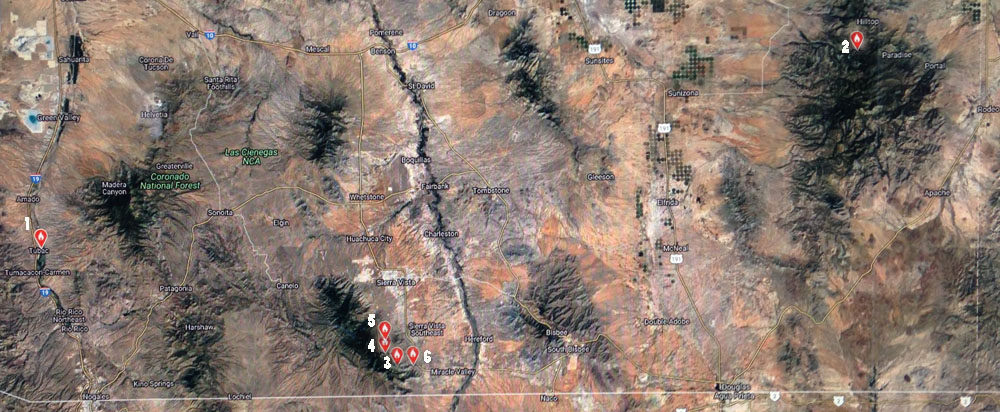 San Pedro River (27 Apr & 1 May)
The Santa Cruz River arises near Patagonia, heads into Mexico and then turns north back into Arizona to its confluence with the San Pedro River, south of Phoenix. It is of major ecological importance in the southwestern United States. The old town of Tubac provides access to the high-canopy lowland woodland (below right) along the DeAnza trail. Conspicuous breeding birds include Summer Tanager (right).
We went in search of vagrant Rufous-backed Robins and Sinaloa Wren, and a nesting pair of Rose-throated Becard. We dipped on all three on 27 April, and re-arranged the trip to give at least the becard a final try before catching our plane in Tucson on 1 May. During our efforts for the becard we discovered three nests (one of them shown below left); two were old but one may have been in use. Rita spotted and photographed the male Rose-throated Becard (bottom left ) on our final try.
Chiricahua Mountains

In the Chiricahua Mountains of extreme southeastern Arizona (above) our primary target was this vagrant Slate-throated Redstart (right) that had returned for a third year. The species breeds in Mexico within 150 miles south of the border. The first U.S. record was in 1962 in southern New Mexico, (Harris 1964) but there may be two dozen records between Arizona and Texas by now. Several have nested. Yet most locations have been well off the beaten path and this was the first we had chased in the ABA area.

We also took time to visit Rustlers Park and Barfoot Park for high elevation pine species. Mexican Chickadee was seen here — its range in the U.S. is limited to the Chiricahuas and an adjacent range in New Mexico. Other interesting specialty birds included Hepatic Tanager (below left) and Yellow-eyed Junco (below right).
Hunter Canyon, Huachuca Mountains

Hunter Canyon is the southernmost location in the Huachuca Mountains that we visited. The major rarity here was a pair — or even maybe 3 birds — of Rufous-capped Warbler (right). This is an active but skulking Mexican species that has strayed across the border only a handful of times. There are now at least 30 records between Texas (first in 1973) and Arizona (first in 1977) and a number of recent nesting attempts. Most have been in remote mountain canyons.

From the trailhead at the end of Hunter Canyon Road it is a steady and rather steep ascent through hot open scrubland to reach an isolated patch of woods 0.7 miles above.

Searching for the elusive birds took some time, but suddenly a pair dashed right by us, one chasing the other. After some time they appeared briefly at the tops of adjacent shrubs at the edge of the dry ravine for these photos. Those present at the time were quite pleased: the photo shows (L to R) Frank Salmon from Florida; Rita Carratello; and two clients and their guide, Matt Matthiessen (waving).
Carr Canyon, Huachuca Mountains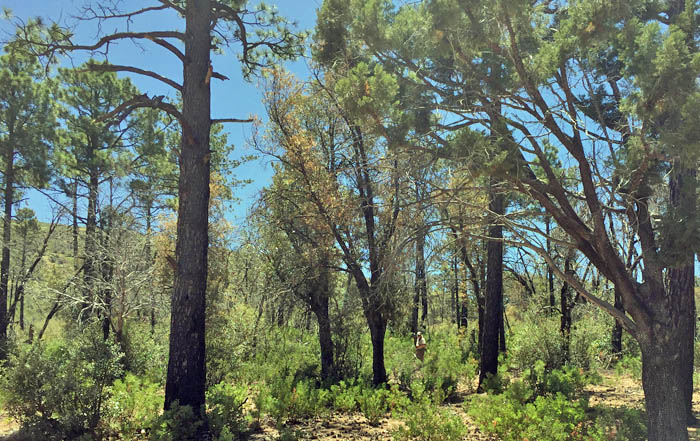 A very winding, steep, and bumpy road takes one high into the mountains up Carr Canyon, where one finds stands of tall pines with a short scrubby understory at Reed Township Campground (7200' elev; photo right by Rita Carratello).
Last year, and well into this year, a pair of vagrant Tufted Flycatcher had resided at the edge of this camp — and had even built a nest — but they disappeared about a month before our trip. Coincidentally, a pair of Tufted Flycatcher appeared about then in upper Ramsey Canyon — perhaps the same birds were involved? We later would visit Ramsey Canyon in search of the one still remaining by late April 2018, but we drove up here mid-day in hopes of photographing other Arizona specialties.
We were most successful with the rarest "regular" Arizona species at this location: the tiny Empidonax, Buff-breasted Flycatcher (below). They breed in the scrubby understory.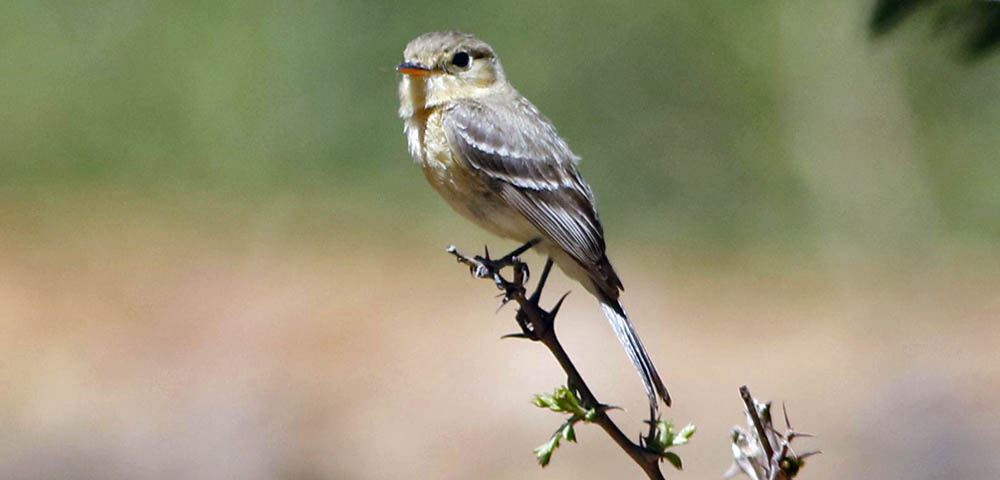 Ramsey Canyon, Huachuca Mountains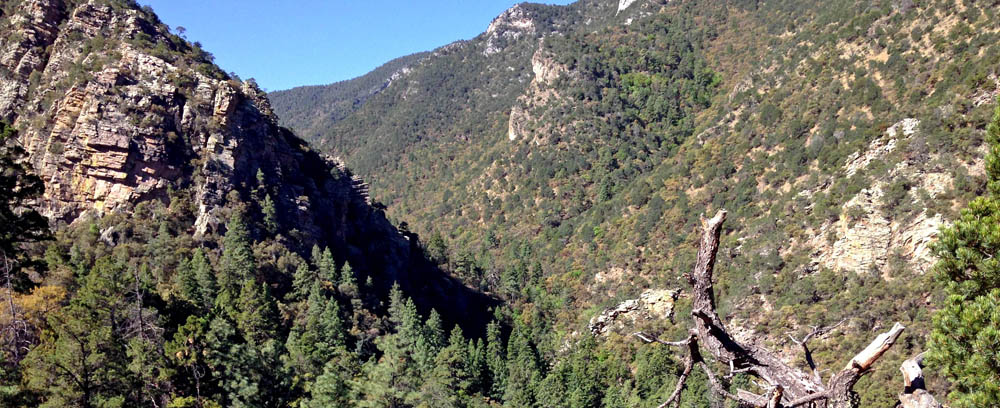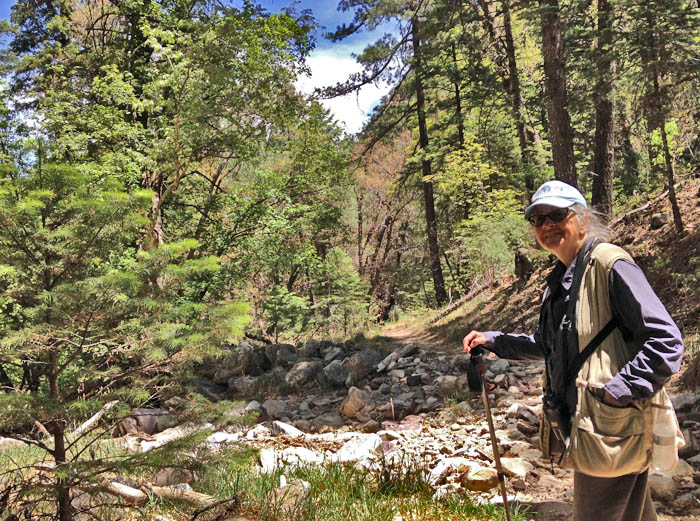 A pair of Tufted Flycatchers — possibly the Carr Canyon pair (see above) — were in upper Ramsey Canyon in April 2018 in the general vicinity of where one or two had been present in 2016 and 2017. By the time of our visit during the last week of April, just one bird was remaining — but it was building a nest! The site was at about 6600' elevation high above Ramsey Canyon Reserve in the Miller Peak Wilderness of Coronado National Forest. To reach this bird one must undertake as strenuous 2-mile hike from the parking lot of Ramsey Canyon Preserve, a gain of about 1100 ft. It took us 2 hours to reach the location (right). The on-line directions were good and Rita soon spotted the Tufted Flycatcher in the canopy (photos below).
It was a very active small flycatcher, hovering around trunks and limbs and picking up small bits of lichen, which it took to its nest that was being built high overhead. It often gave a soft, dry rattle "twreeet" which reminded Rita of Northern Rough-winged Swallow.
There have been about 10 U.S. records of Tufted Flycatcher since the first in Big Bend NP, Texas, in Nov 1991 (Zimmer & Bryan 1993).
Two other fine Arizona specialties in the vicinity of the nest were Red-faced Warbler (top left) — it was paired and the female was also nest-building — and Elegant Trogon (bottom left). We also recalled that this part of upper Ramsey Canyon was where we'd seen an Eared Quetzal (then known as Eared Trogon) Euptilotis neoxenus back in August 1991.

In addition, both during the hike up to the Tufted Flycatcher and during the return hike back to the Preserve, we heard the stake-out Flame-colored Tanager singing at its "usual" location about half-mile back along the trail. We were able to record calls on an iPhone but the bird was hidden down a steep canyon and we did not see it.
Ash Canyon B&B, eastern foothills of Huachuca Mountains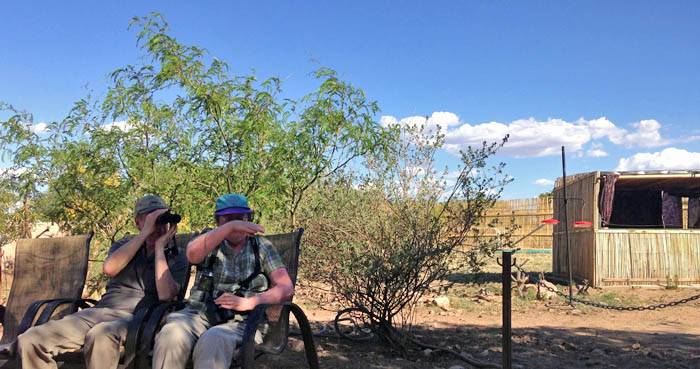 Ash Canyon B&B sits near the north rim at the base of Ash Canyon, off Turkey Track Road near Hereford and is a private B&B and bird garden operated by Mary Jo Ballator ($10/person per day). Set at the edge of a Madrean Oak woodland in desert scrub, there are multiple bird feeders and hummingbird feeders. Our focus was hoping to see and photograph a male
Lucifer Hummingbird
(above). Rita spotted both a female and a male Lucifer hours before Don saw one — and each visit by the rare hummer was just seconds in length.
There is a photo blind — see it at far right in this photo — that costs extra but has views of a water bubbler area and the two hummingbird feeders you can see. It was those feeders that the male Lucifer was using and finally, after 6 hours spread over 3 visits, the male shown above appeared long enough for photos. I was happy to get the one above from the "public" area.
The evening before my Lucifer photo I missed this same bird as I was photographing this male
Rivoli's Hummingbird
(below left) at the very instant the Lucifer was visiting the photo-blind behind me! A fine resident at this locale is
Mexican Jay
(below right).
Literature cited:
Harris, B.K. 1964. First United States record for the Slate-throated Redstart, and first specimens of various species for New Mexico. Auk 81: 227–229.
Zimmer, B., and K. Bryan. 1993. First United States record of Tufted Flycatcher. Am. Birds 47: 48–50.
TOP