We visited Australia in August 2008, during the austral winter. We had initially planned for a Christmas-time trip, but air fares were essentially double in that "high" season, so we opted for the better bargain. This was Don's third trip "down under," and the second for Rita; previous visits had all been to eastern or southern Australia: New South Wales, Queensland, and Victoria. We visited entirely new locales on this vacation, excepting a single (and rainy) morning in Sydney on our final day.

We came away very impressed (again!) with the colorful and interesting birds, and a fine selection of intriguing mammals. Even widespread and common birds, such as Splendid Fairywren (above) and New Holland Honeyeater (left), never failed to entertain.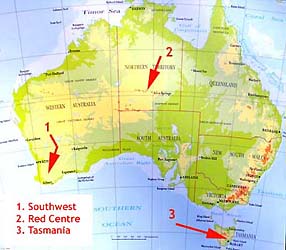 As always, we had specific goals. We visited three widely divergent locales:
ten days in the Southwest of Western Australia, between Perth and Albany, primarily in eucalypt woodlands and coastal heath
five days in the Red Centre of Australia, including the west MacDonnell Range and Alice Springs, and a drive to Uluru [Ayers Rock]
a day + 2 nights in Tasmania, around the Hobart vicinity
The trip plan had started as a southwestern trip, with the primary goals of seeing a Numbat and the endemic birds of that region, but expanded to the other spots through the help of a Qantas Airlines package price [adding Red Centre] and Murray Lord's suggestion that we visit Tasmania, even if only for one day, as Virgin Blue airlines had a bargain fare available.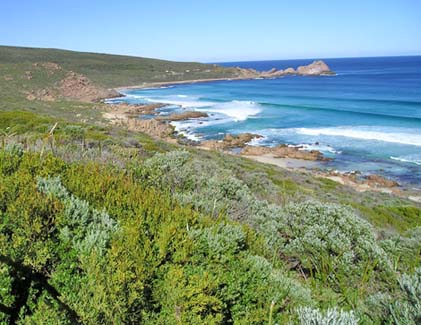 Our ten days in the southwest focused on searching Dryandra Forest (above) for Numbat and birds; visiting coastal heathlands [Cheynes Beach, Two Peoples Bay, Cape Naturaliste (right)]; trying the mallee for a Malleefowl; and seeking the remaining specialty birds at sites south or east of Perth. We found 15 of 16 southwest endemic/near-endemic birds, including Western Spinebill (below).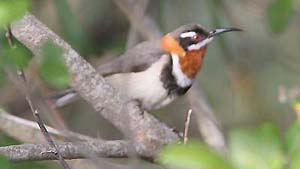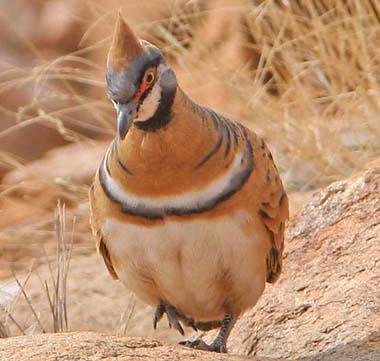 The visit to Australia's "Red Centre" in the Northern Territories was an opportunity to see Uluru [Ayers Rock; above]. Alas, the weather during our 5 days was cold and very blustery, making birding difficult. We missed a number of targeted birds, but did succeed with such impressive species as Spinifex Pigeon (right), and enjoyed photographic opportunities, such as Wedge-tailed Eagle with moon (below). We had some fun mammals [Black-footed Rock-Wallaby, inset just below].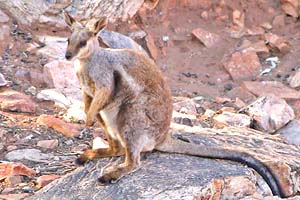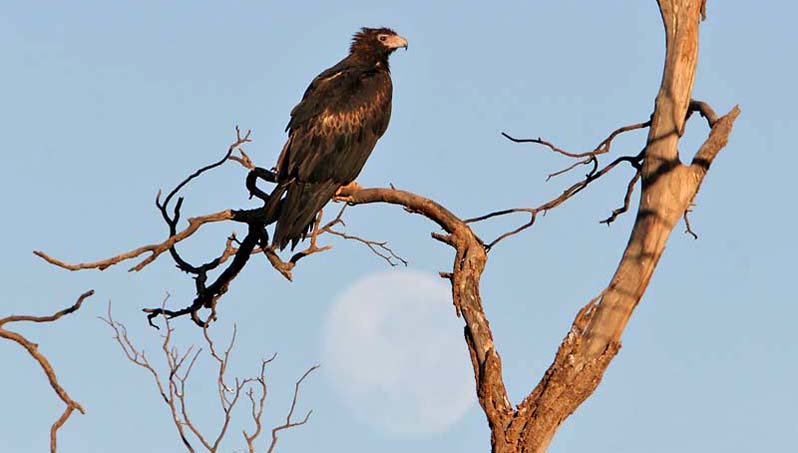 Our one day in Tasmania was the idea of Murray Lord, who lives in Sydney. Since we had planned a day in Sydney, he suggested we jet down to Hobart, stay with his parents, and try to see all 12 endemics in one day.

So we did just that, and despite some rainy weather, we ticked 11 of 12 endemic resident birds and enjoyed some great mammals [like Long-nosed Potoroo, right, in his parents' back yard at night!].

We then flew home via Sydney, and had a rainy morning there. Rather than sit at the airport, Murray drove us past the Sydney Opera House, a 'lifer' for Rita (below left), and got me a bird lifer down a wet and slippery ravine [Powerful Owl, below right]. So a superb conclusion to a fine trip down under.
See more focused pages on each of our locales in the links below. Each page has many photos.