Ash Creek Campground, in extreme northwestern Lassen County, is among the most idyllic spots in the California mountains. It is reached via a dirt road that runs southeast of Adin, Modoc Co., and should not be confused with Ash Creek Wildlife Area, which is west of Adin.

Ash Creek is a lovely, crystal-clear, swift stream that runs through coniferous forest at about 5000' elevation. I visited first on 9 June 2007, and again with Rita on 6 July. Rita found this active nest of White-headed Woodpecker on the latter visit (right). Other wildlife included the rarely seen Racer (lower left) and during my June trip, Pronghorn (right) crossed the road nearby.
For odites, Ash Creek Campground should be known as Gomphid City. When I drove across the little bridge over Ash Creek to the empty campground in June, clouds of gomphids scattered up from the bridge as I crossed. On the July visit, a Grappletail landed on the roof of the car as soon as we stopped (below). Possibly "Grappletail City" would be more apt: my estimate in June was well over 100 during a couple hours; in July, there were more than 50.


Grappletail, of course, is the odonate that permits one to use this pun: "You've heard of Keats's poem Ode to a Grecian Urn? Well, here's a Grecian urn on an ode!" The very clear image of an urn adorns the top of the male's thorax (right).

The 1819 poem includes the lines: "'Beauty is truth, truth beauty, – that is all/Ye know on earth, and all ye need to know'."

At Ash Creek, beauty and truth seem clear enough.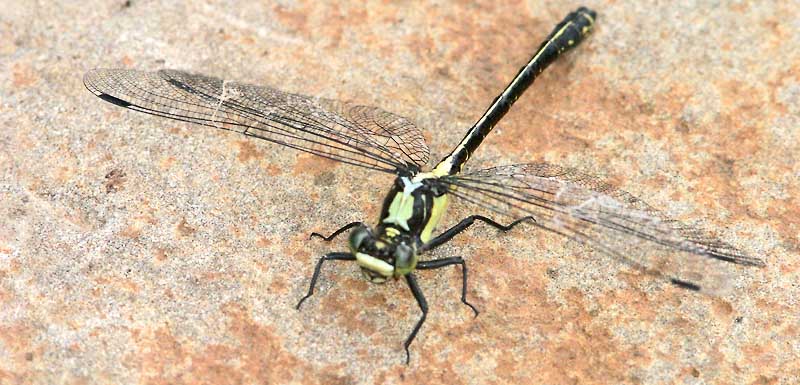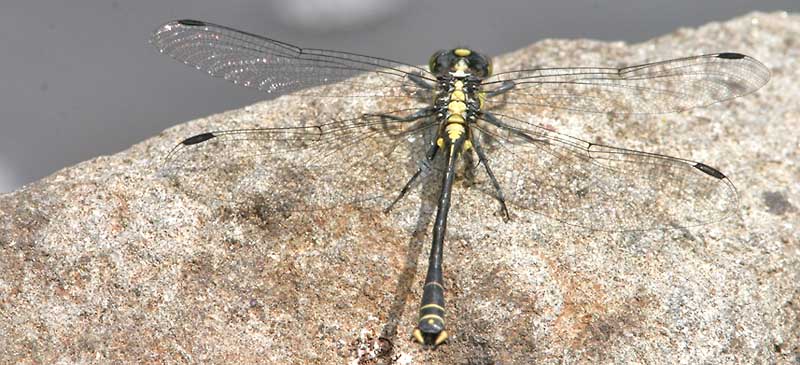 In the photos above, the top one is a female (away from the water) while it was the male that was at water's edge.
But there is more to Ash Creek than Grappletails. Also present in June-July were good numbers of Great Basin Snaketail (below). Others have had Pacific Clubtail as well (although we missed them), and there were bluets, forktails, Twelve-spotted Skimmers, American Rubyspots, and a few River Jewelwings. But the overwhelming impression is of Grappletails, so the final shot is an interesting side view of that very species . . .