| | |
| --- | --- |
| For many years I've wanted to gain access to private ranch land bisected by the San Lorenzo River, which forms the border between Monterey & San Benito counties east of King City. The only previous views were from the bridge on Lone Oak Road (above). This summer, through a long series of circumstances, Rita and I were able to obtain permission to enter private land. On 30 June, we spent 3 hours at midday under warm & breezy conditions along the San Lorenzo River (right). | |
| | |
| --- | --- |
| The habitat here is very dry; indeed, the San Lorenzo is reduced to a trickle by the fall. It runs through arid foothills of gray pine and scattered oaks, with only the barest strip of short willows to hold riparian species (e.g., Ash-throated Flycatcher, right). The owners had removed the bulls from the riverbed but there were still a pack of non-native wild pigs (below) rooting through the bits of lush vegetation in this dry country | |
For odes, the habitat was very different than elsewhere in Monterey County. While Pacific & Western Forktails dominate west of the Salinas Valley, here it was Black-fronted Forktail that was common (ovipositing pair in tandem, below).

| | |
| --- | --- |
| Desert Firetail (right) was also common. Bluets, in contrast, were quite scarce and I failed to focus on them for specific i.d. Most abundant were California Dancer. I estimated over a thousand on our half-mile stretch of river, with much ovipositing (see below) and abundant tenerals. We netted four males for in-hand i.d. All were clearly A. agrioides [A. nahuana has not been recorded in MTY]. | |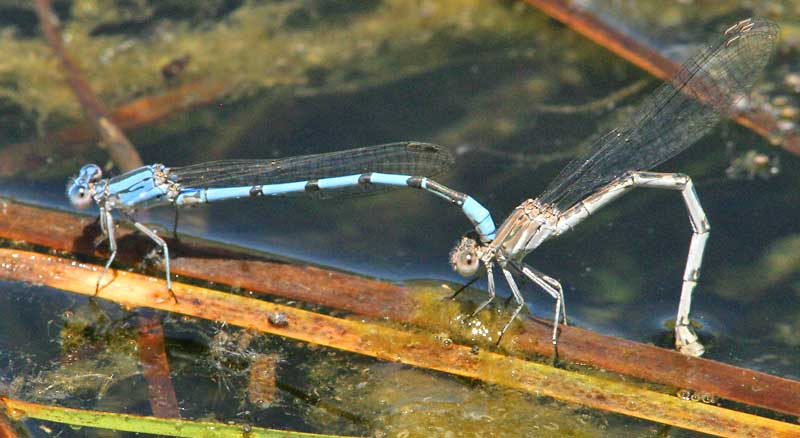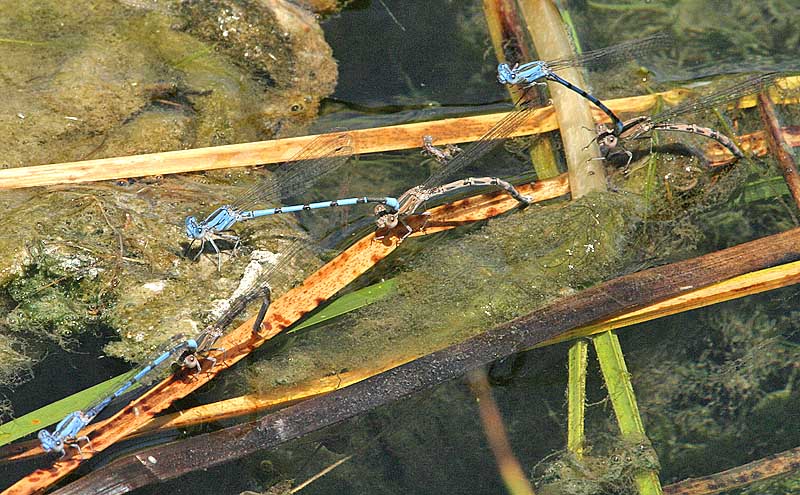 Among the Anisoptera, variety was good. Flame Skimmers were very conspicuous — almost all were males patrolling stretches of the river. We kept picking up new species as we worked our way down the Monterey County side of the river (most species on the list were in both counties, except those that were scarce — those that we found only 1-2 were just in MTY, except that all of the darners crossed back and forth across the stream).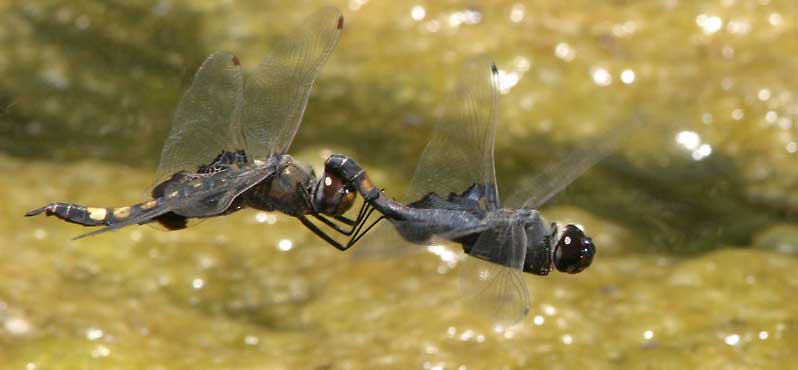 It was very impressive to watch the tandem ovipositing pairs of Black Saddlebags. They fly above the water surface in tandem (above) and then from time to time the male releases the female (left) so that she dips down to the water surfaces and releases eggs. In the blink of an eye, they are back in tandem again, moving to another spot to repeat this behavior.

The biggest surprise of the day was finding Giant Darner patrolling this stream (below). In Monterey County, this fabulous species had previously only been known from the larger Arroyo Seco River that runs east out of the Santa Lucia Range. I've still never seen a Giant Darner perched, so again I was limited to trying to snap flight shots.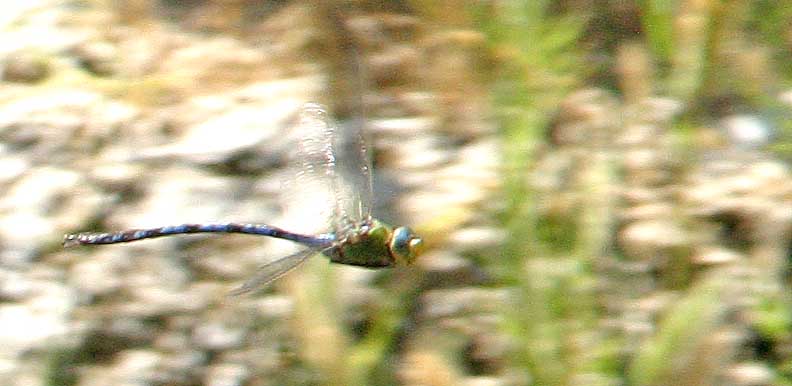 Our list for 30 June 2007:

American Rubyspot 8
California Dancer 1000 +
blue-type bluet (N/Familiar), likely Familiar here 6
dark-type bluet (Arroyo/Tule), likely Tule by habitat 1 m
Desert Firetail 30
Pacific Forktail 1 m
Black-fronted Forktail 50
Western Forktail 1 f
Common Green Darner 2
Giant Darner 3
Blue-eyed Darner 2
Gray Sanddragon 2
Western Pondhawk 8
Common Whitetail 1 m
Flame Skimmer 80
Cardinal Meadowhawk 2
Striped Meadowhawk 1 teneral
Black Saddlebags 20

Don Roberson & Rita Carratello

While Giant Darners were a surprise, the best species was Gray Sanddragon (below). Rita spotted the first of our two males as it flitted from dry cow-patty to another cow-patty on a sandy bar well back from the river. This gomphid was shy and we never got very close, so the telephoto lens was a necessity. There was only one previous record for this species: a female photographed by Bob Behrstock on 1 July 1997 on the Salinas River near Salinas. We were specifically searching for this species on the San Lorenzo.