California has lots of records of Parakeet Auklet. Most of them lie in museum drawers (above; from Monterey Bay 13 Jan 1908 #CAS). Research cruises have found scattered live birds, mostly well off Pt. Conception and vicinity, and several birding trips have searched for them without notable success. Then 7 were seen on a LAAS trip from Santa Barbara to deepwater on 21 Apr 2007, and two were found on a Morro Bay Bird Festival trip 17 Jan 2009 from Port San Luis, SLO. Jim Royer organized a "chase trip" from Port San Luis, and on 24 Jan 2009 these hopeful or desperate souls gathered for the trip: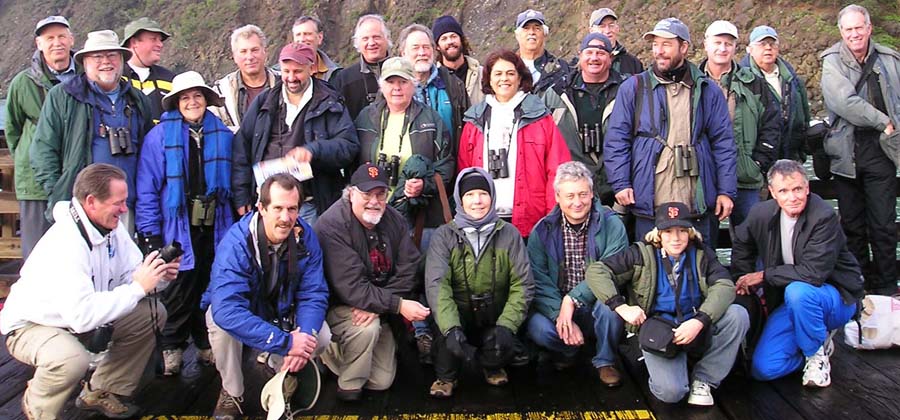 Back row (L to R): Bill Bouton, Ryan Jorgeson, Jim Lomax, Pete Ginsberg, Brian Daniels, John Luther, Jesse Robinson, Mike San Miguel, Tom Edell, Steve Schubert, Guy McCaskie, Brad Schram. Middle row (L to R): Jon Dunn, Frances Oliver, Curtis Marantz, Maggie Smith, Celeste Royer, Wes Fritz, John Sterling. Front row (L to R): Terry Hunefeld, Jim Royer, Don Roberson, Cher Hollingworth, Nick Armstrong, Ross Schaefer, Dave Keeling. Not shown: Jim Pike, Todd McGrath, Larry Sansone.
The wrynecks in the group thought taking the picture before the trip might jynx us, and they were right. We did not find the Parakeet Auklets seen on the previous Saturday.
As this was a chase trip, there were no leaders. But someone had to steer the captain, so we looked around for the most intelligent choice. We settled on someone who'd been on the previous weekend boat: Curtis Marantz. So Curtis (right & below) would aim the boat on the leaderless trip — and would be blamed for any failures.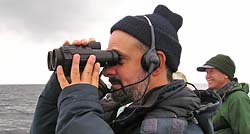 And so we traveled mile after mile, under gloomy skies, to and then past the spot of the 17 Jan sighting. We then went out towards the Santa Lucia Escarpment, turned around, and headed home.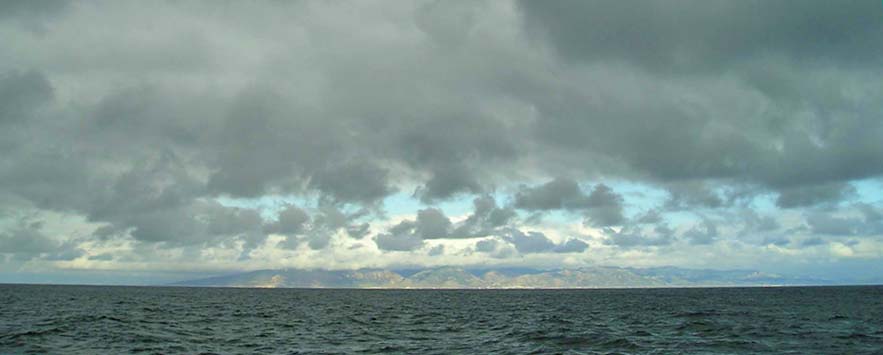 Then, as hope was fading, those on the bow noted an odd little alcid right in front of us. Unlike the hundreds of Rhino Auklets and Cassin's Auklets that we'd been seeing, this one didn't flush and fly. Rather, it dived and popped up, dived and popped up, dived and popped up — making it very hard to get a decent look at it. It had an odd shape: small rounded head, long neck, fatter body — like a miniature bowling ball. Indeed, the shape and behavior recalled the old "whack-a-mole" game at a county fair: the 'mole' pops up but disappears before you can whack it with a mallet.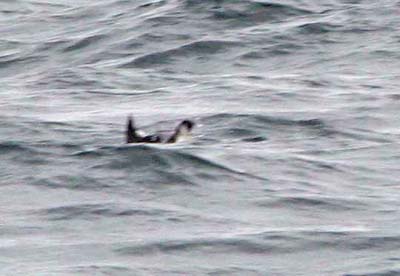 By now everyone was packed together at the front. We'd stopped the boat, but the 'whack-a-mole' was swimming away and under water much of the time, making it very hard to see. We got the boat to creep forward but it was pretty frustrating getting views. I decided to try to snap photos when it popped up: I got 3 shots of empty water for every shot that had a bird it in. And here's a true story: when I got home and was looking through the photos, I found that I'd snapped a photo of an Ancient Murrelet (right) among the series of this odd alcid. As far as I know, no one on the boat saw this particular Ancient Murrelet — it just appeared and disappeared as quickly as the mystery alcid. I don't think a single person on the boat actually saw this particular Ancient Murrelet (at least, no one mentioned it).
But eventually, as most of us outweighed the 11-ounce alcid, we wore it down and it remained topside a bit longer before eventually taking flight. I managed these shots (below):
These are not very good photos, and they have been lightened and sharpened in PhotoShop, but they do portray a Parakeet Auklet. They also show a different Parakeet Auklet than either of the birds photographed on 17 January (see Brad Schram's nice shots). Both of the birds on 17 January had longer head plumes than our bird. On our bird (above), note that the plume was shorter on the right side of the face (above left) than the left, and neither side had a complete plume. Our bird has an all dark neck, while the 'duller' one on 17 January has a lot of white on the front of the neck. Indeed, I suspect that the birds photographed on 17 January were an adult and its now full-grown first-winter chick. This hypothesis seems consistent with differences in bill shape, eye color, and plumage molts described by Pyle (2008). I had thought that our bird was likely a first-winter bird, but now, on reading Pyle (2008) and looking at Brad's photos, I suspect our bird was actually an adult (e.g., it had a dark neck by this date, a bright white eye, and longish bill shape).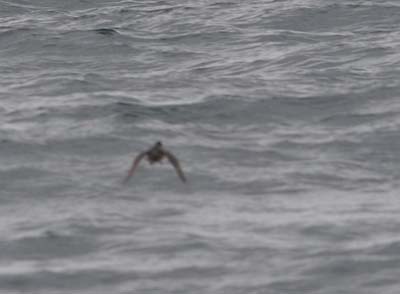 In any event, although it took flight before better photos could be obtained, everyone aboard did see the bird well enough for identification (photo not lightened at all, showing just how gloomy were the conditions).
The exact location was apparently at 121°56'10"W, 35°05'09"N, about 16.25 nmi southwest of Point Buchon, and about 20.1 nmi west of Port San Luis. This is ~2.35 nmi west of the prior weekend's sighting at 121°03.676 W, 35°05.195 N.

About 3 miles farther east, Curtis Marantz spotted and I got on to another small black-and-white alcid in flight that was very likely another Parakeet Auklet on size, shape, and color — but we did not see the head or bill details. Others had potentials in flight, and some saw a possible Parakeet dive and disappear. Although we can document only one Parakeet from this trip, there may have been several birds. Who knows how many others we missed among the hundreds of alcids and choppy seas? We had about 250 Cassin's Auklets, and as I estimated that Rhino Auklets outnumbered those more than 4:1, an estimated 1200 Rhinoceros Auklets seems fair. Other species of interest included a couple Short-tailed Shearwaters, a Flesh-footed Shearwater seen by a few, a dozen or so Ancient Murrelet and Black-legged Kittiwakes, and a fine first-cycle Glaucous Gull more than 20 miles offshore. But it was the 'whack-a-mole' alcid that made everyone happy (below; facing camera from left: Celeste Royer, John Sterling, Jim Lomax, John Luther, Frances Oliver, Guy McCaskie, Todd McGrath). Except for Curtis, who didn't even even get a county bird . . . and no one blamed him for anything.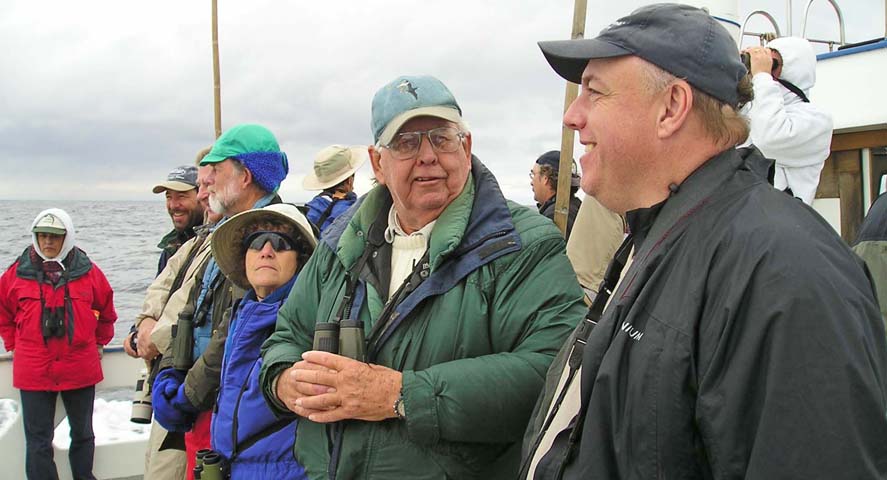 An entertaining trip report with more people photos, shots of the Glaucous Gull, and a complete trip list is on Terry Hunefeld's site.
I thank Jim Royer for putting together this adventure, Tom Edell for the coordinates, Wes Fritz for chumming all day, and everyone aboard for such a fine trip.
Photos: All photos © Don Roberson, all rights reserved.
Literature cited:
Pyle, P. 2008. Identification Guide to North American Birds. Part II: Anatidae to Alcidae. Slate Creek Press, Bolinas.