FLAME SKIMMER
Libellula saturata
Flame Skimmer may be our most conspicuous dragonfly – the one most likely to be seen and commented upon by the general public. It is large, bright orange-red, and males perch conspicuously over ponds and lakes.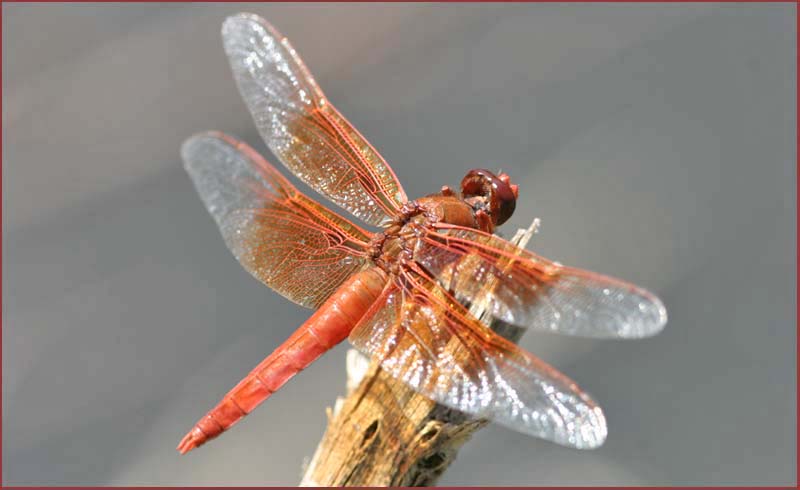 Flame Skimmer is a bright orange-red over the body, and there is an extensive orange wash across the basal half of each wing. Males have a brown stripe on the basal quarter of each wing, helpful in identification from some other species.
Photo (very top & above) 15 July & 5 Aug 2006 Arroyo Seco Lakes
Photo (below) 30 July 2006 just W of Pinnacles NM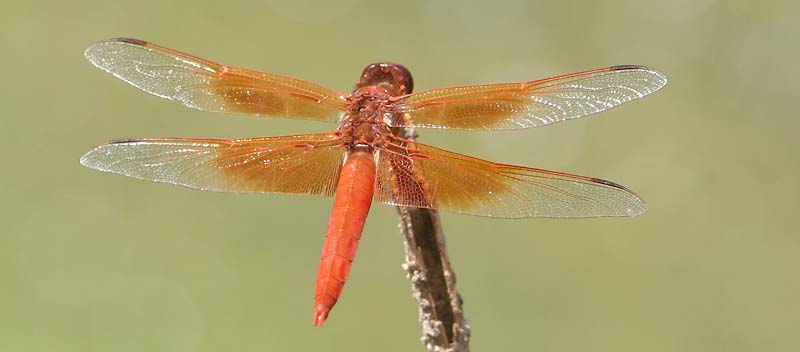 Males defending territory pick perches along or over the water, but foraging individuals may be found quite some distance away.
Female Flame Skimmer is similar but not as bright, with the orange color paling to warm tan (right) and has a white stripe atop the thorax. There is much less of an orange wash across the base of the wings than on the male.

Photo (right) 12 Aug 2006 American River, SAC
Photo (below) 15 July 2006 Arroyo Seco River
| | |
| --- | --- |
| | The only species similar in California are some meadowhawks, which are decidedly smaller and have spots or stripes on the thorax, and Neon Skimmer L. croceipennis, not recorded in MTY. The latter is more red, less orange, and lacks the orange costal stripe of Flame Skimmer (leading edge to wing). On Flame Skimmer, this leading edge is orange right out to the orange pterostigma. |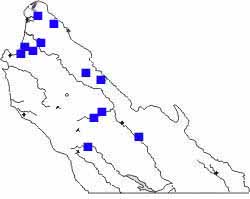 The map shows a selection of sites at which Flame Skimmer has been observed. It is likely common and widespread throughout the county in the lowlands. It is interesting, however, that there are not yet records from Carmel River mouth or the Big Sur coast; perhaps the species is adverse to summer fog?

In MTY flight dates stretch from 29 April to 22 October, with an apparent peak in July-August. Elsewhere, flight dates span all months in southern California (Manolis 2003).

Literature cited:
Manolis, T. 2003. Dragonflies and Damselflies of California. Univ. of Calif. Press, Berkeley.
Web resources:
Major identification web sites with much information on California odes include:

For sites with excellent photos to compare for identification or to simply enjoy, see: Many of these sites have links to other useful pages. Kathy Biggs's site is particularly useful in her selection of links.