These highlights chronicle the year 2007. Created incrementally as new photos were available, the year runs generally "backwards" on this page.
The Sunday-Monday tandem of 30 Sep–1 Oct brought a very impressive set of vagrants to the willow patch at the east end of Laguna Grande Park in Seaside. It started with Tim Amaral's report of possible Old World flycatcher on Sunday morning. A dozen birders hustled in to search for it, but without success. The description sounded reasonably good for Mugimaki Flycatcher Ficedula mugimaki, a long distance migrant that has reached the Aleutians.

During the search on Sunday, the coverage located three Blackpoll Warblers (one shown at right; © D. Roberson), an Indigo Bunting (above right; © D. Roberson), and a 'whitting' Least Flycatcher (two shots below; © D. Roberson; found by Todd & Tanner Easterla). Then, on Monday, searchers located a male Scarlet Tanager (above left; © Steve Rovell). The flycatcher and the tanager are the 8th and 3rd MTY records, respectively.

Other eastern vagrants in the park these two days included Tennessee & Palm & Black-and-white Warblers, Northern Waterthrush, White-throated Sparrow, and Rose-breasted Grosbeak. More photos are on Steve Rovell's page. Yet despite this welter of interesting birds, everyone felt that the real 'mega' had gotten away.
September 2007 was most notable for its waders. An out-of-town visitor discovered this juv Buff-breasted Sandpiper on Carmel State Beach 8 Sep, which was beautifully photographed by Bill Hill on 9 Sep (left). Another Buff-breasted was present earlier that week elsewhere in north county. Two Solitary and three Stilt Sandpipers were at various locations, including a Solitary at the Carmel R. mouth on 23 Sep (Bill Hill +).

Alas, except for a Ruff at the Salinas R. mouth in mid September (Rick Fournier), most of the other rarer shorebirds were at a limited access, researchers-by-permit-only locale in the lower Salinas River valley. The gallery below shows some of those birds. More photos of many of these are on Jeff Poklen's web site.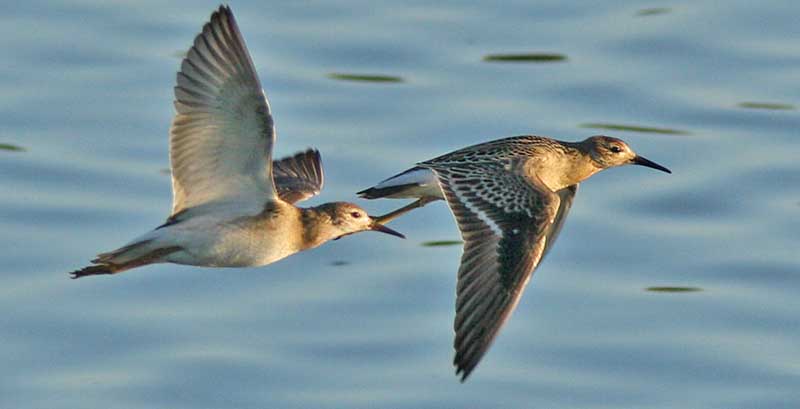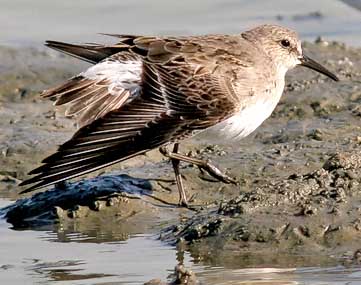 Two juv Ruff present 1–3 Sep (above; Tim Amaral et al., photo © Brian L. Sullivan); an adult White-rumped Sandpiper 1–9 Sep (right; found by B.L. Sullivan, photo © Jeff Poklen); and a juv Hudsonian Godwit 8–20 Sep (below, with Red-necked Phalarope; first identified by Bud Fox, photo © D. Roberson).
The White-rumped Sandpiper is the third MTY record, and the second adult in fall. The prior record was 14–18 Sep 1985 at two locations in the lower Salinas Valley. The Hudsonian Godwit was the second MTY record. The first moved between the Carmel and Salinas River mouths from 28 Aug–3 Oct 1988.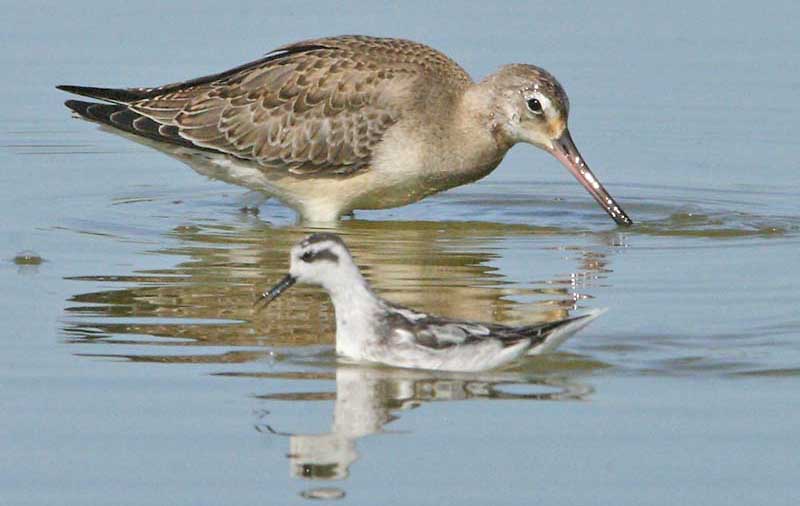 Interesting landbirds in September including an imm. female Mourning Warbler banded at Big Sur Ornithology Lab on 15 Sep (wing – tail measurement 15mm; photo © VWS). Also at Big Sur R. mouth, an Eastern Kingbird was present 22 Sep (Tim Amaral +).

Scarce migrants in a Pacific Grove backyard included Lazuli Bunting 12-13 Sep (imm; © D. Roberson) and, rarer still, an imm Magnolia Warbler 12-14 Sep (Rita Carratello; photo © D. Roberson).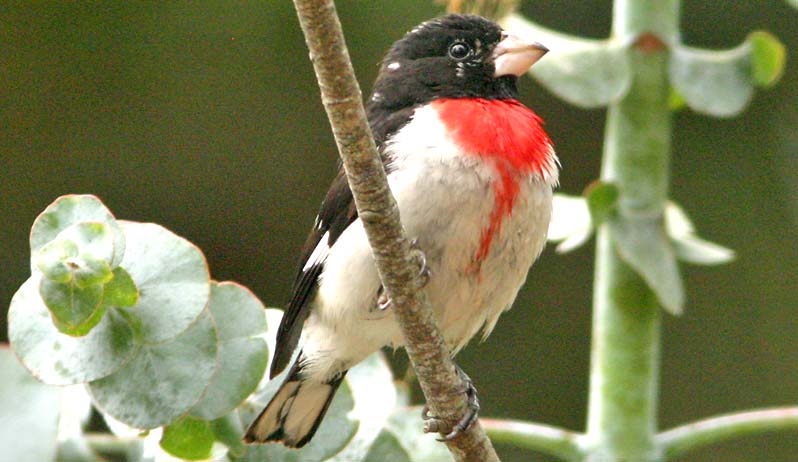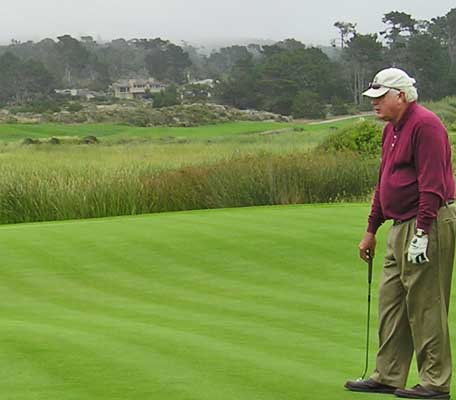 On the late afternoon on 11 June, Rita Carratello watched a male Rose-breasted Grosbeak in her backyard birdbath. It would remain in the neighborhood, singing each morning, until she left for a vacation back East the next week. On 29 July, presumably the same male Rose-breast — now just beginning pre-basic molt (above © D. Roberson ) — was at the same birdbath, and appears to be summering locally.
On the late afternoon of that very same 11 June, Rich Trissel was playing golf on Spanish Bay with Steve Donahue. They had just finished the 8th hole (right) and were setting up on the 9th tee adjacent to the marsh shown (... this is a picture of the marsh, not a picture of Rich ....), when a Black Rail began to vocalize incessantly keek-ka-do . . . keek-ka-do . . . keek-ka-do. Rich got the word out immediately and many local birders heard it that day or week — indeed, it was still singing at the end of July.
This was just the second county record of Black Rail, and it appears to also be summering locally. If by fate it should attract a mate, local breeding is even possible. We presume it is the same bird that was reported in this exact spot in this same marsh on the golf course by visiting birder Don Merit way back on 31 March 2006. Although he wrote a fine description of the song, that 2006 report was not confirmed by others and was considered hypothetical until the current summering bird. MTY's only prior record was a youngster that was found dead on a Pacific Grove street on 29 Sep 1967. That specimen is now mounted and on display at the Pacific Grove Museum of Natural History.
Spring 2007 will probably long be recalled as the Spring of the Horned Puffin. Many puffins were featured among the first half highlights. Unprecedented numbers of puffins continued into June-July.

Having visited the Atlantic this year as well, I've created a single image to commemorate my Puffin Summer of 2007. Check it out.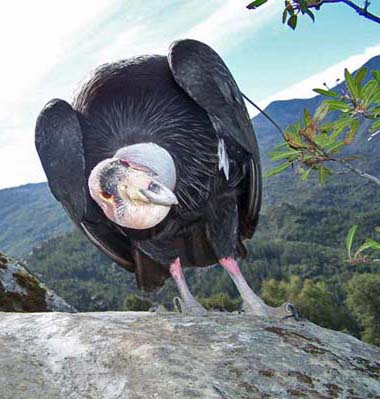 Summer is the breeding season. In late May and June, a brood of Common Merganser was right on the coast at the Odello Lagoon portion of Carmel River mouth. The female was accompanied by nine (9) fledglings, each of which you can count in the evocative shot above (© Blake Matheson). It is only about a decade ago when the first Common Merganser breeding on the Carmel River was confirmed, well upstream of the mouth.
The most important nesting was that by California Condor. Two wild nests were discovered, each initiated by zoo-bred birds released back into the wild over the past decade. These were monitored by Ventana Wildlife Society (VWS) biologists. One was in a cave — climber Joseph Brandt took this incredible photo of the wild mother looking in at her egg in April (© Joseph Brandt, used with permission of VWS). The second nest was in the stump of a huge redwood — the same spot where a pair in 2006 looked to be nesting, a false alarm back then.
This year, pairs at both sites laid a single egg each, and each egg hatched a chick in the wild. The chick in the cliff nest, named "Centennia," fledged on 26 Sep. This is the first condor from a wild nests in Monterey County in 102 years. This is a fabulous step forward in the hopes that a native self-sustaining population of condors will be flying safe and free here on the central California coast, where there were first described to science back in 1792.
Not every breeding season story was so happy. Again, a colony of several hundred pairs of breeding Caspian Terns at the Salinas River mouth failed when predators destroyed the nests and eggs in July. The single nest of Heermann's Gull at that site also failed (see a similar story of disaster from last summer). Earlier in the spring, Heermann's Gulls also abandoned their only other nesting locale on islets in Roberts Lake, Seaside. With these losses, Heermann's Gull is no longer a breeding species within the United States — at least not this year.
The abbreviation "MTY" means "Monterey County" in the text throughout.
Text by Don Roberson
. Photos on this page are
copyrighted
by the photographers to whom they are attributed, and may
not
be reproduced in any form (
including other web sites
) without the express consent of the photographer.
More highlights will be posted as they arise and are documented with photos.