These highlights chronicle the year 2008. Created incrementally as new photos were available, the year runs generally "backwards" on this page.
The abbreviation "MTY" means "Monterey County" in the text below. Text by Don Roberson. Photos on this page are copyrighted by the photographers to whom they are attributed, and may not be reproduced in any form (including other web sites) without the express consent of the photographer.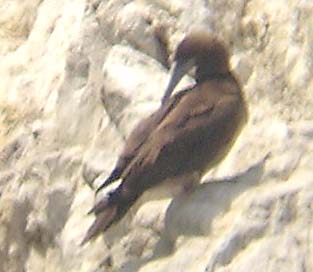 Bird Rock (above) is a highlight on 17 Mile Drive in Pebble Beach, even if it does cost $9.50 to do the tourist route without a Pebble Beach pass. Brandt's Cormorants nest on the rock in the hundreds; Brown Pelicans roost in numbers in season; and California Sea-Lions drape themselves over much of the rest of it. This spring, however, a Brown Booby (left) — found by John Sorensen on the 26 April birdathon (see below) — attracted locals as well as tourists. It roosted most days towards the right end of Bird Rock. It appears to be in subadult (perhaps 2d cycle) plumage. This digiscoped image was taken 10 May (© D. Roberson). It continued to be seen into late May.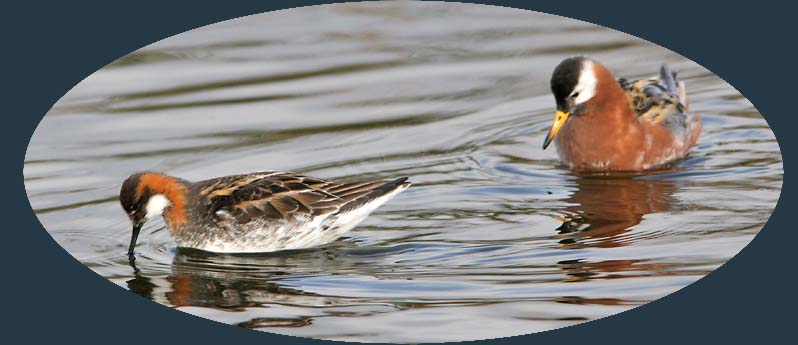 Early May had other interesting aspects. On 9–10 May a landfall of phalaropes along the entire coast brought hundreds to local ponds (e.g., Crespi, El Estero, Roberts Lake), and 150+ to the little pond at Pt. Joe, including 40 Reds. Both Red & Red-necked Phalaropes are shown above (© D. Roberson). The landfall permitted one to learn how to sex these pelagic phalaropes by plumage.

Two rare Semipalmated Sandpipers, found by Brian Sullivan, were on a shallow pond in the lower Salinas Valley 28 Apr-3 May (photo left © D. Roberson 3 May). We've never before had two together in the spring.

At Lake El Estero in Monterey, an Aleutian Cackling Goose that had wintered was still present into early May. It was caught vocalizing in this photo (below © D. Roberson).

The 2008 Birdathon to support the Big Sur Ornithology Lab took place between 4 pm on 25 April to 4 pm on 26 April, followed by a countdown that evening. 241 species were located by observers throughout Monterey County. Logo this year was American Kestrel (left, from the Carole Rose birdathon t–shirt).

Full details are on a separate Birdathon page, including photos of the major rarities of the event: Brown Booby and Lapland Longspur.
Spring migration is an exciting time in coastal Monterey County. We have the opportunity to witness the extensive migration along our coast, including the huge flights of Pacific Loon (above; taken from a boat 20 Apr © D. Roberson). On windy days — and there were a lot of those this April — hundreds of phalaropes may be pushed ashore (left; Red-necked Phalarope © D. Roberson). Brian Sullivan had a Horned Puffin pass Pt. Pinos while sea-watching on 14 Apr.

March-April is the prime season for migrant Rufous Hummingbirds. We tend to focus on adult males but immature male plumage can be variable and interesting. Two extreme examples are below: left 28 Mar Carmel (© Bill Hill), right 19 Apr Pacific Grove (© D. Roberson; i.d. determined by tail pattern).
Rare species highlight any migration. On the very windy weekend of 18-20 April, huge flocks of swallows (mostly Trees) were pushed down to forage over local wetlands in the lower Salinas Valley. Among them were a few Bank Swallow (above; © D. Roberson). Matt Brady & Adam Searcy found this adult Franklin's Gull in the lower Salinas Valley on 19 Apr (right; photo © D. Roberson) and Brian Sullivan had a most unexpected Lapland Longspur (below) on 16 Apr (below © B.L. Sullivan). This Lapland Longspur was seen again on 23 Apr (John Sorensen) and lingered to 27 April.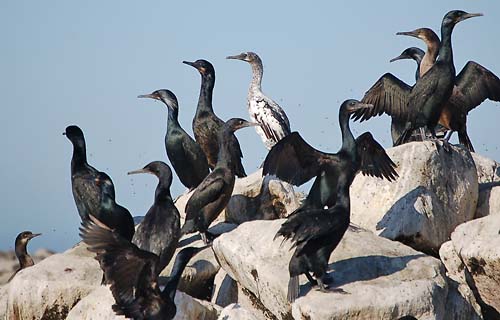 Sometimes our resident species can require a second look: a visitor aboard a Elkhorn Slough Safari boat trip on 22 March snapped this photo (right; courtesy Yohn Gideon © Elkhorn Slough Safaris) of a 'salt-and-pepper' version of Brandt's Cormorant. The partially albinistic cormorant was sitting atop the Moss Landing jetty.
Long-tailed Ducks put in an impressive appearance this winter, with up to five in Moss Landing harbor in January–early February (m.ob.) and then six together in Monterey harbor on 17 Feb (Rick Fournier). There is evidence to suggest that the Moss Landing five moved to Monterey for a brief time, because otherwise there were only one at Monterey before 17 Feb, and just 3 afterwards. One female out of the 2 males + 4 females at Monterey on 17 Feb was photographed very nicely by Dave McDonald from Houston (below left); a wintering male at Moss Landing was photo'd on 5 March (below right © D. Roberson).
Early 2008 was quite stormy, with much more rain than usual in January. As is often the case, local highlights were mostly waterfowl. These three were photographed on 16 Feb: a female Barrow's Goldeneye at Moss Landing (right, © David Styer); one of a pair Aleutian Cackling Geese in a horse corral on Hwy 1 near Pt. Lobos (below left, © Don Roberson); and a young Snow Goose at the same spot (below right, © D. Roberson; a resident Canada Goose is in the background). All these species are being found with more regularity in MTY in recent winters.

Monterey harbor had 3 Harlequin Ducks throughout the winter, and there were scattered reports of Hooded Mergansers. All our 'regular' geese were wintering around Moro Cojo Slough, including up to 30 Ross's Geese.
TO HIGHLIGHTS FROM FALL 2007