These highlights chronicle the year 2009. Created incrementally as new photos were available, the year runs generally "backwards" on this page.
The abbreviation "MTY" means "Monterey County" in the text below. Text by Don Roberson. Photos on this page are copyrighted by the photographers to whom they are attributed, and may not be reproduced in any form (including other web sites) without the express consent of the photographer.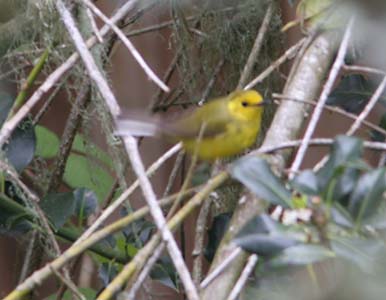 Undoubtedly the most unexpected bird of the year so far was this female Snow Bunting at Pt. Pinos 23-26 May (above, photo 26 May © D. Roberson). Found by visiting birder Daniel Gilman on the beach across from Crespi Pond, it remained at its favored spot near tideline for many happy birders until it left on the first clear night after its discovery. This was the 3rd record for MTY and is the latest spring record for California, where there are now three records in May. One of those was in San Diego the first week of May this year. [A year later, Peter Pyle & Brian Sullivan [Western Birds 41: 261-265 + back cover, 2010] published a comparison of close-up photos of the San Diego and Pt. Pinos bunting, and determined they were of the same bird! ]
A backyard treat on 28 May was this female Hooded Warbler in Pacific Grove (right © D. Roberson). Rita Carratello spotted it at the bird bath in the hour before dusk. Amazingly, this is the 4th Hooded Warbler in this small yard in the past 16 years: singing males were previously present 3 June 1983, 2 June 1992, and 12 June 1993.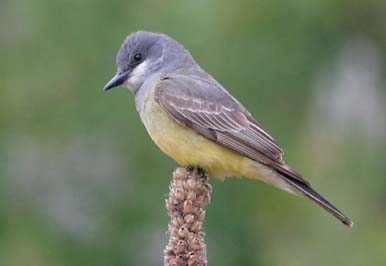 Another unexpected backyard was this Cassin's Kingbird in Marina on 25 May (photo right © Steve Rovell). Any Cassin's is quite rare near the coast, but amazingly this was the third Cassin's in the Rovell yard this May.
A few other good birds appeared at Big Sur R. mouth at the end of May, including a Franklin's Gull (Rovell & the Roses), Summer Tanager (three different birds, including two singing males), and a couple Rose-breasted Grosbeak (one banded). Also a male Northern Parula provided the first record for Fremont Peak when spotted on the MTY side of the peak on 23 May (David & Jan Styer, Larry & Carole Rose).
| | |
| --- | --- |
| | Monterey Seabirds had an amazing pelagic trip on 23 May. They encountered four Laysan Albatross, one of which was carrying a tracking device; it proved to be one of 12 breeding adults from Guadalupe Island. They also had a Manx Shearwater, two Franklin's Gull, and best of all, two Murphy's Petrel. One of them (left; photo © Jeff Poklen; more photos on his web site) was on the MTY side of the Bay; the other was in Santa Cruz Co. These are the first records of Murphy's Petrel inside Monterey Bay. Some 86 Murphy's were seen well offshore MTY & SCZ on a research cruise 7-10 Apr 1991 (Roberson 2002). |
| An impromptu 31 May "chase trip" put together by Roger Wolfe did not find Pterodroma petrels, but did have the spring record of Long-tailed Jaeger for the county (right, photo © Dan Singer), as well as Xantus's Murrelet in Santa Cruz Co. waters at mid-Bay. More photos on Jeff Poklen's site. | |
This year's MTY birdathon, a fundraiser for Monterey Peninsula Audubon Soc., was 1–2 May.
Full results and photos at this link.

Common Moorhen 2 May at Laguna Grande
© Steve Rovell

The MTY coast saw some very high winds during late March. Gales during the night of 21-22 March pushed thousands of Black-legged Kittiwakes into the Bay, which could be seen streaming past Pt. Pinos the next morning (above). Brian Sullivan estimated 7500 during his 2.5 hour seawatch that date. A small first-cycle Larus at the Big Sur R. mouth 21 Mar (below left) showed many characters of "Kumlien's" Iceland Gull, including partially barred tertials, but appeared to be in the zone of gradation between Iceland and Thayer's Gulls, and was left unidentified. A few first-cycle Glaucous Gull were about (like this one at Roberts Lake 1 Mar, below right. All these gull photos © D. Roberson).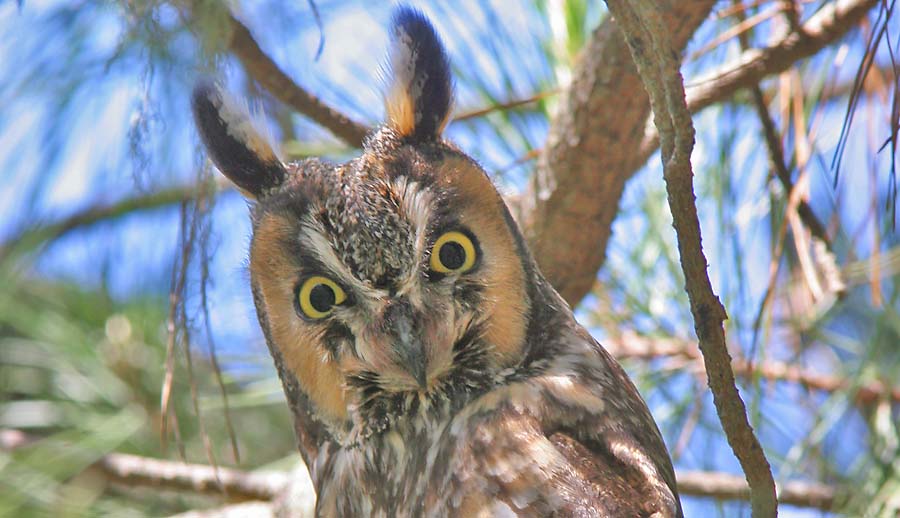 Long-eared Owl is pretty much a mystery bird locally. It is believed to nest regular in the canyons around the Santa Lucia Range, and can occasionally be found at a winter roost almost anywhere in the county. But such roosts are rarely located and are very unpredictable. Art Muto found this Long-eared Owl (above; photos 11 Mar © D. Roberson ) at Pt. Lobos in early March. From the number of pellets under the roost, it seemed to be successfully hunting rodents in the reserve. Bill Hill has some wonderful shots on his web site. The owl vanished by mid-April.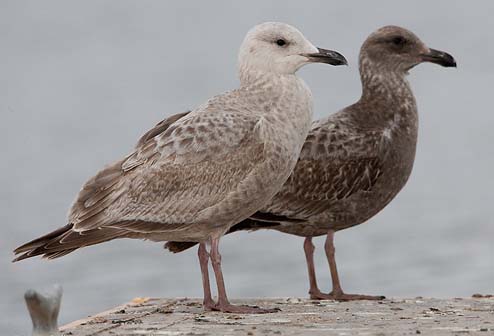 Brian Sullivan found an interesting first cycle gull at Moss Landing on 1 March (left, with Western Gull © Brian L. Sullivan) that shows characters of first cycle Slaty-backed Gull. Expert opinion has been positive, but this is one of the more difficult identification problems in West Coast gulls. More photos on Brian Sullivan's web site. Brian was the one to find MTY's first record of Slaty-backed in Feb 2007, but that was an easier to identify second-cycle bird (photo at bottom of 2007 highlights page).
What we presume was the same bird was found off-and-on in the gull/pelican roost at Moss Landing (above; © Dan Singer) on various days over the next week.
The first couple months of 2009 were rather slow. January had few birds of note and February was very rainy. One set of interesting birds, though, were these three geese near Salinas on 17 Jan (below © D. Roberson). Study of the photos and expert review revealed them to be, right to left: Aleutian Cackling Goose B. h. leucopareia, Lesser Canada Goose B. c. parvipes, and Ridgway's Cackling Goose B. h. minima. The two subspecies of Cackling Goose are regular in small numbers (indeed, an Aleutian is wintering with a Snow Goose on Crespi Pond), but Lesser Canada Goose may never have been documented in the county. We presume it was regular in occurrence many years ago, but the wintering range has moved northwards. Its discovery led to the creation of a two-page identification set for central coast birders; see it for many more details and references to important literature.