These highlights chronicle the year 2010. Created incrementally as new photos were available, the year runs generally "backwards" on this page. The abbreviation "MTY" means "Monterey County" in the text below.
Text by Don Roberson
. Photos on this page are
copyrighted
by the photographers to whom they are attributed, and may
not
be reproduced in any form (
including other web sites
) without the express consent of the photographer.

On 10 December, Liz Love was walking Del Monte Beach in Monterey when she spotted this male Barrow's Goldeneye (center above). She saw it off and on through December, and eventually photographed it for documentation; it was then refound on the local Christmas Bird Count on 27 Dec. The next day Bill Hill went to photograph it, and took this wonderful shot (above © Bill Hill). Amazingly, the shot shows not only the male Barrow's next to a female Common Goldeneye (to the left) but also next to a female Barrow's Goldeneye (to the right). Compare the bill and head shapes of the two female goldeneyes; also note the the color at the base of the bill of the female Barrow's is changing, and showing yellow patches. This must be a first-winter female that is just changing bill color to an all-yellow bill. Both the male and female Barrow's were present into January 2011.
| | | |
| --- | --- | --- |
| | Two interesting yard birds sparkled during the holidays. A young male Rose-breasted Grosbeak in a Pacific Grove yard remained through 28 Dec, lingering long enough to be counted on the 27 Dec Monterey Peninsula CBC (left © Blake Matheson). A young male Hooded Oriole in Moss Landing (right © David Styer) also lingered to and beyond the Moss Landing CBC on 1 Jan 2011. It had been present since at least 28 Nov, and in late Nov/early Dec 2010, both this imm Hooded Oriole and an imm female Orchard Oriole frequented the same yard. | |
An excellent find by visiting birder Alan Van Norman at Pt. Lobos on 16 Oct was a Sage Thrasher (below left © A.S. Van Norman). It may be the first record for the State Reserve. Another unexpected find was two months later, when Bill Hill had a Northern Parula (below right © Bill Hill) in a small flock in downtown Carmel on 23 December. The flock was eating flying termites — once the termites were gone, so were the birds. The Parula was never seen again, despite multiple efforts on the CBC four days later.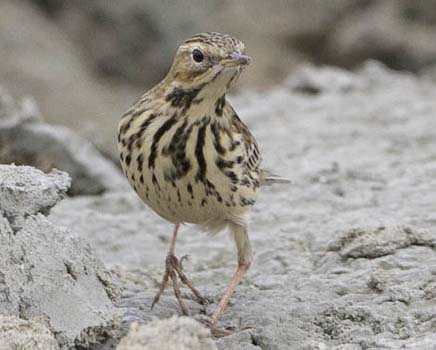 October 2010 began with more pleasant weather, and hopes for a better variety of rare migrants. Two Red-throated Pipits were found in fields near Salinas on 3 Oct (one of them left, photo © Brian L. Sullivan). A couple of Clay-colored Sparrow was nearby (one of them in photo below © B.L. Sullivan), and there were more Clay-colored Sparrows scattered along the coast that weekend. Mike Tyner also had Magnolia Warbler and Brewer's Sparrow at Salinas River NWR.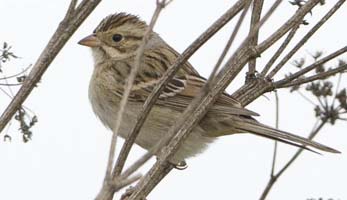 A nice find at Pt. Pinos on 6 Oct was this juv Franklin's Gull (below; photo © D. Roberson).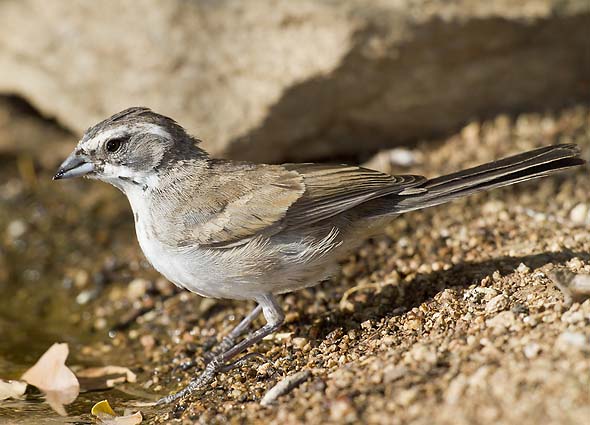 September 2010 was among the 'slowest' Septembers in local memory, with rather few vagrants and too many days that were either fogged out or sunny and windy. We did not really get "vagrant weather" — calm conditions with high overcast — and not much was found. There were three Bobolinks in a single patch of yellow composites on 25 Sep at the Carmel R. mouth (above; two of three birds visible © D. Roberson), which set a high count for this well-covered locale. These birds were found by Bill Hill & Rita Carratello near a field trip for the Monterey Bay Bird Festival. Other highlights from that weekend within northern MTY included White-winged Dove, Sage Thrasher, and Chestnut-sided Warbler.
Also on 25 September, a hatch-year Black-throated Sparrow visited a ranch near Arroyo Seco (right, photo © Bruce Finocchio). There are still fewer than ten records for the county.
| | |
| --- | --- |
| | Certainly the best bird of the year so far was during a Monterey Seabirds pelagic trip on Monterey Bay on 17 Sep — a Great-winged Petrel of the New Zealand race gouldi, sometimes split as Gray-faced Petrel (left; photo © Dan Singer). It was within the Santa Cruz County half of the Bay. California's first record was on the Monterey side of the Bay back on 18 Oct 1998. Richard Ternullo was the skipper on both boat trips! |
Something new about the distribution of Monterey birds was learned in August. Those who have read "Monterey Birds, 2d ed.," or have looked at my web pages on the identification of subspecies of White-crowned Sparrow, may know that our locally nesting White-crowned Sparrow Z. l. nuttalli, the resident subspecies here, has never been documented outside its breeding range in the coastal dunes of Monterey County. This August, though, two different juvenal-plumaged "Nuttall's White-crowns" appeared away from their nesting habitat. One heavily-streaked juv was at the feeder of Larry & Carole Rose in Skyline Forest, Monterey, from at least 15-21 Aug (below left © C. Rose), and another, rapidly losing the breast streaking, was at a bird bath in Pacific Grove off and on between 21-29 Aug (below right © D. Roberson). The Pacific Grove locale is only 4 blocks from nesting White-crowns, but is inside the forest and definitely not in habitat. The juv at the Monterey yard was more than a mile out of habitat. This means that very young local "Nuttall's" do, indeed, move to some extent [there is still no evidence that they ever migrate].

Note the following characters that help identify these juvenal sparrows (juvenal plumage is characterized by a streaked breast in sparrows; the plumage is held for only a brief period): yellow bill with extensive black at tip, dingy coloration, very short primary projection, buff-and-black back pattern, rusty edges to inner greater coverts, and a malar stripe on the P.G. individual. Migrant White-crowned sparrows from other populations (Puget Sound White-crown, Gambel's White-crown) should be arriving in late September; consult the on-line identification discussion.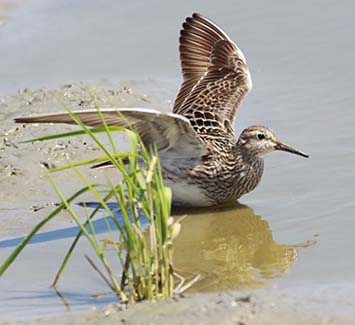 Some interesting adult waders appeared in July, including an adult Pectoral Sandpiper near Salinas on 31 July (left © Kent Van Vuren). Adult Baird's and Semipalmated Sandpipers were also reported in July.
Unexpected birds along the coast included a fly-by booby at Pt. Pinos (B.L. Sullivan, Ted Floyd) and a briefly present White-winged Dove at Rocky Pt. on 24 Aug (B.L. Sullivan).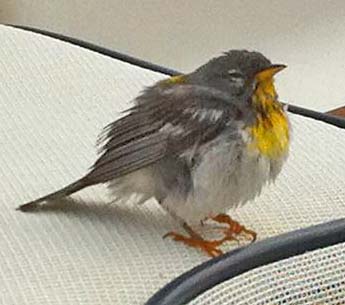 On the last weekend of June, Dan Counts and a friend were sailing their sailboat from Santa Cruz to Monterey when an unexpected visitor landed for a ride. This was 6–8 miles due west of Moss Landing, and Dan took this photo (right © D. Counts). Later he passed it on to me with a request that I "name that bird."
I've called it a vagrant Northern Parula, a very impressive mid-summer find in the middle of Monterey Bay! Dan says that it rode for a while and then, as Monterey got closer, it took off for shore.

Late spring/early summer has always been a very good time for vagrants at the Big Sur River mouth in Andrew Molera SP. This year had a few — the best was a Yellow-throated Warbler on 5 June (Mike Stake, Mike Tyner). It was singing high in a sycamore, and to give you a feeling of "warbler neck," try picking it out from the leaves and branches in the photo above (© Mike Stake).

Other good finds in June were a singing Kentucky Warbler (heard but not seen, Matt Brady) and a singing Hooded Warbler (Mike Tyner).

More traditional eastern vagrants this spring were several Rose-breasted Grosbeaks, and at least two singing American Redstart. One was near the banding lab on 2 July; another in the north headlands patch on 4 July (right, © Don Roberson).

A breeding bird whose range has expanded into MTY within the last 30 years is Vaux's Swift. Most older books put the southernmost populations in the Santa Cruz mountains. Here in MTY, we have had courting pairs over the Big Sur R. mouth since the 1980s (the one shown at left was doing courtship flights there on 29 May 2010 © D. Roberson). In very recent years, observers have tracked them to active nest trees [they nest inside hollow trees or burned stumps], but an actual nest has never been seen.

That has now changed. In early June at Big Sur R. mouth, Mike Tyner saw an adult carrying nesting material into an old partly-hollow sycamore near the VWS banding lab. Mike Stake put his camera through a hole into the dark interior and 'blindly' took a shot upward. That shot (below left) shows a Vaux's Swift nest stuck to the inside of the hollow tree! When enlarged, one can actually see the tail and tip of the wings of the incubating adult, sitting on the nest, viewed from below. Amazing!
On 15 June, John Hiles photographed a Black Skimmer at El Estero in Monterey (below © J. Hiles). Skimmers are rare but regular spring and fall migrants at Elkhorn Slough, but there are very few Monterey Peninsula records.