a web page by Don Roberson

Two "yellow-billed" subspecies — nuttalli and pugetensis — are common in Monterey County in winter, but only one breeds here: Nuttall's White-crowned (above; 18 Apr 2010 Pebble Beach © D. Roberson). In learning to distinguish between them the first point to understand is that Nuttall's is entirely resident. It is found only within its breeding habitat, which is a very narrow strip of land right on the coast; in the photo above that is the Pacific Ocean in the background. Puget Sound White-crowned may occur within this habitat in fall or winter, but Nuttall's never leaves it — as far as we know, they don't venture more than a block or two from the nesting habitat.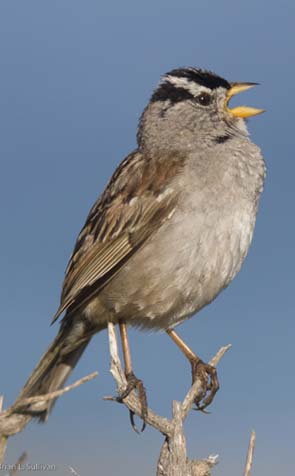 Nuttall's White-crowned Sparrow spends the entire year in a narrow band of habitat that is "low, wind-swept terrain, often or or adjacent to sand dunes where grown to bushes of yellow or blue lupine" (Grinnell & Miller 1944; photo, below, Moss Landing). All this habitat is subject to dense summer fog. So the first key to learning Nuttall's is to learn its habitat.

Within Nuttall's resident range, males set up territories and begin singing in late February, but the breeding season is protracted (singing male, left, on 22 June 2007 at Pebble Beach © Brian L. Sullivan).
Nuttall's are resident from s. Humboldt County (Cape Mendocino) to Santa Barbara County. The nesting zone is a bit wider in the north: perhaps 2-4 miles wide north of the Bay Area, and in a few spots they "spill over" the coastal ridge (e.g., range to Olema Valley in Marin Co.; Shuford 1993). There is a fragmented population on the east side of San Francisco Bay, from about Richmond, Contra Costa Co., through Albany and Emeryville to the north tip of Alameda, Alameda Co. All known locales are west of San Pablo Avenue (Rusty Scalf fide Amy McDonald). There used to be a few pairs in the hills above Berkeley (Grinnell & Miller 1944, Baptista 1975) but there may not be any left there now.
In Monterey County the habitat is restricted to the immediate coast, straying slightly inland only along the Salinas River for perhaps a mile, and upslope (east of Hwy 1) where steep terrain meets the coast (to 1200' elev. at Garrapata SP; Roberson & Tenney 1993). Except for these small exceptions, the entire population of resident White-crowned Sparrows nest west of Highway 1. On the Monterey Peninsula they are even more restricted, being entirely limited to habitat within a few hundred yards of the Pacific Ocean.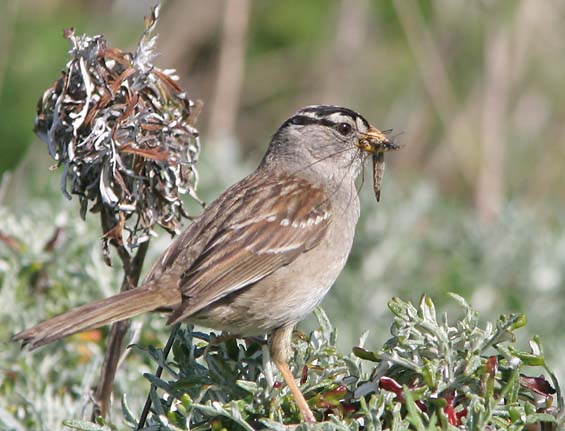 The first nests, off the ground in dense bushes, are initiated in March, but often two broods are produced (Blanchard 1941). During the Monterey Breeding Bird Atlas, adults were seen feeding fledglings between 16 Apr–31 August (Roberson & Tenney 1993). This female (left) was carrying food to a nest on 18 Apr 2010 (Pebble Beach © D. Roberson).
Juvenal plumage is streaky (below left; a juv nuttalli at Pebble Beach © Brian L. Sullivan). It is worn for only a few weeks and then a preformative molt produces a distinctive plumage, with brown and buff crown stripes, that is held for the first winter (below right; first-winter, probably nuttalli 23 Nov 2007 Moss Landing © B.L. Sullivan).
After nesting loose flocks form within the breeding habitat. For all practical purposes, Nuttall's do not stray from the few acres associated with its breeding zone.
IDENTIFICATION The discussion of identification deals only with adults. First, one must be aware of the effects of molt and wear. All of the White-crowned Sparrows that occur in MTY undergo a complete molt on the breeding grounds after nesting is concluded. This means they are most fresh in the fall, generally continue to look crisp through winter into early spring, but become worn by late spring and can be 'ratty' by summer. This gallery shows adult Nuttall's in four different months:
28 Oct 2007 Moss Landing © Brian L. Sullivan

7 Apr 2010 Pacific Grove © Don Roberson

These Nuttall's White-crowns (above & below) show the effects of wear over a year's cycle. It particularly affects the back pattern (crisp in fall, still fine in April, but very worn in July & August) and on the wings and tail. Notwithstanding the effect of wear, consistent features are:

overall dark-looking White-crowned, with darkish gray underparts, much gray in face, and darkish back
very yellow bill at all times, and with a tendency to have a fair amount of dark on the upper mandible
back pattern is dark brown centered feathers edged with darkish gray, which gives a 'dingy' effect
primary projection is very short
some birds show a tendency to have a shortish malar stripe
inner greater coverts and tertials have dark rusty edges but the color does not contrast much as edges of rest of coverts are quite darkish brown

5 July 2005 Salinas River SB © Tom Grey

24 Aug 2004 Garrapata SP © Glen Tepke
Back pattern is helfpul until it becomes too worn, and by that time it is summer and the only White-crowneds left in MTY are Nuttall's. Compare the darkish and gray back of Nuttall's (below left) with the much crisper patterned backs of Puget Sound (below middle) and Gambel's (below right). The back of Puget Sound is dark brown with buffy edges; Gambel's is dark chestnut with light gray edges — and in both cases the pattern is more contrasty than on Nuttall's. All these photos are from early April so they are at the same state of wear.
Nuttall's

7 Apr 2010 Pacific Grove © D. Roberson

Puget Sound

7 Apr 2010 Carmel Valley © B.L. Sullivan

Gambel's

11 Apr 2009 Pixley NWR Tulare Co. © D. Roberson
The collection below is of heads of Nuttall's White-crowned to help evaluate the range of variation in bill color, extent of dark on bill, the pattern of head stripes, and the presence or absence, and the extent, of a malar stripe.
15 Sep 2006 Pebble Beach © B.L. Sullivan

7 Apr 2010 Pacific Grove © D. Roberson

1 Feb 2009 Pacific Grove © D. Roberson

18 Apr 2010 Pebble Beach © D. Roberson

7 Jan 2007 Pebble Beach © B.L. Sullivan

7 Apr 2010 Pacific Grove © D. Roberson
This gallery of six examples of Nuttall's is consistent with the larger sample reviewed. There is very little variation in the yellow color of the bill year-round, and the majority of adults (but not all) have an extensive amount of dark on the culmen — sometimes in stretches across the entire culmen. The is a range of variation from no malar stripe to a well-defined short one, with most birds showing at least a suggestion of a short malar stripe. The amount of gray in the supercilium varies, as does the amount of brown intermixed with black crown stripes at the nape, but no bird shows the very 'flared' rear end of the supercilium shown by Gambel's (and black-lored races). Some birds (see below) have a lot of brown intermixed at the nape. The tone of the breast color is medium gray, so that the brownish flanks are not as distinctive as is typical on Puget Sound; further, as you will see when you look at Gambel's, the tone of the gray on Nuttall's is a dingier and a bit brownish gray, not a pure crisp gray.
The bird below (18 Apr 2010 Pebble Beach © D. Roberson) shows many characters of Nuttall's. Note particularly the very short primary projection on this subspecies. Migratory races have decidedly longer primaries that extend farther beyond the longest tertial. Note also the yellow bill, dusky culmen, dingy back, and non-contrasty rusty color in inner greater coverts. Also note a significant amount of brown in the dark crown stripes at the nape. No other subspecies of White-crowned would share all these characters.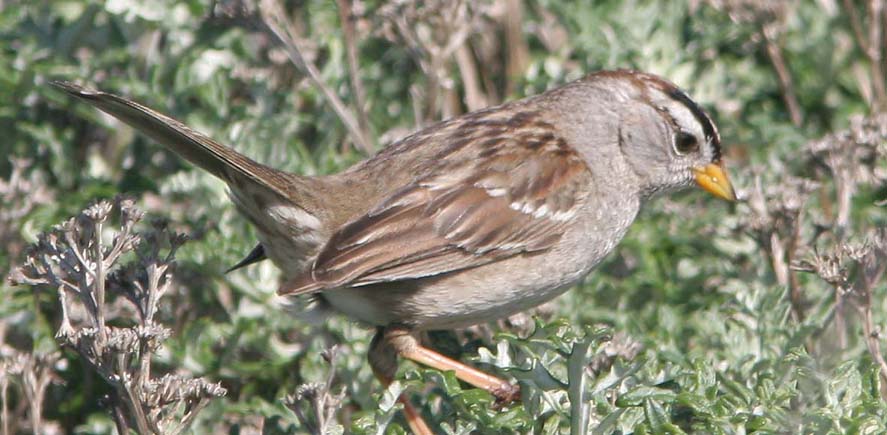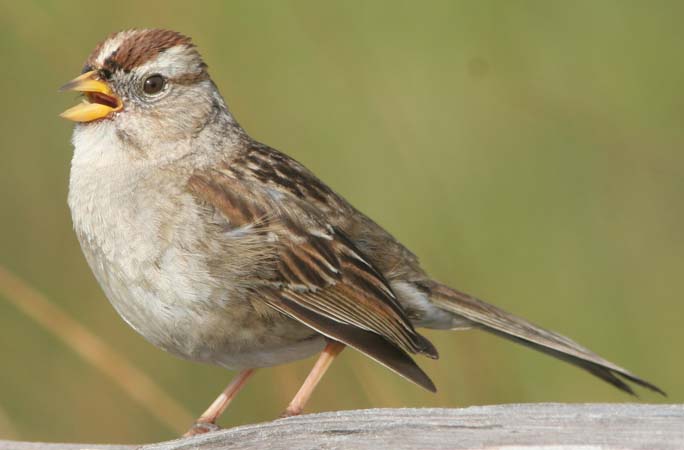 It is often said that yellow-billed Nuttall's and Puget Sound White-crowneds cannot be identified in the field (e.g., Roberson 2002) but I think that author is wrong. There are surely some individuals that will be problematic but in close views or photos, a good many Nuttall's are readily identified. None are easier than many first-summer Nuttall's that are nesting in a plumage with brown rather than black head stripes (right; 23 Apr 2010 © D. Roberson).
This is a singing male; I presume it is nesting in its first spring. I watched him carry food to an active nest (as did the female with which he was paired) and sing for several days. No other race of White-crowned would have this head pattern as a breeding bird. The tendency for some nesting Nuttall's to have this 'retarded' head pattern is a known phenomena (e.g., Chilton 1995). Note also the yellow bill, extensive dusky down culmen, short primary projection, darkish breast and dingy back.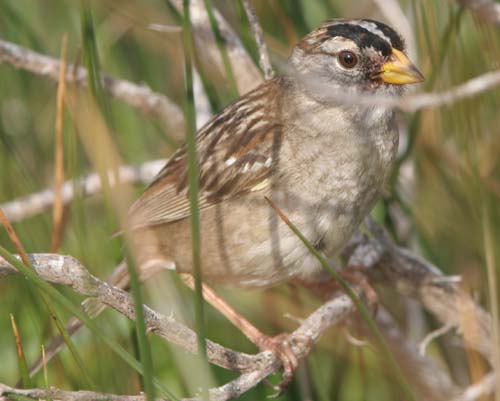 The bird's mate (left; 23 Apr 2010) does have a mostly black-and-white crown pattern but note the extensive brown at the nape. This also indicates she is in her first summer (i.e., one year old; Pyle 1997 — banders call this SY [=2d calendar year] which is confusing since the bird is exactly one year old). She lacks the prominent malar stripe but has a yellow bill with lots of dusky on the distal end of the culmen, and darkish breast and dingy back. Nuttall's is a 'big-billed' subspecies compared to most others, but I suspect that is only useful in-hand with measurements. You can also see the pale yellow bend of the wing (more on that below).
A further caveat: all the characters discussed here apply to adults. Immatures in fall and winter have brown-and-buff head stripes, and have a tendency to show malar stripes in many subspecies. Malar stripes are rare in adults of other races. The presence of a distinct malar stripe on an adult suggests Nuttall's but the presence of a malar stripe on an immature bird may not be a useful character.
To summarize, you may be able to confidently identify an adult Nuttall's White-crowned by a set of characters (below). No single character should be relied upon too heavily, and don't be discouraged if one character is not working well. Experience will help.
you are within the known breeding range of nuttalli; this is a very narrow strip of habitat in MTY
decidedly yellow bill with much dark on the culmen of the upper mandible
short primary extension
rather darkish gray face and underparts, often with a malar stripe
often some brownish in the black head stripes, especially at the nape (which indicates a first-summer bird)
overall dingy, dark appearance, without a crisp pattern on the back
yellow bend of wing (see below)
song (males sing often Feb-June) is a melodic zu-zee-trill pattern: zu is low, zee is an octave higher, and trill is a staccato, melodic trill. This is my simplistic description of the local song in MTY. There are many dialects (Baptista 1975) and those away from MTY may be quite different. I have not found an example of a MTY singer on-line, but a nuttalli from what is likely San Mateo Co. can be heard here.
Nuttall's (top left) has a pale yellow bend to the wing while Gambel's (below left) has a white bend to wing (and underwings). You can see that in these photos but it can't usually be seen in the field. Further, Puget Sound is supposed to be yellow but is actually an intermediate yellowish-white, and looks basically white in photos. For practical purposes, this is an in-hand character only.

Photo top 26 May 2006 Monterey Dunes Colony © Tom Grey
Photo bottom 4 Apr 2010 Moonglow © D. Roberson