MONTEREY BAY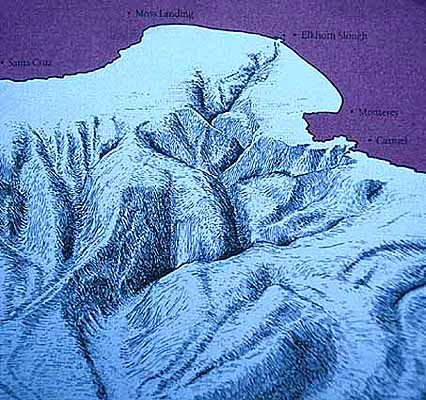 Monterey Bay is probably the single most important geographic feature of this part of the central California coast. Just offshore from the Monterey Peninsula, the Monterey Submarine Canyon bisects Monterey Bay, plunging to 6000 ft. and providing a cold-water upwelling rich in nutrients supporting unusually abundant food for seabirds. The nearshore presence of a deep-water canyon within a semi-protected bay is unmatched anywhere in North America and permits superb pelagic birding within a few miles of land. It is only about 25 miles across the mouth of the Bay from Lighthouse Pt., Santa Cruz, to Pt. Pinos in Pacific Grove, so much of the Bay can be transected on a day's birdwatching boat trip. Over the years field observers have found many ways to observe birds on Monterey Bay. Rollo Beck used a rowboat for some of his collecting a hundred years ago. Various Audubon Societies chartered fishing boats for a day's sponsored trip on the Bay, and some continue to do so. Professional tour companies have also used chartered fishing boats since the 1970s and they offer dozens of trips each year. Recently, the rise in interest in whale-watching by the public has provided many other options for birding on the bay. While focused birding trips may offer the best chances for the widest selection of seabirds, the common species of Monterey Bay can easily be seen on your own from a whale-watching trip. Remember, however, that Monterey Bay has seasons and that the sea birds change with the seasons. Further, you are unlikely to see all your sought-after species on any single boat trip. Numerous trips at different seasons are needed to see the widest variety of pelagic birds and to maximize your chance for rarities.
For links to the current set of boat trip operators on Monterey Bay, go to my LINKS page (these operators change from time to time and it easier to change that page than this one). Some boat trip providers now offer on-line reservations.
| | |
| --- | --- |
| Because of the upwelling spawned by the presence of Monterey Bay's submarine canyon, Monterey Bay is usually full of life. Huge flocks of foraging seabirds (right) are both inshore and over the edges of the canyon. This abundance attracts not only birds, but a tremendous variety of invertebrates, fish, and sea mammals. My favorites among the latter are cetaceans: whales, porpoises, and dolphins. | |
I particularly enjoy searching for the rarer species but, at all times, I am overwhelmed by food web that exists out in the Bay. I hope you don't mind if I share two of my favorite photos — from other photographers — which strongly resonate with me because they depict both birds and marine mammals. Both are fabulous shots by local photographers; take a moment to drink in these incredible interactions:

The top shot (below) is by John Sorensen and shows a Humpback Whale lunging up to the surface, mouth agage, taking in a huge mouthful of sea-water to filter for plankton, and the breeding-plumaged Red Phalaropes, which just happend to be paddling on that bit of ocean, desperately taking off in view of the surprising apparition in their midst....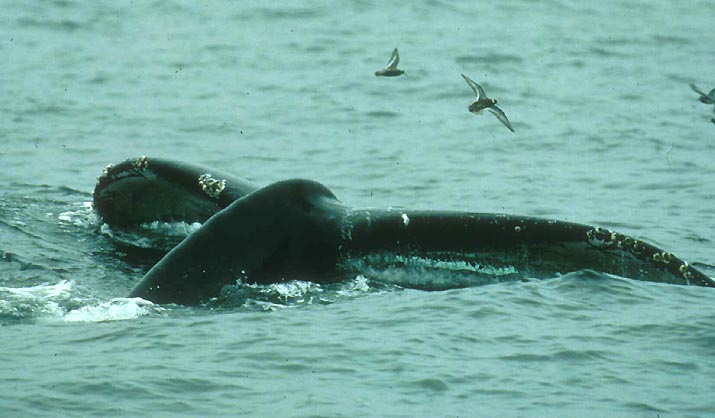 The second shot (below) is by Bill Rydell, who happened to capture the exact moment on 2 Oct 1992 when flying Black-vented (upper) and Pink-footed (lower) Shearwaters passed just in front of a surfacing Orca! The serendipity at this moment is beyond belief. I'd kill for a side-by-side comparison shot of the two shearwaters (one a smaller version of the other in pattern) but to manage the Killer Whale at the same moment..... unbelievable. [I have seen the original slide. This is no PhotoShopping at work!]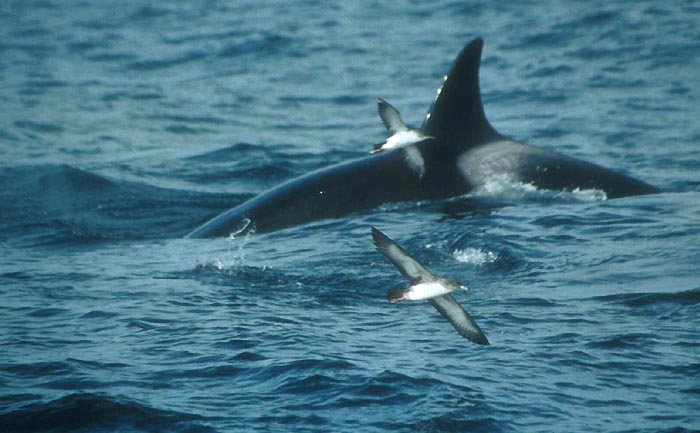 Linked to this introductory page are separate pages on some of the major natural attractions of Monterey Bay. For some these will be birds, but for others it will be the superb variety of marine mammals. While I know some birders who pass off whales as "just big black slimy things" and wish to move on to more birds, I'm intensely interested in the cetaceans here. Click on the links below to bring up the photo-intensive pages which feature:

Also of interest to sea-going observers are these pages:

BEYOND THE BAY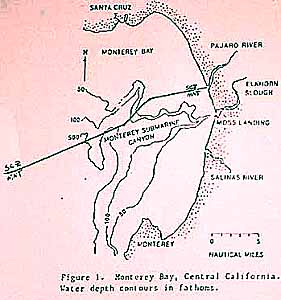 Off the Big Sur coast, the continental shelf drops sharply into the ocean depths at distances 30-100 miles from land. These offshore waters are not protected and can be very rough, especially in winter and spring. This offshore region holds the shipping lanes (above). Beyond the shipping lanes, about 60 miles southwest of Pt. Sur an underwater mountain, the Davidson Seamount, rises to within 4000 ft. of the surface, providing more upwelling. A very deep trench off the Santa Lucia Escarpment, southeast of the seamount, drops to over 13,000 ft. deep. These offshore waters are rarely visited because it takes so long to reach the deep waters, and because weather can cancel a long-planned trip. Only research boats and commercial vessels routinely ply these waters. Nonetheless, birders have tried various overnight trips (24 hour trips are best) to reach distances as far offshore as the Davidson Seamount and beyond. There is a different avifauna out here because these are the waters of the great North Pacific gyre and beyond the influence of the cold California Current. Depending on water temperatures, more tropical species can occur (tropicbirds, boobies) and some trips have found numbers of Pterodroma petrels. Click on this box for a page on these offshore specialties: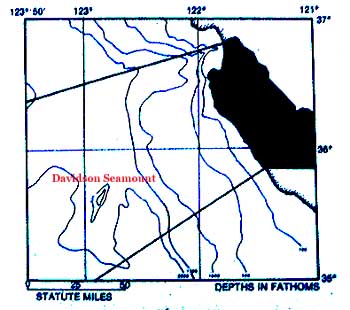 Those interested in county lists know that offshore waters are assigned to the nearest point of land out 200 nautical miles; a full explanation of boundaries at sea is on-line HERE (the essay on boundaries follows a list of California county abbreviations). For local birders, Monterey Bay is divided between Monterey County and Santa Cruz County -- the boundary is a line equidistant from the coastline. This map shows the approximately county line across Monterey Bay overlain above the Monterey Bay canyon. Most of the Monterey submarine canyon is within Monterey County (out about 12 miles from Moss Landing) but "the thumb" of Soquel Canyon, often used by rafting storm-petrel flocks and often a hot spot of general bird activity, is within Santa Cruz County.

Whatever your interest in Monterey Bay -- birds, whales, dolphins, turtles -- I hope you'll find something of interest in these linked pages.

Don Roberson
Pacific Grove

GO TO HOME PAGE

Page created 17 Nov 2000, 13 Nov 2002 & 10 Jan 2003