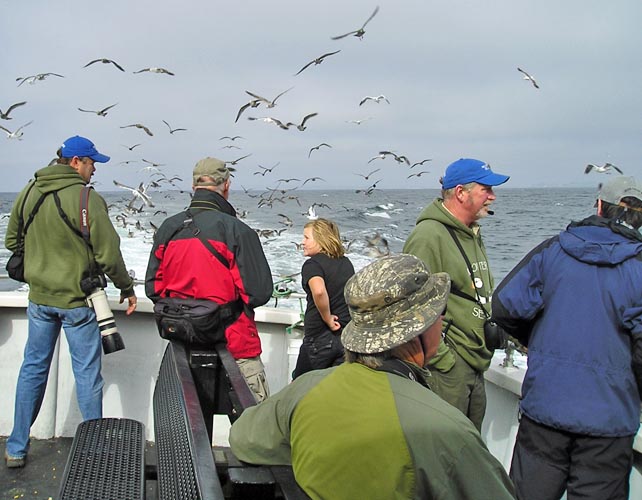 There is nothing quite like leaving the Monterey harbor early aboard a small fishing boat to search for pelagic birds on Monterey Bay. Someone gets chum going out the back and gulls begin to follow, as they will all day. The eager gulls encourage shearwaters and albatrosses to come to the boat to seek food. Although at sea, the boat will be traversing over some of the most dramatic underwater topography on earth, as a huge submarine canyon — as big as the Grand Canyon — lies beneath the surface. Its steep walls create an upwelling of deep-sea nutrients towards the surface, encouraging a productive growth of krill, the basis of a food-web from tiny squids to huge whales.
A boat trip on Monterey Bay is certainly a major highlight of any visit to Monterey County. What is seen depends on the season, weather, sea-surface temperature and salinity, winds, currents, and patchiness of food. Some days are spectacular; others can be cold, foggy, and slow-going. But there are always birds, and each trip is different.
Check out a bar graph from eBird — showing ever-changing results of checklists submitted to 5 eBird hot spots in the Monterey Bay area and within Monterey County — for a fair representation of what to expect.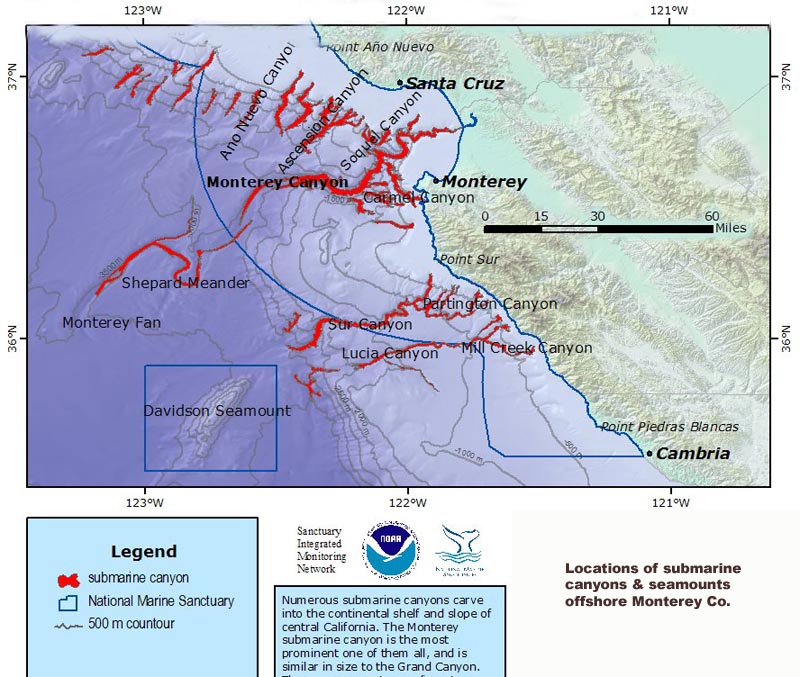 The general offshore topography appears on this map (right) from the Monterey Bay Marine Sanctuary, showing its boundaries (blue lines) and the submarine canyons (in red). Also note the Davidson Seamount, which lines underwater ~60 miles SW of Pt. Sur.
Unless aboard a NOAA or other research ship, it takes 24 hours to run a fishing boat to the Davidson Seamount and back to Monterey harbor. Birders have operated such trips occasionally, but the vast majority of pelagic trips are within Monterey Bay. Some longer trips are advertised for the "Monterey Seavalley" or the "albacore grounds," and these head west of the Monterey Peninsula and beyond the continental shelf to deeper waters 20-40 nmi offshore.
Monterey pelagic trips are offered from time to time by Audubon Societies or other charters, but two companies offer regular pelagic birding trips each fall, and occasionally other seasons:
Each trip is led by experienced sea-birders.
In addition, whale-watching trips are available almost every day of the year from Fisherman's Wharf, Monterey. There are several companies, but Monterey Bay Whalewatch trips often have skippers that know seabirds (tell the leader you are interested in birds).
| | |
| --- | --- |
| | This map (left) represents a fairly typical fall pelagic trip. It was a Monterey Seabirds trip from 20 Sep 2009. Leaving from Monterey harbor, the trip went west past Pt. Pinos, found a Flesh-footed Shearwater south of the Canyon, crossed the mid-Bay county line to the north rim of the canyon, where the flocks of Ashy Storm-Petrels were that day. The trip went east along the north rim to Soquel Canyon, where Killer Whales were seen. Jeff Poklen's great photo of one of those from that trip is below. The trip continued SE back into MTY waters, and south to the Monterey harbor. |
These days, with a lot of interest in county birds by California observers, most pelagic trips pay attention to "county lines" offshore. These are imaginary lines that divide up the 200 nautical miles of offshore waters that are within the United States' exclusive economic zone. Within this 200 nmi offshore area, any bird encountered is assigned to the county that is the nearest point of land from that offshore bird (islands included). A rough sketch of county lines inside and offshore Monterey Bay is shown below, as well as the National Marine Sanctuary borders and the underwater topography. MTY = Monterey Co., SCZ = Santa Cruz Co., and SM = San Mateo Co. (as Pt. Ano Nuevo is in San Mateo Co., it dominates the lines north of Monterey Bay for some distance).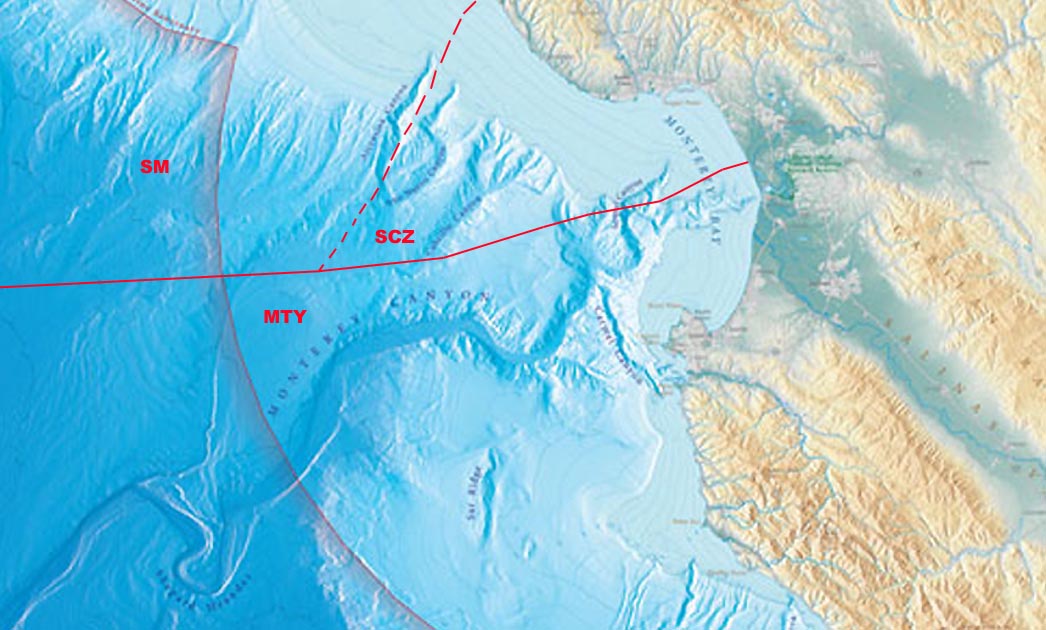 Pelagic trips offer not only an opportunity to observe seabirds, but also (depending on the season) a chance to encounter whales, dolphins, porpoise, sharks, jellies, or even a Leatherback turtle. This amazing Humpback (left) was encountered on 15 Sep 2007.

I have a set of now somewhat-dated pages on birds, mammals, and sea-turtles at this link:

I hope to update that set of pages in the future.
A unique feature of some trips in September-October is the opportunity to see the storm-petrel flocks that gather then on Monterey Bay. Where the flocks occur changes year to year, or from one decade to another. Recently they have been along the north rim of the submarine canyon. On a calm day, and with a careful skipper, a boat may approach closely. A significant percentage of the world's population of Ashy Storm-Petrel may be here (up to 10,000 birds), and in 'warm water' years good numbers of Black Storm-Petrel will be present (both species are apparent in the second photo below; the Blacks are mostly to the far right). Among these flocks we search for the few Fork-tailed, Wilson's, Least, or Leach's that may be present (there is a record of Wedge-rumped Storm-Petrel in 1977).


At the other end of the size spectrum are albatrosses. Black-footed Albatross (just below) can be encountered year-round, but peak numbers are in the spring and summer. Laysan Albatross is much rarer (second shot below), and used to be mostly limited to winter trips, but more recently has been found in any month as its range expands. The rarest of our three north Pacific species is Short-tailed Albatross (sometimes called "Steller's Albatross;" 3d photo down). It almost went extinct in World War II but the population is slowly recovering. We are seeing it more frequently on Monterey Bay again. It would surely be the highlight of any pelagic trip.



Every trip on Monterey Bay is different. Most trips within the Bay have lots of birds and often a nice set of cetaceans. Trips in September-October are traditionally the peak times, and usually have Buller's Shearwater (left) or South Polar Skua (right). Trips farther offshore may have fewer birds — and long stretches of nothing — but can provide chances for species unusual inside the Bay, including Leach's or Fork-tailed Storm-Petrel, or Long-tailed Jaeger. The more trips you take, the better are your chances for the widest variety.

Monterey Bay is exceptional for its marine mammals, from the Sea Otters inside the harbor to the giant whales encountered not far offshore. Dolphins may also delight — here's a favorite shot of a Pacific White-sided Dolphin (below) near the end of a full spin the air.

Whenever you go, have a great day at sea!

The pages linked below are trip reports from several Monterey Bay trips. View them for examples of a single day's experience at that season: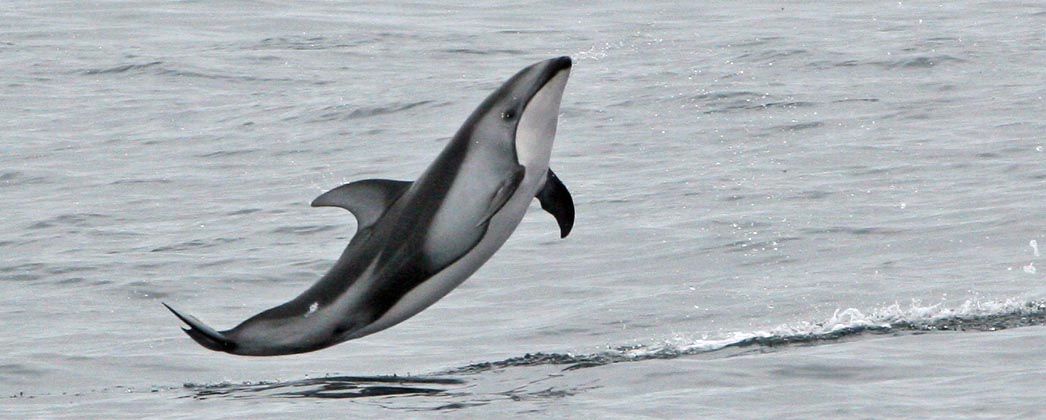 The
Monterey Harbor
is a great spot to bird even if you are not headed out to sea on a pelagic trip. See a separate page: