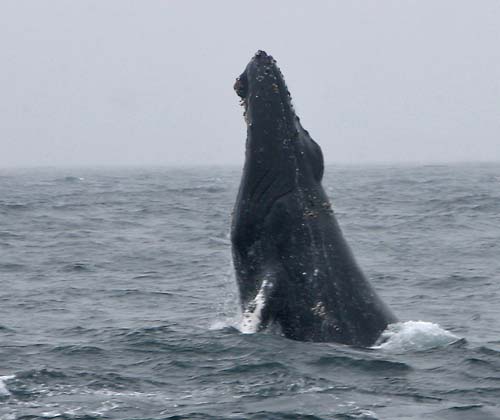 There was an unprecedented heat wave the week before Sunday, 18 May 2008. On Saturday, temperatures on the coast were in the 80s, and inland over 100° Fahrenheit. The punishment for such heat was dense fog over Monterey Bay and the coast on Sunday. It was an exceptionally dreary day offshore, at least for mammals (like us) that live above the waterline. For those that live primarily below, the weather may not matter.
On our Monterey Seabirds boat trip on this Sunday, we battled fog all day. Cold fog and a biting wind. But in the mid-afternoon, as we returned cold and damp, we encountered a group of very active Humpback Whales, and focused on a pair. And this pair was the most demonstrative pair I've ever seen.
They were clearly closely interacting. In the shot above, one has just come to the surface to blow while another starts a leap out of the sea — what we call a breach. One came up so many times that we lost count — it must have breached over a fifty times during out visit — and other skippers of whale-watching boats said they had been going like this for some time before our boat — skippered by Richard Ternullo and organized by Roger Wolfe — arrived on-scene. In the shot just above (right) the angle is such we can see the unique profile of the head of a Humpback.
Wikipedia cites a report of a Humpback near the West Indes for which "130 separate leaps were recorded in less than 90 minutes," but I think our animals broke that record.