This is a short history of "ode big years" in California. It is short because there is very little history.

"Big Years" in birding have been efforts to find as many birds as possible within one year in a defined area, such as North America or California or a particular county. There have been many different attempts and stories (e.g., Peterson & Fisher 1955, Kaufman 1997, Roberson 1978, Vardaman 1980, Rydell 1995, Obmasik 2004). In contrast, those interested in field observation of odes — odites, if you will — are few. The little subculture has existed for only a decade or so. Most of those interested in odonates have been entomologists who collected specimens, and were not into competitive listing.

Although there are now a few active odites who have searched California statewide — for example, Paul Johnson traveled a fair bit in 2006 and found at least 90 species — only twice before has anyone tried to do an organized "ode Big Year." My 2007 effort was the third try. In every case, the motivation has primarily been a means of learning California odes.

Our story begins in 1998, with the discovery of several previously unrecorded dragonflies for California at Willow Lake in Plumas County (above). Willow Lake is different from other montane lakes in California because it is ringed by a floating sphagnum bog. Tim Manolis netted a whiteface that proved to be Belted Whiteface Leucorrhinia proxima on 15 Aug 1998; Andy Rehn visited Willow Lake on 25-26 Aug 1998 and added Canada Darner Aeshna canadensis to the State list, plus found a population of Sedge Sprite Nehalennia irene (previously known from only other site); and Tim and Kathy Biggs found several teneral Autumn Meadowhawk Sympetrum vicinum there on 2 Sep 1998 (Manolis & Rehn 1999). These discoveries in northern California, plus new areas found by Jeff Cole and others in southern California, became the spark of a new idea.
Ode Year 1999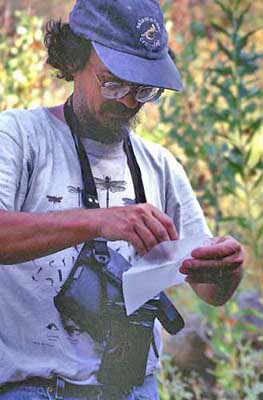 Tim Manolis is a naturalist and an artist. He was very well known within the field ornithology and birding communities for his expertise and his art work. By the late 1990s he had become interested in dragonflies, and had become compiling locality data of California odonates from museum collections and through field work. He was thinking of working on a book about California odonata. That project would eventually become Dragonflies and Damselflies of California (2003) in the U.C. Press California Natural History Guides series. But in 1998, Tim was thinking of a monograph that would require a lot of knowledge about the distribution of California odonates.
What better way to learn about statewide distribution than to travel? And that travel could be focused for a fun year as well. Tim became to think in terms of a potential odeing big year. "Given what we had seen in the field in 1998 in addition to the locality data we were compiling," he wrote, "it seemed feasible to think about doing a 'Big Year' in California in 1999, with the specific goal of finding at least 100 species." At the time there were 107 species on California's state list: 102 listed by Paulson & Garrison (1977), plus the 3 just found in 1998, plus two vagrants (Kiowa Dancer, Riffle Darner) collected previously but not 'discovered' in museums until more recently.
Tim Manolis at Cold Canyon on 19 Sep 1999 (left), the day he reached 100 odes in California within a year; photo © Kathy Biggs
Tim lived in Sacramento. In looking over the checklist, he found 40 species that could likely be found during the year around his "home patch" of the Central Valley and foothills between Sacramento and Chico. A dozen more were likely at Willow Lake in Plumas County; a half-dozen more could be seen in Lassen County in June; and two (spiketail, petaltail) were sure bets at Butterfly Valley in Plumas County in July. Four more were late season species that occurred at Cold Canyon in Solano County. So this made 80 species likely in Tim's usual northern California haunts. He would have to travel to southern California and search out the remaining, more difficult, 20 species.
(below) Jeff Cole at Dos Palmas on 27 May 1999, photo © Kathy Biggs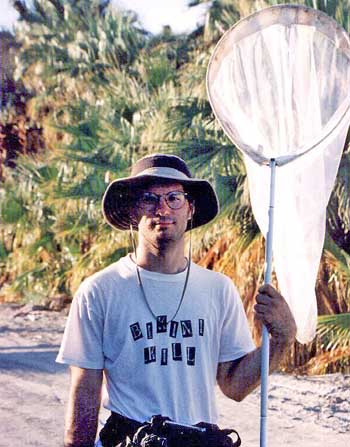 The 1991 year started slowly. Going into the last weekend of May, Tim had seen only 30 species, including a 'lifer,' Swift Forktail, in Arcata, Humboldt Co. The first major break was a visit to Dos Palmas Preserve, near the Salton Sea in Riverside Co., with Jeff Cole (right), Rosser Garrison, Dave & Kathy Biggs, and a few others. Many southern specialties were found, and various specimens collected, including a series of forktails believed to be Desert Forktail Ischnura barberi. A big surprise came a few days later. Jeff Cole let Tim know that his sample of 'barberi' actually included some Rambur's Forktail I. ramburi, representing a new State record! Tim's series proved to be entirely composed of ramburi — a great new species (but it also meant that Desert Forktail had to come off the year list, as Tim could no longer prove he'd seen that species).
The Dos Palmas trip, plus visits two trips to northeastern California and a stop in Bidwell Park, Chico, added 51 species. Tim was at 81 species by the end of June. Grappletail was a last minute thriller. By late June it was getting late for the species, and the only reasonable locale left to check was the north fork of the Feather River, where Tim had them in 1997. Returning from the northeast late in the day, and racing to beat the clock, he got to the site just before sunset. Most of the river canyon was already in shade but one stretch was catching the final rays of sunlight. Scanning the rocks in the gorge below with a spotting scope, he picked out one last Grappletail. June had gone so well that only 2 species were added in July, one of them Neon Skimmer at a new site in Butte Co., concluding the month at 83.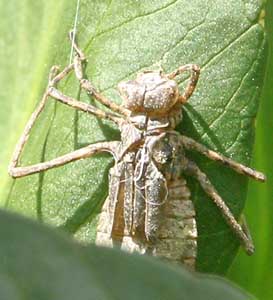 For Tim in 1999, some exciting experiences included confirming the presence of Giant Darner on Bear Creek, Butte Co. (this has since become a well-known site); finding Belted Whiteface again at Willow Lake in late June (along with Sedge Sprite & Chalk-fronted Corporal); and discovering new sites for odes in extreme northeastern California, including River Jewelwing. Acting on a tip from Dennis Paulson, Pale Snaketail was located on Sand Creek, almost on the Nevada border. On 28 June, Tim and his wife Annette visited little known Blue Lake in extreme northeastern Lassen County. Pacific Clubtail was a surprise here (one of many first county records Tim would find in 1999). Tim also collected some intriguing exuviae, present in good numbers on the sides of half-submerged logs on the shore. These turned out to be exuviae of Spiny Baskettail Epitheca spinigera, known for California from only a few specimens taken at Donner Lake in 1914! But no flying baskettails had been seen, leaving this as a frustratingly missing species for 1999.
(left) exuviae, presumably Spiny Baskettail, at Blue Lake 8 June 2007, photo © D. Roberson
The most frustrating ode of 1999 proved to be Olive Clubtail, a species that in some years is readily found in Sacramento itself. Tim spent lot of time looking in July & August. It would be the worst miss of the year. In August, a family vacation in southern California provided an opportunity to look at Sespe Creek, Ventura Co., for two southwestern specialties: Serpent Ringtail (a hit) and Lavender Dancer (a miss). A mid-August trip to Lake Tahoe produced the late summer montane species, and a return to Willow Lake on 31 Aug–1 Sep netting three final meadowhawks: Saffron-winged, Black, and Autumn.
With a total of 93, the "make or break" trip was a long drive with Andy Rehn to the Colorado River over the 3-day weekend of 7-9 September. They had success with Desert Forktail (re-adding to the list after it had been dropped in June), Double-striped Bluet, Roseate Skimmer, and Russet-tipped Clubtail. This made 97 species, and Tim and Andy reviewed the results of this first odeing "big year' on the long drive back. The final three species were found in Cold Canyon, Solano Co, ten days later, and were almost anti-climatic: California & Great Spreadwings and Walker's Darner.
Tim reached his goal of 100 species. Setting aside the two vagrants on the state list, he missed six resident species: Lyre-tipped Spreadwing (very likely seen at Modoc NWR in late June but not netted, so Tim felt it was unconfirmed), Lavender Dancer, Olive & Brimstone Clubtails, Spiny Baskettail (despite 'rediscovering' it!), and Ringed Emerald. Of course, some sites that are now known for these species were not known in 1999. "Seeing 100 odes in California had been fun and a challenge," Tim wrote afterwards, and "the effort stimulated me (and others) to get out and explore the state in a systematic fashion at a level not previously seen in California. . . As interest in observing and documenting the occurrence of dragonflies in California continues to grow, more exciting discoveries are sure to follow."
Ode Year 2005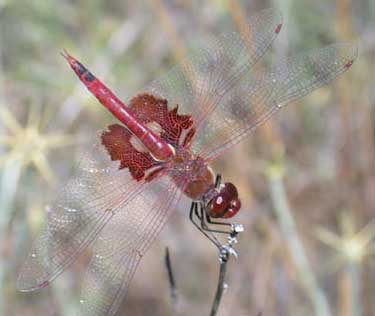 David Edwards and John Hall did not set out to do a "big year" in 2005. They had looked at an occasional dragonfly while searching for butterflies in California, and added Tim Manolis' new field guide to the fanny pack while on hikes for birds, but that was about it. However, a planned set of trips in search of butterflies were put off to care for a sick pet, and they became intrigued with odes while limited to day trips near their Bay Area home in late 2004. They did find San Mateo's first Red Saddlebags (left © John Hall) on 3 Aug 2004 while looking around Horseshoe Lake, Skyline Ridge Open Space Preserve.
During that winter, as they were looking at the ode guide and reading reports on CalOdes, the areas mentioned began to take on a mystique like that of famed birding spots, like the Patagonia Rest Stop or Cave Creek. But now the names were odeing locales: Willow Lake, Cooper Swamp, Dos Palmas, Dirty Socks Springs. "We wanted to visit these places and see the odes that fly there," David wrote, "so we decided to stay in California [in 2005] and lep and ode."
David Edwards
wading in Alameda Creek
Sunol Reg. Wilderness 2007

John Hall
Santa Ana NWR
Texas 2006
Accounts of their 2005 trips can be found in the CalOdes archives and on Kathy Biggs's web site, as they reported results regularly. In sifting through these files, I find that their first ode was 11 March (Calif Darner) in San Mateo County. Reports show they searched their favorite Bay Area sites — primarily Monte Bello Open Space Preserve (OSP) in Santa Clara Co., Skyline Ridge OSP in San Mateo Co., and Sunol Regional Wilderness in Alameda County — on 20 outings between March and December, and ventured out to Del Puerto Canyon in Stanislaus Co. three times, and Santa Cruz and Marin counties twice. These local odes formed the backbone of their year.
The major trips away from the Bay Area were:
a week-long trip to southern & eastern California in late May-early June. They did very well at Dos Palmas, Riverside Co, on 27 May (including both pennants, the 3 southern forktails, Bleached & Comanche Skimmer, Desert Whitetail) and at the Colorado River the next day (Double-striped Bluet). Inyo & Mono counties in early June added River & Alkali Bluets
a 3-day trip to Modoc & Lassen counties in the northeast 13-15 June, adding Pale Snaketail as a prime highlight
a 2-day trip to Butte County in late June, adding Hoary Skimmer, Black Petaltail, and Neon Skimmer
a 3-day trip in early July to Willow Lake in Plumas Co. (Belted Whiteface, Chalk-fronted Corporal, Mt. Emerald, Sedge Sprite), on to Blue Lake in Lassen Co. (Spiny Baskettail) and various other Lassen & Shasta Co. sites (Taiga Bluet, Sinuous & Great Basin Snaketails, et al.)
a 2-day trip to Siskiyou Co. during the 3rd week of July, wrapping up all 3 emeralds
By late July, the year was going so well that they decided to use vacation time in August to try again for species that had previously been missed. These return trips proved successful:
a long 6-day trip through southern & eastern California between 29 July-3 August, hitting Piru Creek in Los Angeles Co. (Serpent Ringtail, but missed Lavender Dancer), the Imperial Valley (Brimstone Clubtail), Dirty Socks Springs in Inyo Co. (Olive Clubtail) and sites in Mono & Alpine counties for butterflies and odes (including wrapping up most alpine meadowhawks)
another 2-day trip to Siskiyou & Trinity counties, again netting all three emeralds plus Lyre-tipped Spreadwing
a 3-day trip in early September, returning to Willow Lake (Canada Darner, Autumn Meadowhawk) and to various Lassen & Tehama county sites (including Cherry-faced Meadowhawk at Willow Creek Wildlife Area)
They were now down to the last late-flying Archilestes (Great Spreadwing), which they found on Copeland Creek, Sonoma Co., on 29 Sep. This was California ode #104 for the year. They did try for yet another on 6 October. Paul Johnson had just found a population of Lavender Dancer in San Benito Co. Hall & Edwards looked at spots along Laguna & Clear Creeks, downstream from Paul's locales in remote and almost inaccessible areas, but without success. Just as Tim Manolis had done, they would miss Lavender Dancer on their year. They also missed one southern specialty — Russet-tipped Clubtail — that was not reported by anyone within California in 2005. So their final total of 104 species stood as the new California big year record. Yet, writes Edwards, "we don't really think of it as a 'Big Year' . . . We only set out to look for species we had never seen and just ended up seeing a lot of things and learning a lot more about dragonflies."
Literature cited:
Kaufman, K. 1997. Kingbird Highway. Houghton Mifflin, Boston. [ABA area, 1973]
Manolis, T., and A. Rehn. 1999. First records of Leucorrhinia proxima, Aeshna canadensis, and Sympetrum vicinum for California. Argia 10(4):24-25.
Obmasik, M. 2004. The Big Year: a Tale of Man, Nature, and Fowl Obsession. Simon & Schuster, New York. [ABA area, 1998]
Paulson, D.R., and R.W. Garrison. 1977. A list and new distributional records of Pacific Coast odonata. Pan-Pacific Entomologist 53:147-160.
Peterson, R.T., and J. Fisher. 1955. Wild America. Houghton Mifflin, Boston. [North America, 1953]
Roberson, D. 1978. Birders' California. Amer. Birding Ass'n, Denver. [California, 1977]
Rydell, W.B., Jr. 1995. A Year for the Birds. Bullfinch Press, Minneapolis. [ABA area, 1992]
Vardaman, J.A. 1980. Call Collect, Ask for Birdman. St. Martin's Press, New York. [ABA area, 1979]
Acknowledgements: Tim Manolis and David Edwards provided accounts of their respective year list efforts and reviewed drafts of the preceding accounts. The stories could not be written without their help. Kathy Biggs graciously provided photos from 1999, and John Hall forwarded photos from their trips.