PADDLE-TAILED DARNER
Aeshna palmata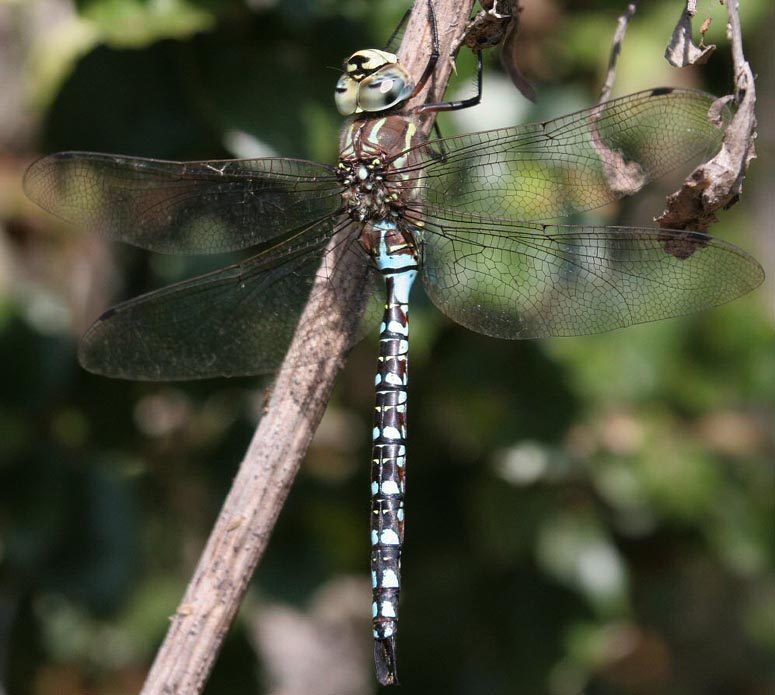 photo (above & just below) 22 Oct 2006 ESNERR © William Hull
all other photos below that are © Don Roberson
On Sunday, 22 Oct 2006, William Hull, a visitor from Ohio, observed 5 or 6 Aeshna darners at "Cattail Swale" in Elkhorn Slough National Estuarine Research Reserve. He took a long series of photos, including those above & below (© William Hull), and identified the darner as Paddle-tailed Darner on the basis of, among other things, the paddle-shaped appendage and the blue spots atop abdominal segment #10. This identification has been confirmed by Dennis Paulson. It represents the first record for Monterey County. A close-up of the male's appendage is below (photo turned 90° for ease of viewing). Among the points mentioned by Paulson is the shape of the 'paddle' — it gets wider beyond the halfway point. Walker's Darner A. walkeri, which is of regular occurrence in the MTY mountains, has a paddle that reaches full width by the mid-way point (this is illustrated, but not mentioned, on Plate 19 of Manolis 2003). Paulson also pointed to the yellow color on the lateral thoracic stripes. The "T-spot" and the dark line across the slightly yellowish face also fit A. palmata (see Plate 19 of Manolis 2003).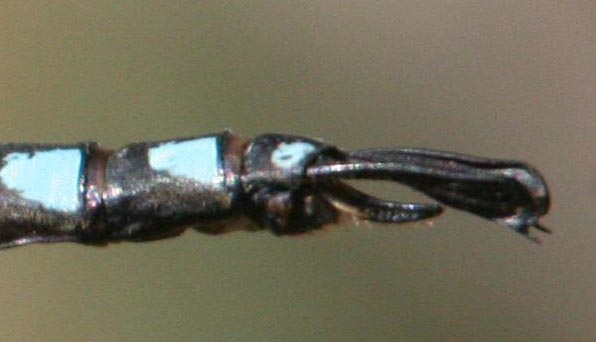 William Hull, the discover of this new range extension, is well-known in the birding world for his Mangoverde web site on Birds of the World, featuring a growing collection of photos and sound recordings that aims at some day having information on all the birds of the world. He advises that he will soon be adding Odonata to this web site.

This new MTY record is quite surprising. The nearest known population is in San Mateo County (Manolis 2003). Hull had 5-6 Aeshna (not Blue-eyed Darners, in his opinion) between a dry pond and full freshwater pond at ESNERR. While these numbers might suggest a local breeding population, I wonder if they might be migrants or dispersals from farther north that either (a) moved together in a foraging/wandering flock or (b) found the same productive habitat while moving on their own in October. There have been many unidentified mosaic darners seen in flight along much of the northern MTY coast this October, at places we don't think they breed (i.e., no darners seem to frequent coastal spots in our foggy summers). However, both Dennis Paulson and Tim Manolis suspect that local breeding populations may be responsible for this record; A. palmata is not known to be migratory (Paulson) and the habitat at ESNERR is similar to Paddle-tailed breeding habitat in the coastal northwestern portion of California (Manolis). There is also an old record from San Diego County (Manolis 2003).

The October occurrence remains a bit of a mystery — I was personally very jazzed to hear about the first MTY record, and went to Hull's exact spot the next day (23 October). I did not find his Paddle-tailed Darner — I found a different Paddle-tailed Darner (shots below; © Don Roberson). Compared to his photos, note the missing bits in the upper and low left-side wings, and note the fused blue spots on the 9th and 10th abdominal segments: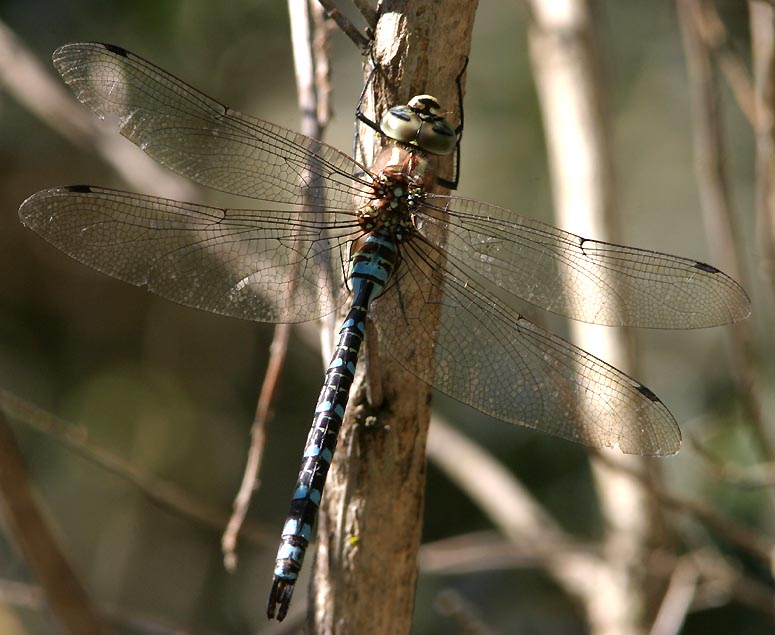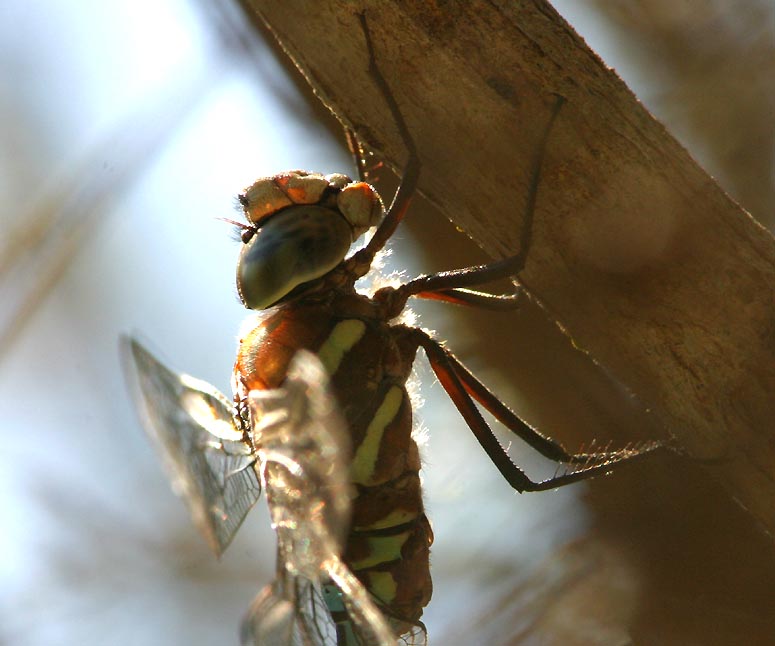 | | |
| --- | --- |
| See the yellow color to the lateral thoracic stripes (above) the long spine out the tip of the 'paddle' (right) that extends a bit beyond the outer edge of the 'paddle' (again, the photo turned 90° for ease of viewing). | |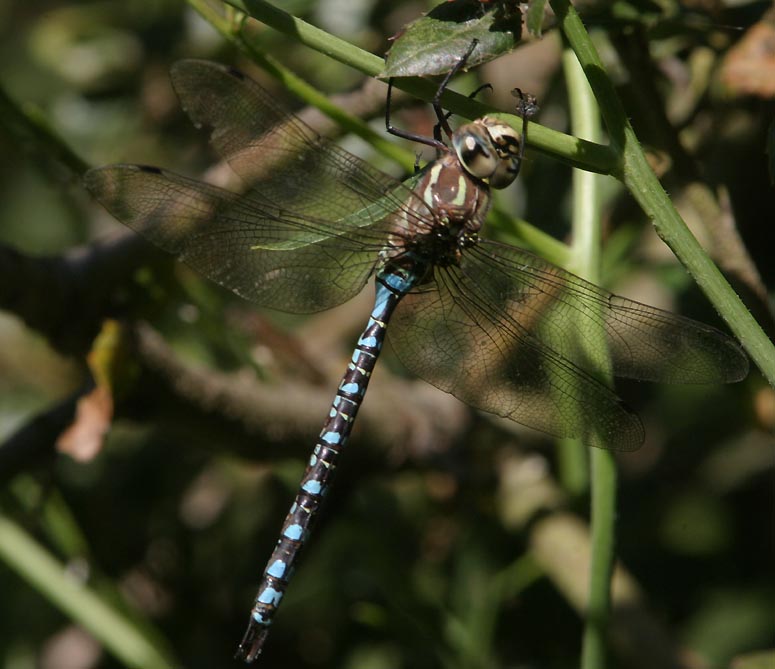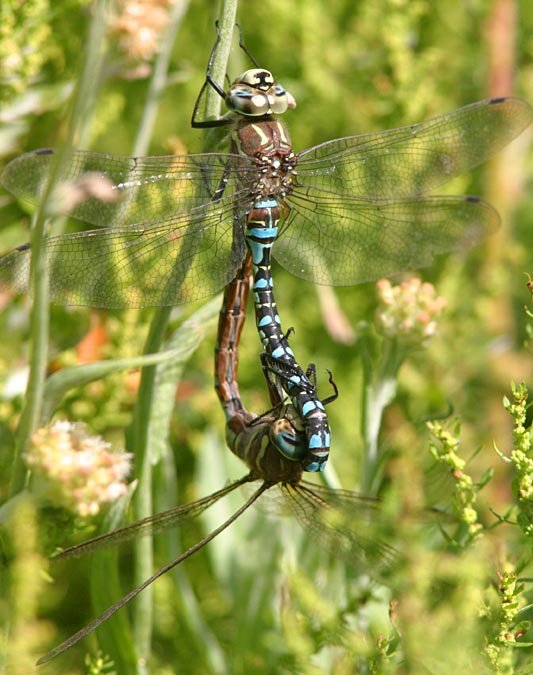 To my suggestion that we could figure out their status in MTY "next summer," Tim Manolis wrote: "Summer may not be the best time to look. October is probably the time of year when they breed most actively. Indeed, perhaps the reason they have not been found before along the central coast is that there has been little prior odonate field work in late fall in this area. Who knows, they may well fly into November in your area." So with hopes of sorting out the mystery of these darners — are they a new breeding population or vagrant wanderers — I tried again at mid-day on 29 Oct.

I first spotted a male in flight over the same dry pond as before, and later a female — and then a tandem pair in flight! But the pair disappeared around a corner and I could not locate them. So I waited until the male (or another male) started patrolling again along the edges of the dry pond, checking the thistle and weeds. He actually landed for a bit for views and photos — it was yet a different male Paddle-tailed then any of the two shown above.

Out of the corner of my eye I noticed a female in flight over the dry pond — and so did he! He was quick to grab her and wrestle her into the pond-edge weeds, where I took this photo (right). They remained engaged in this sexual position for at least the next 10 minutes.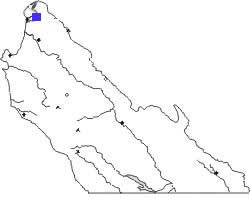 The map (right) shows the only site so far for MTY: Elkhorn Slough National Estuarine Research Reserve. The Reserve is open 9am-5pm Wed-Sun; also check their web site. The habitat is tule-lined freshwater ponds adjacent to willows, and not far from the tidal slough.

The only known dates so far are 22-29 Oct; elsewhere in California the known flight dates are June to October.

One other bit of MTY history. For many years, Hastings Natural History Reservation in upper Carmel Valley maintained a collection of Odonata; that collection is now at the Oakland Museum. An Aeshna in that collection from HNHR in July 1943 was labeled A. palmata. Tim Manolis reviewed that specimen this summer (Aug 2006) and re-identified the specimen as Walker's Darner A. walkeri. So it got taken off the MTY list in August 2006, and then Bill Hull put in right back on just two months later. . . .

For reference, I add (below) a flight shot of Paddle-tailed Darner taken in August at over 7000' elev. in Alpine Co., California.
Literature cited:
Manolis, T. 2003. Dragonflies and Damselflies of California. Univ. of Calif. Press, Berkeley.
Web resources:
Major identification web sites with much information on California odes include: For sites with excellent photos to compare for identification or to simply enjoy, see: Many of these sites have links to other useful pages. Kathy Biggs's site is particularly useful in her selection of links.
Photos © Don Roberson 2007, except those attributed to © William Hull, used with permission; all rights reserved