Red Saddlebags is resident in southern California but 'erupts' northward from time to time; it appears erratically in MTY. So far a few have appeared in five different summers between 2004 and 2022, and once in late fall 2016.
Rob Fowler reported the first one on 8 June 2004 near the Big Sur River mouth in Andrew Molera State Park. Thereafter he saw a few daily throughout June and July during his avian surveys for the Big Sur Ornithology Lab. Later that same summer, Steve Rovell saw a female in his Marina yard on 6 Sep 2004, but efforts to capture or photograph it were unsuccessful.
Much like Black Saddlebags, this dragonfly is typically seen in flight, restlessly patrolling the airspace above ponds or adjacent open land. It often takes a lot of patience to follow one long enough to see it land. Of the few photos from MTY, most are of saddlebags in flight.
The first photo-documented Red Saddlebags was a male in flight near the Big Sur R. mouth, within Andrew Molera SP, on 7 June 2008 (photo right, © D. Roberson). Rita Carratello & I saw four of them, including a female, in the campground.

The next incursion was in summer 2015. Rita Carratello found a nice perched male at Salinas River NWR on 5 July 2015 (photo below, © R. Carratello). Also in 2015, a female was photo'd in Manzanita Reg. Park near Prunedale (Gena Bentall on 20 June, photo in iNaturalist), and then at least two (male & female) were photographed in flight along the public hiking trail (old RR tracks) in Pacific Grove on 12 July (D. Roberson, R. Carratello).

This northwards incursion in summer 2015 may be the most impressive on record. Multiples moved into northern California, even reaching Del Norte County and, then, southeastern Oregon! (Johnson 2015).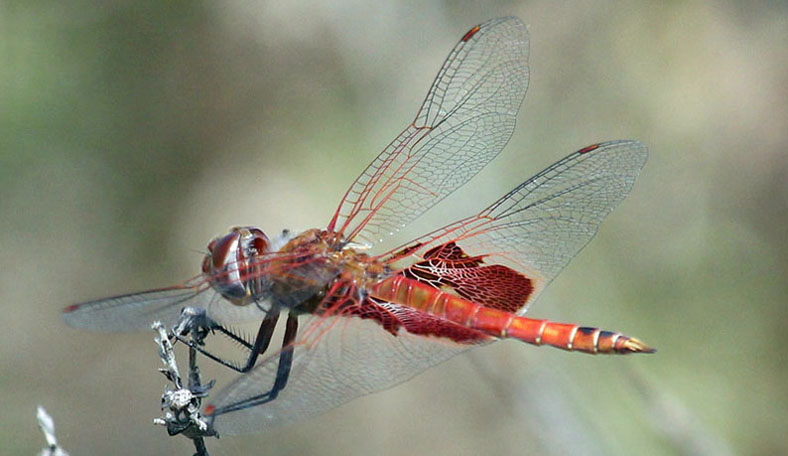 Male Red Saddlebags are pretty easy to identify with their dark red-colored patches on the hind wings, the otherwise clear wings with red veins, red-brown eyes, and a tomato-red abdomen with a black spot on each of the final two segments (as shown above).
In 2016, a couple more Red Saddlebags were located: a male at Moss Landing 28 Aug (Ryan Terrill on 28 Aug, in iNaturalist) and then this very late female at Laguna Grande on 8 Nov (photo below, © Sarah Lane).
Female Red Saddlebags are a dull and tawny version of males, with dark-brown patches with ragged edges on the hind wings, otherwise clear wings, dark brown eyes, and a tawny abdomen with black patches atop segements 8 & 9 (Manolis 2003).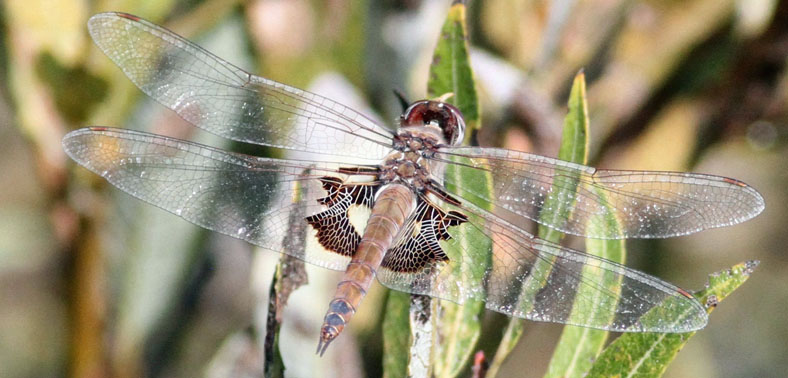 The most recent incursion was noted on 3 June 2022, found again by Rita Carratello & Don Roberson. Again the location was not far from the Cooper Cabin in Anderew Molera SP. At least six Red Saddlebags were in flight around a patch of brush and live oaks, and included two females among the males. This male (photo below, © Karen Kreiger) actually tired and perched for a portrait.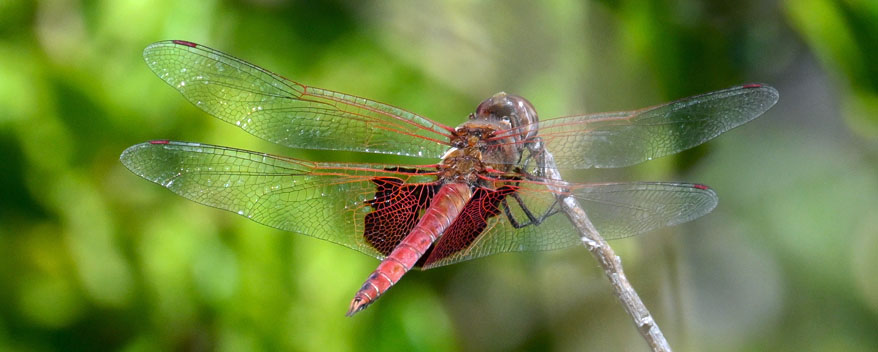 Red Saddlebags is common in southern California and the southwestern U.S., and ranges widely in the eastern U.S. (except Florida, where another species of saddlebags is dominant). It is a tropical species throughout the New World south to Venezuela (Paulson 2009).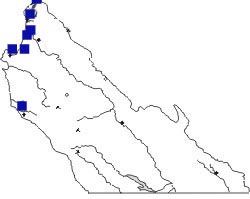 The map shows all reported locations for Red Saddlebags in MTY between 2004 and 2022. It likely occurs widely in the lowlands, both along the coast and (maybe) inland, during eruptive flight years. The species occurs widely in southern California, using habitats similar to Black Saddlebags.
Elsewhere in California, this species typically has a flight season ranging from April to October (Manolis 2003). The MTY observations to date stretch from June into November.
Literature cited:
Johnson, J. 2015. Tramea onusta (Red Saddlebags): New to Oregon. Argia 27: 14.
Manolis, T. 2003. Dragonflies and Damselflies of California. Univ. of Calif. Press, Berkeley.
Paulson, D. 2009. Dragonflies and Damselflies of the West. Princeton Univ. Press, N.J.
Web resources:
Major identification web sites with much information on California odes include: Kathy Biggs's site also has a useful selection of links about odes in California.
All photos © Don Roberson, except when otherwise credited to Rita Carratello, Sarah Lane, or Karen Kreiger
Page created 8 Mar 2007, updated 3 June 2022