THE CREAGRUS LIST
Scenes from a boat trip: 4 July 2005
all photos & text by Don Roberson
A pelagic trip off Cape Town, South Africa, is a very different experience than a trip on Monterey Bay. We had been scheduled for a pelagic on 2 July but exceptionally high winds precluded any thought of the trip that day — or even the next day. But the winds abated and the trip was on for Monday, the 4th of July. We boarded the very small but fast boat Ocean Warrior (below left) before dawn and headed south and out to sea. We had booked this fast, little boat because our schedule put us in Cape Town on a weekend outside the regularly scheduled trips and, fortunately, there was one other couple (from Sweden) who wished to go. We were 10 nmi offshore, south of Cape Point, when dawn brightened the sky (below right). We could then awake to greet our Rockjumper guide, Richard White, and the skipper, David Christie (second row left) and the other passengers (second row right), which included our local trip leader, Cliff Dorse, and his friend Amanda. There is no 'head' on this tiny boat so exercises in bladder control are useful. Fortunately for us, the seas were remarkably calm for mid-winter [July is mid-winter in the southern hemisphere.] To quote Cliff's description for the "Pelagics" chat line: "The Ocean Warrior is a very nippy boat and we flew through the calm waters of False Bay! On rounding the point it was with some delight that we noted that the conditions out towards the trawling grounds appeared very similar to those in the bay!"
Our first order of business dealt with the mysterious red box on the bow (below left). When opened, it proved to hold a Light-mantled Albatross Phoebetria palpebrata. This is an extreme rarity for southern Africa, with only a half-dozen records. As I understand it, this bird was picked up on a Mozambique beach and flown to Johannesburg for a week of rehabilitation, then flown to Cape Town for release. It was our duty to return it to the wild, so Cliff Dorse gingerly assisted it over the side. It would have been a "life bird" for everyone on board had we found a truly wild Light-mantled at sea, but we were all happy to see it get a second chance. . .
The next order of business was to find a trawler. We had been pounding across the ocean, kicking up spray and bouncing in our seats, for several hours. The skipper used radar, radio, and local insight to locate a trawler. The trawler is the absolute key to the trip. If you don't find one, the trip is a bust. We saw just a few scattered birds away from the trawler. But when you find that trawler — and especially one dragging in its nets (as ours was) — well . . . see the pictures.

The rest of the trip is simply spent slowly following the trawler for as much time as you have left before the return trip. My estimate of numbers (which are somewhat higher than Cliff's estimates, which I set out in brackets) were, in order of abundance:

Sooty Shearwater 800 [250]
White-chinned Petrel 600 [250]
Cape (Pintado) Petrel 300 [50]
Wilson's Storm-Petrel 200 [75]
Black-browed Albatross 150 [150]
Shy Albatross 130 [120]
Cape Gannet 80 [not counted, just 'checked']
Kelp Gull 50 offshore [not counted, 'checked']
Yellow-nosed Albatross 30, all Indian Ocean carteri [10]
Subantarctic Skua 12 [10]
Antarctic Prion 6 [15]
Antarctic or Arctic Tern 2 [2] see discussion below; perhaps one of each?
Great Crested Tern 1 ['checked']
Southern Giant Petrel 3 [3]
Northern Giant Petrel 1 [1 left undecided sp?]

Whichever are the more accurate totals, the numbers swirling behind the trawler was astounding.

Let's now look at these species is better detail. The calm seas made for great photographic opportunities.
Sooty Shearwater
Puffinus griseus

As is often the case on Monterey Bay, this was the was abundant procellarid. But I've never taken a photo like this before — probably because this is the first time I've aimed the digital camera at one . . .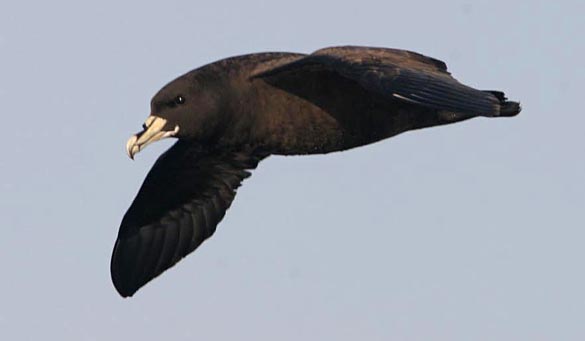 White-chinned Petrel
Procellaria aequinoilla
The other common procellarid off South Africa in winter is this species. It is a larger, bulkier bird than Sooty Shearwater but is still very agile in flight. Note the complex bill structure typical of the genus. The white chin shows reasonably well on most birds at mid-to-close range (see also the sitting bird, below left) but some (below right) have much more white on the throat and nape or crown as well.
Kelp Gulls Larus dominca vetula (below; mobbing a Southern Giant Petrel) are common from shoreline to 20 mi offshore, just as Western Gulls are on Monterey Bay. Some South African authors split these as "Cape Gull" but most of the world gull experts do not, at least not at this time.


Cape Gannet
Morus capensis

Like the gull, this is also a common species scattered throughout the offshore trip. We later visited a huge breeding colony up the Atlantic Coast at Lamberts Bay.
Wilson's Storm-Petrel Oceanites oceanicus (above) were also common and surprising photographable. One of two Sterna terns passed close by and was called Antarctic Tern Sterna vittata (below left), but since this page was originally posted, a number of experienced observers suggest that it really was an overwintering Arctic TernS. paradisaea, based on this photo. Points suggestive of Arctc are the alternate plumage in July, the very white rump, and the rather thin bill. Points suggestive of Antarctic are the (apparent) lack of dark outer webs to the outer rectrices. Can anyone provide a more definitive i.d.? In addition, a few Antarctic Prion Pachyptila desolata (below right) put in brief appearances.
Dashing amongst the throngs were a few Subantarctic Skua Catharacta antarctica (above). But other scavengers were around, including Giant Petrels Macronectes sp. The shots below were actually taken during our Great White Shark adventure a couple days before; they depict a Southern Giant Petrel M. giganteus (below left, generally the more common taxa here in winter; note greenish tip to bill) and a Northern Giant Petrel M. halli (below right; note reddish tip to bill). I felt we saw both taxa again on the pelagic trip, but others were more cautious with the putative Northern.
Throughout the throng are graceful and striking Cape PetrelsDaption capense (above) . . and then there were albatrosses upon albatrosses. The most common species (barely) was Black-browed AlbatrossThalassarche melanophris (below; right-hand shot with White-chinned Petrel).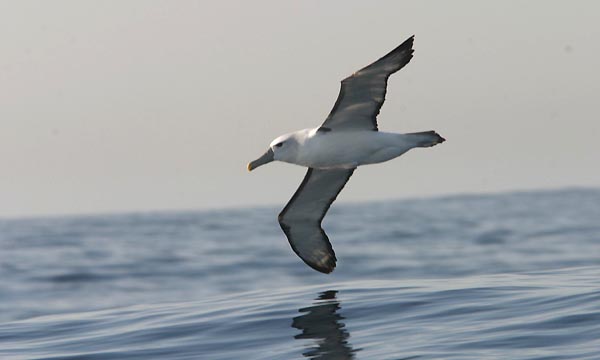 The Indian Yellow-nosed Albatross Thalassarche (chlororynchus) carteri(above) was present in small numbers; we checked every one closely in hopes of the Atlantic nominate birds. But nothing is quite so impressive as a huge Shy Albatross T. cauta (right) gliding by, and there were many such beasts with which to be impressed.

I had many opportunities to shoot all these albatrosses, but this will suffice for now. A pelagic trip is very different when the common species are big, lumbering albatrosses!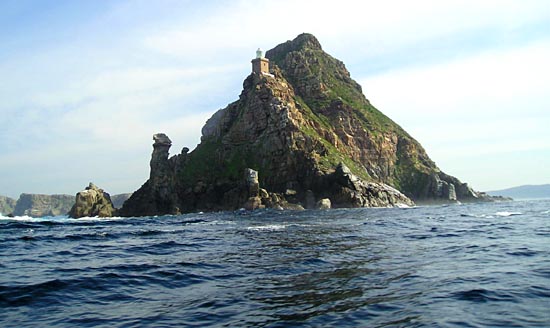 But finally it is time to turn back toward Simonstown, bouncing over the now increasing swell for several hours. We pass Cape Point (left) on the way (the southwestern tip of Africa) and I reflect on just how far away I am from home. The ocean, the birds, the scenery are all different. Yet there is no doubt that, like Monterey Bay, a pelagic trip out of Cape Town vicinity is among the best boat trips that a birder can take on this planet.
Plan your own Cape Town pelagic trip!

CLICK ON THE ICON to the left
Readers may use this material for their own private enjoyment, study, or research but none of the photos or text herein may be used commercially nor may they be reposted on other web sites without written permission. All material is copyrighted.

TO HOME PAGE

TO SOUTHWESTERN AFRICA TRIP PAGE

Page created 9-10 Aug 2005