sunset at Pt. Lobos, 7 Jan 2003
THE CREAGRUS CALIFORNIA LIST
A personal portfolio
all photos & text by Don Roberson
all photos taken in California
PORTAL PAGE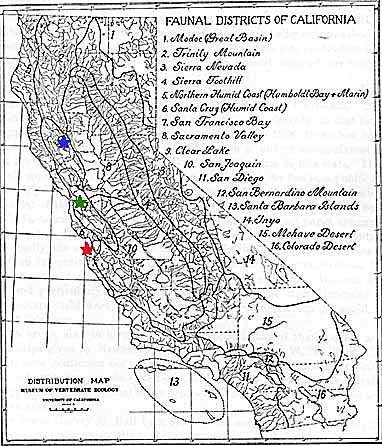 This is a portal page to my personal California state bird records & photos. The concept is to post at least one photo of each species I have been lucky enough to photograph in California, and to provide a list of the interesting records of each bird that I have encountered in the State. This is personal portfolio and a self-indulgent project. But since it is here I overlay (right) the major locales at which I have lived on the faunal map of California published back in 1915 by Joseph Grinnell (A distributional list of the birds of California, Pacific Coast Avifauna 11). These locales are:
blue star Clearlake, Lake Co. 1952-1972
green star Berkeley & Alameda, Alameda Co. 1972-1979 (college & law school)
red star Pacific Grove, Monterey Co. 1979-present
Back in the 1970s when I was very actively chasing birds across the length and breadth of the State, a listing of all one's own records of any rare bird was called a "greed list." Each new observation of a routine eastern vagrants like a Rose-breasted Grosbeak was a "greed" bird and it was fun to keep track of the growing number of these personal sightings. I've never really "chased" greed birds but quite a number have accumulated just by bird actively over the last 25 years or so. I've also tried to photograph many vagrants with an eye toward having a documenting photo of each species that I'd seen in the State. Over the years I do have a lot of shots: some great, some quite poor. I present the best I have of each species on the pages accessed here. Many are simply "record shots" but there are quite a selection. In some cases I have no photo but I do have a field sketch or field description, and these are substituted for photos in various spots.

The individual species pages are accessed via families or groups of families portal pages which contain thumbnails of all native species [non-native introductions have their own portal page]. Obviously, this is a huge project and will continually be updated and expanded. In over a quarter-century of active state birding I do have a good state list (580 as of July 2001) and therefore lots of information to present.

The family portal pages are these:
WATERFOWL

TURKEY, GROUSE & QUAIL

LOONS & GREBES

ALBATROSSES

SHEARWATERS & PETRELS

STORM-PETRELS

TROPICBIRDS to FRIGATEBIRDS

HERONS

IBISES, STORKS & NEW WORLD VULTURES

HAWKS, KITES & EAGLES

FALCONS

RAILS & CRANES

PLOVERS, OYSTERCATCHERS & STILTS

SANDPIPERS, SNIPES & PHALAROPES

JAEGERS & SKUAS

GULLS

TERNS & SKIMMERS

ALCIDS

DOVES & CUCKOOS

OWLS & NIGHTJARS

SWIFTS & HUMMINGBIRDS

KINGFISHERS & WOODPECKERS

FLYCATCHERS

SHRIKES & VIREOS

JAYS, CROWS & OTHER CORVIDS

LARKS & SWALLOWS

TITS, VERDIN, BUSHTIT, NUTHATCHES & CREEPER

WRENS & DIPPERS

KINGLETS TO THRUSHES TO WRENTIT

THRASHERS

WAGTAILS to SILKY-FLYCATCHERS

WARBLERS

TANAGERS

SPARROWS & ALLIES

CARDINALS, GROSBEAKS & BUNTINGS

ORIOLES, BLACKBIRDS & OTHER ICTERIDS

FINCHES

NON-NATIVE ESTABLISHED INTRODUCED BIRDS
In my earlier years (1970s and early 1980s) I did a lot of chasing around California and many of my "greed" birds are from that era. In more recent years I have mostly stuck closer to home in Monterey County with fewer forays outside the county, and usually only for new state birds, but all these records have been extracted from my daily field notes. [It is certainly possible that I've failed to extract every record of interest.] Throughout the records I have also tried to indicate those that were "self-found," either entirely or partially. While I have certainly "chased" a lot of other folks' rarities, it is almost always more fun to find your own vagrant. These are indicated where I have that information. It is interesting to me to see which birds I'd never have seen in the State but for the birders' grapevine.
All records are assigned to the county having jurisdiction over the land or, for offshore observations, the nearest point of land. Joe Morlan's web site has a great interactive map of all California counties. My discussion of "nearest-point-of-land" rules is posted on the California Bird Records Committee (CBRC) website following the list of county abbreviations. Those county abbreviations are used on all my species pages herein. They are:
ALA - Alameda, ALP - Alpine, AMA - Amador, BUT - Butte, CC - Contra Costa,
CLV - Calaveras, COL - Colusa, DN - Del Norte, ED - El Dorado, FRE - Fresno
GLE - Glenn, HUM - Humboldt, IMP - Imperial, INY - Inyo, KER - Kern, KIN - Kings
LA - Los Angeles, LAK - Lake, LAS - Lassen, MAD - Madera, MEN - Mendocino
MER - Merced, MNO - Mono, MOD - Modoc, MRN - Marin, MRP - Mariposa
MTY - Monterey, NAP - Napa, NEV - Nevada, ORA - Orange, PLA - Placer
PLU - Plumas, RIV - Riverside, SAC - Sacramento, SBA - Santa Barbara
SBE - San Bernardino, SBT - San Benito, SCL - Santa Clara, SCZ - Santa Cruz
SD - San Diego, SF - San Francisco, SHA - Shasta, SIE - Sierra, SIS - Siskiyou
SJ - San Joaquin, SLO - San Luis Obispo, SM - San Mateo, SOL - Solano
SON - Sonoma, STA - Stanislaus, SUT - Sutter, TEH - Tehama, TRI - Trinity
TUL - Tulare, TUO - Tuolumne, VEN - Ventura, YOL - Yolo, YUB - Yuba
All photos & text © 2001-2006 Don Roberson; all rights reserved.
Readers may use this material for their own private enjoyment, study, or research but none of the photos or text herein may be used commercially nor may they be reposted on other web sites without written permission. All material is copyrighted. The posting of photos and text on this private web site is not a submission to review organizations. However, blanket permission for use of descriptions by North American Birds editors in their research is granted, and serious researchers in general are granted permission to use the records cited herein.

TO HOME PAGE

Page created 11 Nov 2004, last updated 6 Feb 2006