page four
BIG GREEN: LIFE IN THE FAST LANE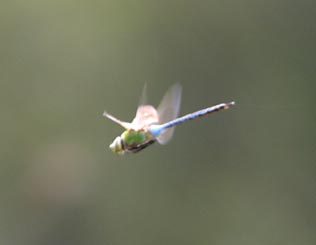 The adult life of a male Common Green Darner Anax junius is a very busy life in the fast lane. Rich Stallcup calls him the "Lord of June." He is constantly on the go, patrolling a large territory, searching for females to catch and males to chase away. Indeed, except for the photos at the bottom of this page and another similar situation, I have yet to see one stop flying.

This is a very common and widespread species in North America and is such a strong flyer that it has made it to England, Hawaii, east Asia, and the South Pacific (Manolis 2003). So let's pretend we are a Big Green, the Lord of June, and hover right behind him as he eyes the next adventure (below).
| | |
| --- | --- |
| | . . . and when he does spot a female, he's off to the chase. If successful, he'll grab her by the neck and, after an intimate moment, guide her to a quiet pond for ovipositing (below) |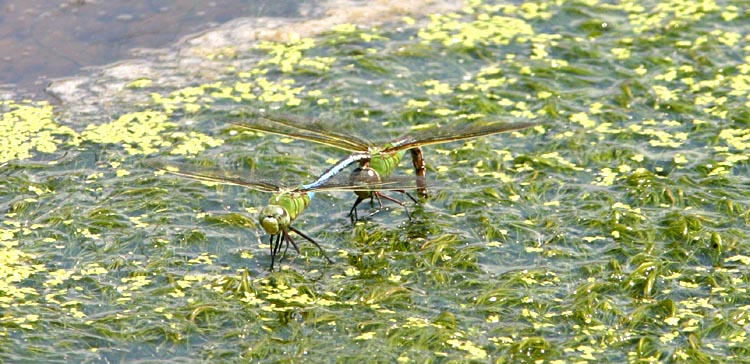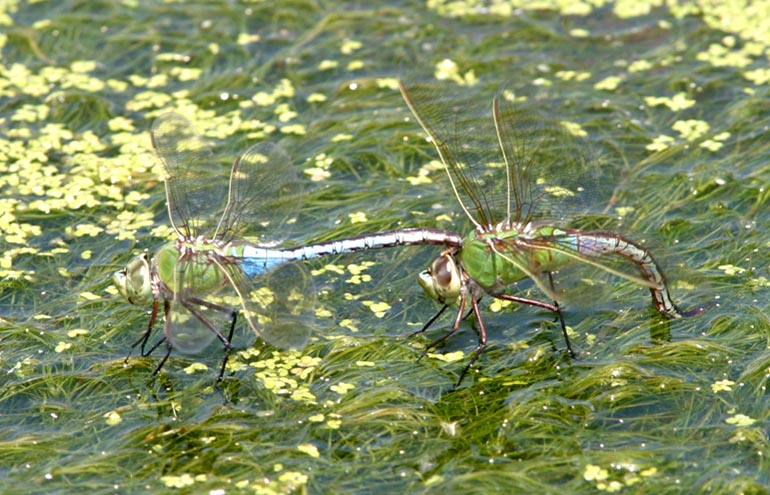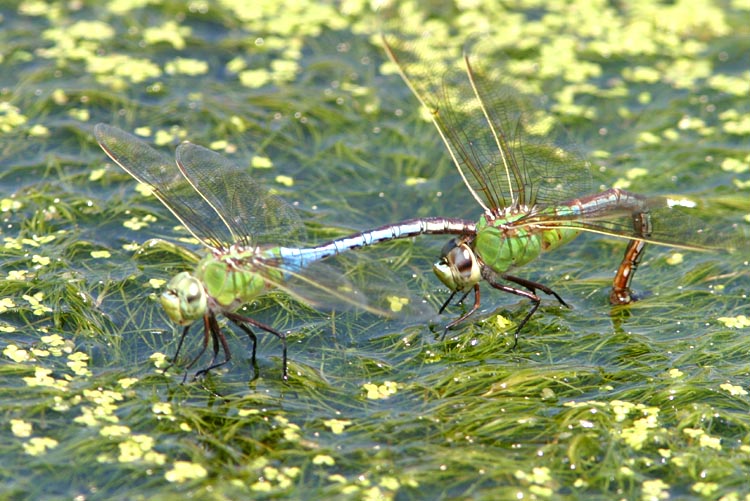 | | |
| --- | --- |
| Rita took some nice video as the female aggressively probed the water with her abdomen, searching for the 'good spots' in the submerged vegetation. In this close-up, she is probing very deep.. | |
These shots were taken in Monterey County, California, in July 2006. The flight shots were at the Carmel River mouth on 19 July; the tandem pair was at the Salinas wastewater treatment ponds on 23 July.
Literature cited:
Manolis, T. 2003. Dragonflies and Damselflies of California. Calif. Natural Hist. Guide 72. Univ. of Calif., Berkeley, CA.

PHOTOS: All photos are © 2006 Don Roberson; all rights reserved.

TO PORTAL PAGE OF DON'S ODONates