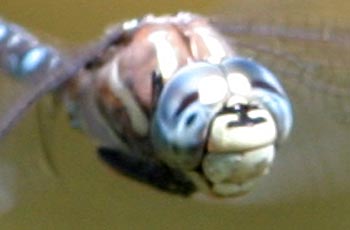 During a mid-August 2006 trip to Lake Tahoe and the Central Sierra, I managed to photograph 3 male Aeschna darners in flight, in 3 different counties. Since Rita & I had no previous experience with any of this genus, identification relied heavily on the photographs. Fortunately, the photos were sufficient to check things like the "t-spot" (top of pale face in left-hand close-up), the presence or absence of a dark line across the face (apparent on the face at left), details of thorax and abdomen, and even some of the male appendages.
The first successful shot was this Paddle-tailed Darner A. palmata (above) patroling a little dammed pond but below the large dam at Heenan Lake, Alpine County. It hovered into the wind just above the tiny dam often, permitting enough shots with a autodrive to finally get one in focus. Another male Paddle-tailed Darner (below) was patroling over a patch of open water in a small, reedy pond at Tahoe City, Placer County. This is the darner whose face is featured above.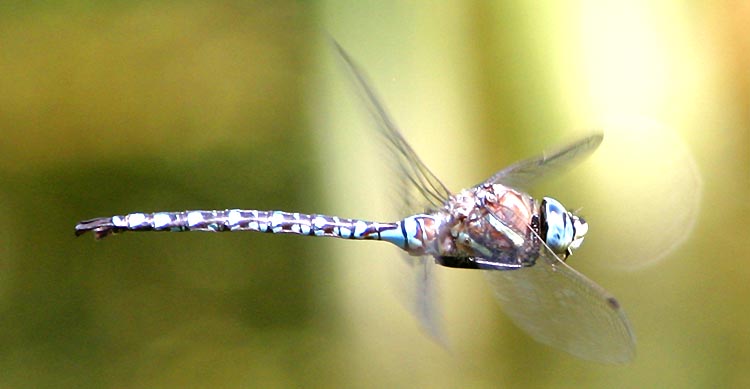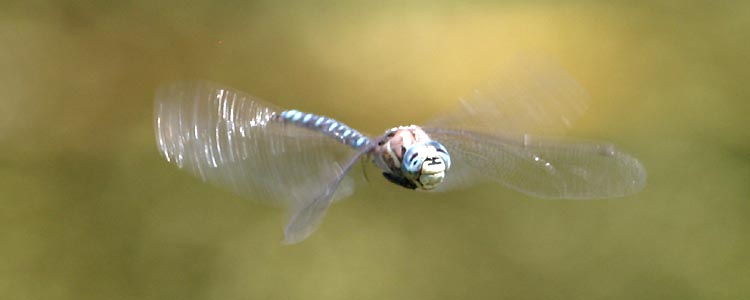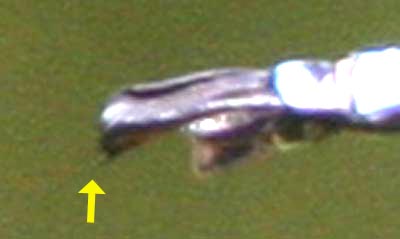 I've blown up the side view of the cerci to show the spine that extends from the lower tip of the 'paddle' (yellow arrow points to it), and it extends out beyond the top corner of the 'paddle,' an i.d. point for this species.

Our final stop was a little pond in the forest near Donner Summit, Nevada County. This is at 7200' elev. — the same elevation as Heenan Reservoir in Alpine Co. — but the habitat is quite different, with the daners patrolling the dark and shadowy forest pond (below).


The darner was constantly moving, and I could never be sure of the appendage pattern through binoculars, so I gave up and just tried to photograph it. Only one shot turned out (below) but it proved to be Variable DarnerA. interrupta. The appendages are still not clear, but this darner is considerably darker than Paddle-tailed; has much smaller blue spots on the abdomen; the side stripes on the thorax are thinner and the front one is interrupted into two dashes; and the face has a dark cross-bar.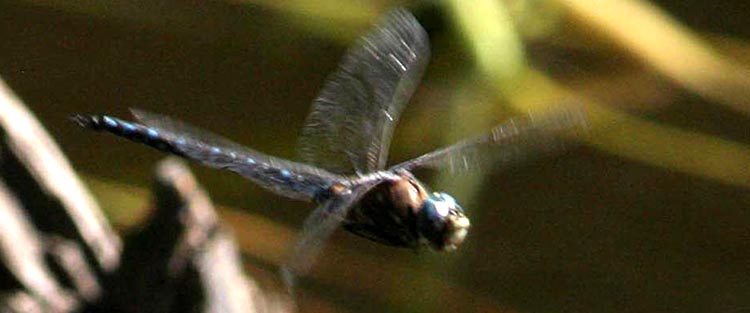 PHOTOS: All photos are © 2006 Don Roberson; all rights reserved.

TO PORTAL PAGE OF DON'S ODONates