PLOVERS
Charadriidae
Species in family 66
Species observed [DR] 44 (67%)
Species photo'd [DR] 31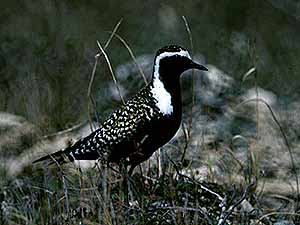 Plovers occur throughout the world, from high arctic tundra to tropical sandbars. Normally associated with wetlands, they are still readily distinguished from sandpipers and allies, primarily by a standard "plover-like" bill (except in a few oddities like the Wrybill Anarhynchus frontalis of New Zealand). Migratory plovers, like the golden-plovers, generally have a bright alternate plumage worn on nesting grounds while tropical plovers tend to look the same year-round.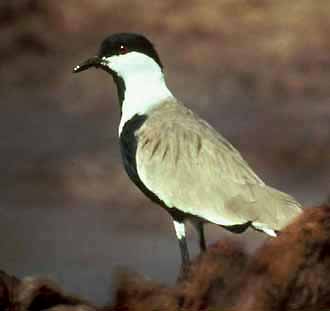 Biochemical evidence suggests the plovers, except for the enigmatic Magellanic Plover Pluvianellus socialis of southern South America (which Charles Sibley once suggested raising to family status!), all share a common ancestor (i.e., are holophyletic; see Piersma 1996). The 25 species of lapwings are particularly closely related (the Spur-winged Lapwing, right, is one representative).


Ten of the plovers are endangered or threatened, including the Madagascar Plover Charadrius thoracicus, a pair of which are shown below with a newly-born precocial chick.


Arctic-breeding species are highly migratory and thus are capable of migratory mistakes, bringing vagrants to brighten the lives of birdwatchers. Some "southern" plovers also occasionally engage in wrong-way flights. One unique happenstance occurred in my home county: Monterey County, California. For a few days in Sept 1992, the Snowy Plover C. alexanrinus flock on Moss Landing beach contained both a Wilson's Plover C. wilsonia (below left; presumably from w. Mexico) and a Mongolian Plover C. mongolus (below right; presumably from Siberia). The Wilson's lingered into January but the Mongolian was soon off for points south.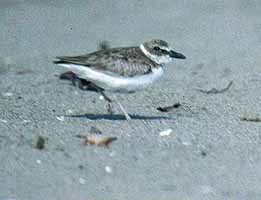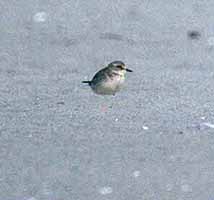 Photos: The American Golden-Plover Pluvialis dominica (top left) was photographed in June 1988 at Churchill, Manitoba, Canada. The Spur-winged Lapwing Vanellus spinosus (top right), a widespread species in North Africa and the Middle East, was at Huleh Reserve, Israel, in Oct 1981. The Madagascar (or Black-banded) Plover Charadrius thoracicus (middle pair with chick) were on a small pond north of Tuleara, Madagascar, in Nov 1992. I photographed the Wilson's (bottom left) and Mongolian (bottom right) plovers on Moss Landing beach, California, on 15 Sep 1992 & 16 Sep 1992, respectively.
All photos © Don Roberson.
Bibliographic essay
Family book: rating IIII [out of 5 possible]
Hayman, Peter, John Marchant & Tony Prater. 1986. Shorebirds: An Identification Guide to the Waders of the World. Croom Helm, London.
This book covers all the Charadriformes -- not just plovers -- and so includes shorebirds (waders), stilts, avocets, jaçanas, thick-knees, and pratincoles. It is not a "family book" per se, since its focus is on identification problems, but it does include sections on "habits" and migratory or seasonal "movements." Breeding biology and similar topics are not covered here. However, the quality of the identification text more than makes up for this "defect", and adding broader topics would have made for a very fat book. John Marchant gets special credit for the text -- an upgrade from his 1977 guide (with Prater & Vuorinen) -- which surveys the literature well and is based on much original research. The book does rely on Hayman's paintings for illustrations and while they are generally good, I think that photos are a necessary requirement when dealing with the subtleties of shorebird identification. So use this book as an introduction to these families -- and the identification problems that exist -- but rely on other texts for state-of-the-art details.

Other literature cited or recommended:
Chandler, R. J. 1989. North Atlantic Shorebirds: A Photographic Guide to the Waders of Western
Europe and Eastern North America.Facts on File, New York & Oxford.
Fine color photos of a wide variety of species on both sides of the North Atlantic, but they tend to be printed too small for my taste. Good quality shots, though.

Conners, P. G. 1983. Taxonomy, distribution, and evolution of Golden Plovers (Pluvialis
dominca and Pluvialis fulva). Auk 100: 607-620.
Conners, P. G., B. J. McCaffery, and J. L. Maron. 1993. Speciation in golden-plovers: evidence
from the breeding grounds. Auk 110: 9-20.
Two important papers discussing reasons for the comparatively recent split of American & Pacific golden-plovers.

Dunn, Jon L. 1993. The identification of Semipalmated and Common Ringed Plovers in alternate
plumage. Birding 25: 238-243. The best i.d. paper on this topic.

Knopf, F. L. 1997. A closer look: Mountain Plover. Birding 29: 38-44.
Nice overview of status & ecology, with good color photos.

Paulson, D. 1993. Shorebirds of the Pacific Northwest. Univ. of Washington Press, Seattle.
Outstanding collection of photos and text highlighting identification problems, and of much use outside the Pacific Northwest. The vast majority of species in North America are covered in perhaps the best single American text on shorebirds identification.

Piersma, Theunis. 1996. Family Charadridae (Plovers - intro). Pp. 384-409 in del Hoyo, J., Elliott,
A., & Sargatal, J., eds. Handbook of the Birds of the World vol. 3. Lynx Edicions, Barcelona.

Prater, A. J., J. H. Marchant, & J. Vuorinen. 1977. Guide to the Identification and Ageing of
Holarctic Waders. BTO Guide 17. British Trust for Ornithology, Tring, England.
A classic at its time but now replaced by Hayman, Marchant & Prater (1986), the "family book" reviewed above. Still useful for its collection of high quality black-and-white plates plus valuable biometrics.

Pym, A. 1982. Identification of Lesser Golden Plover and status in Britain and Ireland. British Birds 75: 112-124. The first good i.d. paper on the golden-plovers aimed at field birders.

Roselaar, C. S. (Kees). 1990. Identification and occurrence of American and Pacific Golden Plover in the Netherlands. Dutch Birding 12: 221-232.
Good state-of-the-art i.d. paper with color photos in the field and of specimens.

Stenzel, L. E., J. C. Warriner, J. S. Warriner, K. S. Wilson, F. C. Bidstrup, and G. W. Page. 1994. Long-distance breeding dispersal of Snowy Plovers in western North America. J. Animal Ecol. 63:887-902.

Warriner, J. S., J. C. Warriner, G. W. Page, and L. E. Stenzel. 1986. Mating system and reproductive success of a small population of polygamous Snowy Plovers. Wilson Bull. 98:15-37.

Yovanovich, G. D. L. 1995. Collared Polver in Uvalde, Texas. Birding 27: 102-104.
First record for the ABA area, with color photo.

RETURN TO LIST OF FAMILIES OF THE WORLD