Territory leaders/participants (partial list at right). The numbers are linked to the territories shown on the map. Boundaries are approximate; several key spots were covered by multiple teams at different times & tides, including all major coastal river mouths.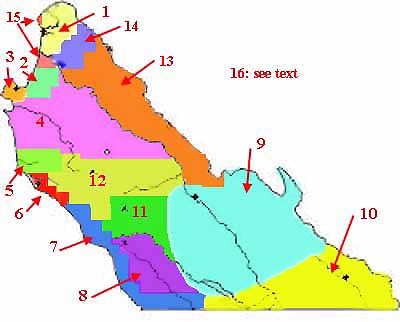 The general structure of this year's effort is shown on the map above. We had 16 territories covered by over 40 observers, not counting a variety of bird feeders watched throughout the county. Public walks were offered on Saturday morning in two of the territories. In addition, Elkhorn Slough Safari pontoon boat trips were operating, as was Monterey Bay Whale Watch trips. Alas, due to an odd rule apparently aimed at us, birds seen from oceanic boat trips are not countable. There was one species [Pomarine Jaeger] seen only from the whale-watching boat trip; it is on the list below but was not counted. To offset this silly rule, numerous observers spent hours sea-watching from land (e.g., Pt. Pinos, Pt. Joe, Lopez Pt., Garrapata State Park) during the event.
1: Rick Fournier; Caroline Rodgers, Mark Paxton, Inga & Dan LaBeaune, Judy Donaldson, Anne Spence, Rebecca Davis, Nathalie Ferare, Bonnie Bedford-White
2: R.J. Adams; also led a public walk
3: Brian Weed; Jan Scott, Bob & Eileen DeWeese, Jill & Jim Himonas
4: Steve Rovell; John Luther, Scott & Linda Terrill, Ryan Terrill, Matt Brady, David VanderPluym
5: Rob Fowler; Jonathan Carpenter, Jennifer Curtis, Carole Rose, Judy West
6: Sarah Stock, Jessica Griffiths; BSOL interns and public walk on Sat. morning
7: Steve Bailey
8: Don Roberson; Blake Matheson
9: Jim & Helen Banks; Kellie Morgantini
10: Todd Love
11: Tim Amaral
12: Craig Hohenberger; Bill Hill
13: John Sorensen; Jerry Paul
14: Bruce Gerow; Steve Gerow
15: Roger Wolfe
16: Rita Carratello, Bob Tintle; separate partial days in P.G. & Pebble Beach. Also observers at bird feeders around the county, and Yohn Gideon on Elkhorn Slough Safari boat.