MONTEREY COUNTY HIGHLIGHTS: 2004
These highlights chronicle the year 2004. Created incrementally as new photos were available, the year runs generally "backwards" on this page. The abbreviation "MTY" means "Monterey County" in the text below. Text by Don Roberson. Photos on this page are copyrighted by the photographers to whom they are attributed, and may not be reproduced in any form (including other web sites) without the express consent of the photographer.
As always, fall migration starts with shorebirds in July, beginning with adults and then the first juvenals at month's end. Of local interest were an alternate plumaged Stilt Sandpiper on 24 July (below left; found by Rick Fournier, photo © John Sorensen) and several Semipalmated Sandpipers, including this juvenal 31 July (below right; © Don Roberson). Both were at an undisclosed non-public location in the lower Salinas Valley, but Moonglow Dairy's public-accessible pond #1 hosted an adult Pectoral Sandpiper in mid-month (Rob Fowler) and an adult Baird's Sandpiper at month's end (R. Fournier, B.G. Elliott).

It was much quieter in July than during the mad-cap days of June. The only vagrants left were the nesting Northern Parulas (see below) but it appears that attempt failed by mid-month. A pair of Hooded Warblers (also see below) remained at Big Sur R. mouth through July but no evidence of nesting was obtained. It was, however, a great summer for some nesting larids. The Caspian Tern colony at Salinas R. mouth, which has been intermittent over the past two decades, was phenomenally successful. On 17 July at least 221 flightless fledglings were present among over 450 adults (one of the youngsters is shown at right with its parents; photo © D. Roberson). The most young ever produced here before were 48 counted 17 July 2002, and the maximum numbers of pairs at the Elkhorn Slough colony were 188 pairs in 1994, so this is the most successful breeding season in recorded history. The Heermann's Gull colony at Roberts Lake, Seaside, had fledged 9 juvenals by mid-month; this is one more than the previous high and the 9-11 nesting pairs were many more than prior maximums of just 3 pairs. Presumably many of the "new" pairs were birds originally hatched here in 1999 or 2000 and now adult, but it also looks as if most of these first nesting attempts failed. The 9 fledglings were hatched from only 4 or 5 nests, so about half the nesting pairs failed to hatch eggs.
On 28 June, Dave Werner was at Stillwater Cove in Pebble Beach during strong southwesterly winds. Amazingly, an adult Masked Booby flew in off the ocean, circled past Dave, and headed back to sea! There are only two previous records of adult Masked Boobies in MTY.
| | |
| --- | --- |
| The Yellow-throated Vireo banded by BSOL on 20 May (below) remained near the lab, singing each morning and watched by many [this photo, left, is of the bird on 24 May at the BSOL bridge © D. Roberson]. It seemed to open the floodgates on the most remarkable spring in BSOL history. On 24 May, Rob Fowler found a singing Cerulean Warbler — just the 4th MTY record and the first in spring. Then on 29 May, BSOL banded the first of three different Prothonotary Warblers at the Big Sur R. mouth (right). On 3 June, Rob Fowler & Pascal Cauchois were wading the Big Sur River for views of a singing Chestnut-sided Warbler when Rob found a singing White-eyed Vireo (6th MTY record) and a different Yellow-throated Vireo (9th MTY record)! Both of these lingered some time. Several Red-eyed Vireos added to the mix that week, but more astonishing were a singing Mourning Warbler on 5 June (found by Rob Fowler; just the 2nd spring bird in MTY) plus a female Canada Warbler on 8 June (found by Jeremy Bird; the first ever spring record in the county). | |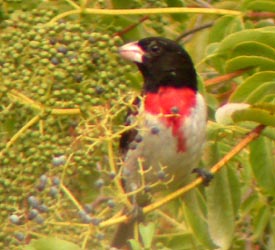 Banders at BSOL were also busy with both a male (below left) and female (below center) Hooded Warbler on 15 June, and a first-summer Summer Tanager (below right; "SY" in banding lingo) on 30 June. The pair of Hooded Warblers seemed to be on territory — could they provide the first breeding for the county? Meanwhile, Rob Fowler & Matt Brady found an actual nest of Northern Parula (the first actual nest found since 1952) on 14 June (see below). Rounding off the extraordinary spring at Big Sur were a singing Yellow-throated Warbler on 13 June (Scott & Linda Terrill et al.; first Big Sur R. mouth record), a singing Philadelphia Vireo on 15 June (Rob Fowler & Matt Brady; first spring record for MTY) and a Gray Catbird on 28 June. Not to mention several Franklin's Gulls, a couple Indigo Buntings, up to six Black-and-white Warblers, an American Redstart or two, and a slew of Rose-breasted Grosbeaks (Rob Fowler's photo of one male eating elderberries is to the right). Whew!
| | | |
| --- | --- | --- |
| | The Northern Parula nest (left; photo © Rob Fowler) was in a sycamore just west of the Cooper Cabin eucalyptus grove. This sycamore has often been used as a song post by males over the past decade; this year's male Northern Parula (right; photo © Bill Hill — see more shots on his web site) vigorously defended this site (there were up to 3-4 males in Andrew Molera SP this June). But when the young hatched in late June, it was the female who did almost all of the feeding during the first week of July ..... | |
Not to be outdone, BSOL banders Jessica Griffiths and Eric Miller captured two fabulous vagrants along the Salinas River on Camp Roberts near Bradley: an Ovenbird (above right) on 15 June, and a White-eyed Vireo (lower right) on 22 June. The vireo is the first inland record for the county and completes an truly remarkable vireo spring here.

All in-hand photos © and courtesy of Big Sur Ornithology Lab, operated by Ventana Wilderness Society



Big Sur Ornithology Lab banded two fine vagrants in mid May: a female Kentucky Warbler 14 May (below left; recaptured 18 & 19 May) and a male Yellow-throated Vireo 20 May (both photo courtesy Ventana Wilderness Society & Sarah Stock). The Kentucky is the first record for the Big Sur R. mouth, and the 4th MTY record; the vireo was the 8th county record, half of which have been at the Big Sur R. mouth.
In late April, Yellow-headed Blackbirds, as is often their wont, drifted towards the coast and appeared at Moonglow Dairy. In March, when I put together the multipage Monterey County annotated, illustrated checklist, I failed to locate any photos of this species taken in MTY. This seemed ridiculous — it had occurred dozens of times and hundreds of individuals had been recorded — but there it was. No photos. So I hopefully put "photo to come?" in the box the photo should have been. Now I actually have the shot in hand.

Steve Gerow counted 32 Yellow-heads at Moonglow on 26 April but no adult males. These two adult males were among 18 Yellow-heads seen the next day. Photo right © Don Roberson, 27 Apr 2004.
Observers enjoying the Yellow-billed Loon (see below) in mid April could also view up to 8 Lawrence's Goldfinch at the west end of the small Moss Landing cemetery adjacent to Moss Landing Marine Lab. This species has nested here in previous years and appear likely to do so again. Although Lawrence's is usually considered a bird of the arid interior foothills, small groups have bred in isolated patches of cypress along the coast in about half of the years over the past decade or so.

This digiscoped male Lawrence's Goldfinch (left) was taken 23 Apr 2004 at Moss Landing cemetery © Don Roberson
| | |
| --- | --- |
| | Mid-April produced a surprising Yellow-billed Loon on Elkhorn Slough. Found by Shirley Murphy at Kirby Park on 15 Apr, the worn juvenal was present the next day when nicely photographed by © Greg Hofmann (top left) & © Don Roberson (bottom left). It had been actively feeding just before Greg's shot, and looks very sleek, but was sunning itself by the time of my photo an hour later. |
| | |
| --- | --- |
| As winter progressed into spring, some lingering rarities began their prealternate molt into a much more colorful plumage. A nice example was this Palm Warbler (right) around the parking lot of Carmel River SB; photo'd 18 March [© Bill Hill]. | |
| | |
| --- | --- |
| The first couple months of 2004 were often rainy, and few birds of interest were noted save for the wintering Black-throated Green Warbler in Seaside still present for its 2nd winter. On 29 Feb, Richard Ternullo found a Marbled Murrelet inside Monterey harbor, and Bill Hill took this fine photo that afternoon (right). On 5 March, R.J. Adams located a Ross's Goose hanging out with the barnyard geese at Locke-Paddon pond, Marina. These photos are from 6 March (below; digiscope © D. Roberson). | |
More highlights will be posted as they arise and are documented with photos.

TO HIGHLIGHTS FROM SECOND HALF OF 2004

Page last updated 28 July 2004