EYEBROWED THRUSH versus AMERICAN ROBIN
commentary by Don Roberson
One would think that a vagrant Eyebrowed Thrush Turdus obscurus would not be confused with the familiar American Robin T. migratorius, but this is a little-known problem not generally treated in the literature (although briefly considered in Roberson 1980). Occasionally a claim of an Eyebrowed Thrush has been submitted to the California Bird Records Committee (4 claims to date, all from Feb-Mar: 25 Feb 1990 Pt. Reyes MRN, 3 Mar 1990 Yaqui Wells SD, 6 Mar 1990 San Rafael MRN, 19 Feb 1995 William Heise Co. Park SD). All have been rejected, and Pyle and McCaskie (1992) noted that none were "detailed enough to eliminate an atypical American Robin, particularly of the western race (T. m. propinquus), which is duller than other subspecies and often has a distinct superciliary." Yet few folks study American Robins enough to have seen a bird with a distinct supercilium (I have not), and the problem deserves some discussion.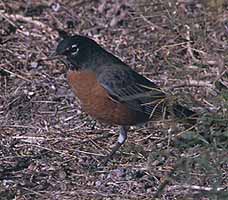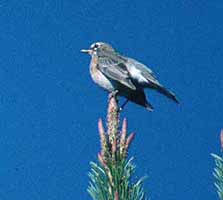 Our "usual" American Robin (leftmost photo) is not much of a problem. There is a prominent broken eyering (wide white arcs above and below the eye) but no supercilium; the head and back are quite slaty-gray, and the throat is whitish, heavily streaked with black. The entire breast, upper belly, sides & flanks are rusty-red. But in some winters here in Monterey, California, pale individuals appear (above right) that are very washed-out below and show much more white on the face, with often a connecting stripe from the eyering toward the bill, and at least a hint of a supercilium. I photographed this individual recently because it was about the palest one I'd ever seen. Since these robins only appear in winter, I have assumed they are migrants from the north, and were possibly the "Northwestern Robin" T. m. caurinus (breeds SE Alaska to coasal Oregon). However, reading Bent (1949), I find that caurinus is a small dark race, and it is the propinquus, breeding primarily from the Cascades east in Washington, that are said to be very pale. Yet these pale birds don't seem to occur in California populations which are also said to be propinquus.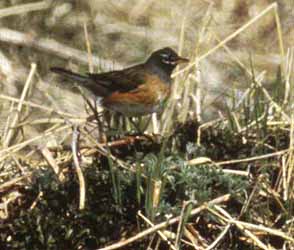 My only experience with Eyebrowed Thrush, a Siberian species, is from Attu I., Alaska, in June 1980. We saw several birds, and I was struck by how much they looked like American Robins at a distance. The photo of an Eyebrowed Thrush (left) is from Attu I. in May 1982 (© Ed Greaves, used with permission). The supercilium is hard to see. However, note the lack of a white throat, the extensively gray neck that extends down to the upper breast, the brown back contrasting with gray head and, especially, the extensively pure white belly that extends upwards into the orange breast as an inverted "V" (this feature emphasized in Roberson 1980). The specimens below from Museum of Vertebrate Zoology, U.C. Berkeley, a male and a female Eyebrowed Thrush taken in May in Korea, illustrate these points further: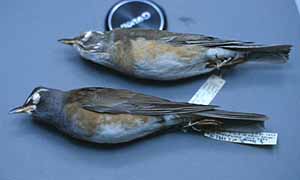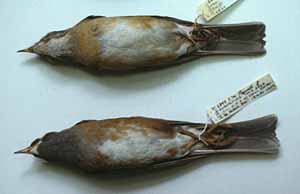 Note that Eyebrowed Thrush has strong sexual dimorphism (the sexes of American Robins are much less distinctive). Females have broad white throats and a thin white stripe through the malar region. They do not show the "inverted V" effect to the belly but have much more white below than do males. On the male, note the distinct pure white chin, the very extensively gray throat which extends into the breast, and the white belly with the "V" pointing up into the rusty lower breast.
It would be interesting to post a photo of an American Robin with a prominent white supercilium on this page, should anyone have such a shot. Is this phenomenon only found in otherwise pale birds? Is this plumage restricted to birds from the northwest?
Photos: The "standard" American Robin (upper left) was photographed 4 Nov 1979 at Scottys Castle, Death Valley Nat'l Park, California; the "pale" American Robin (upper right) was at Ft. Ord, Monterey Co., California, 29 Dec 1994. Ed Greaves took the Eyebrowed Thrush shot on Attu I., Alaska, in May 1982. The specimens from MVZ are #2842 (male, 18 May, Korea, the lower bird in each shot) and #3537 (female, 15 May, Korea). I thank Ned K. Johnson for permission to photograph these specimens back in 1980. All photos © D. Roberson, except that one attributed © Ed Greaves.
Literature cited:
Bent, A. C. 1949. Life histories of North American thrushes, kinglets, and their allies. Smithsonian Instit. U.S. Nat. Mus. Bull. 196.

Pyle, P., and G. McCaskie. 1992. Thirteenth report of the California Bird Records Committee. W. Birds 23: 97-132.

Roberson, D. 1980. Rare Birds of the West Coast. Woodcock Publ., Pacific Grove, CA.
TOP
BACK TO LIST OF BIRD FAMILIES OF THE WORLD