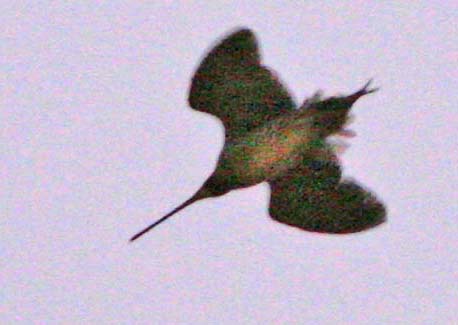 As it got darker, snipes began to display over the valley. We wound up seeing or hearing at least 3 birds. A displaying snipe wings high into the sky and then dives downward towards the marsh (above left), giving a several-note call and a long buzz. It then glides into the marsh (upper right). The calls sound vocal but the buzz may be made by the spread tail feathers, as occurs with smaller snipes (right; this shot has been lightened in PhotoShop).
Giant Snipe is by far the world's largest snipe, and rather little is known about its life history (Handbook of Birds of the World, Vol. 3). There are two subspecies: nominate undulata in Colombia, Venezuela and northern Brazil, and the larger gigantea here in southern Brazil [gigantea is well-named; it is 16-20% larger than the nominate race].
I was able to grab a quick snap of the upperparts of one flying away (below) but mostly it was just overwhelming to view such a remarkable bird in such an unremarkable location.