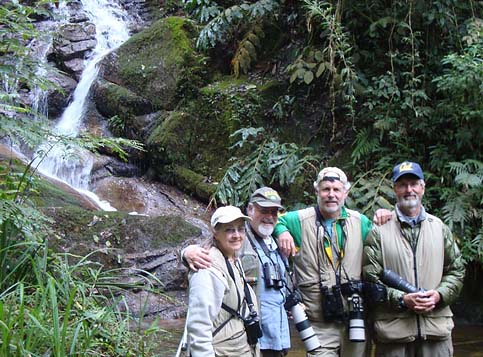 From mid-July into early August 2010, four of us from central California undertook a birding, mammal-watching, and nature photography trip to Brazil. We are (L to R) Rita Carratello, Don Roberson, Dan Singer, and Chris Tenney.
Rita and Don had been to the Pantanal in 1999, as well as Rio Cristalino. Don had also birded at the edge of Brazil near Leticia, Colombia, in 1975. Chris had been on an extensive trip to Brazil in Jan 2010, including Rio Cristalino, Itatatia, and the northeast. Dan had previously been to Peru and Ecuador, but this was his first trip to Brazil.
We had Indri Tours arrange this private tour, and they did remarkable things for us.
Indri Tours, a sister company to Rockjumper Birding Tours, structured an itinerary to meet our needs, and arranged for two outstanding local guides: Marcelo Padua (near right, for the Pantanal & Emas) and Edson Endrigo (far right, for the Atlantic coastal forests in Intervales & Itatiaia).

Marcelo has rapidly become a leading guide in Brazil, and has now joined Field Guides fulltime (this was his last independent tour). Edson is the best known photographer of Brazilian birdlife, with his images appearing on national stamps in Brazil, and he is in the midst of publishing seven volumes of photos of Brazilian birds, featuring the seven major biomes of the country.