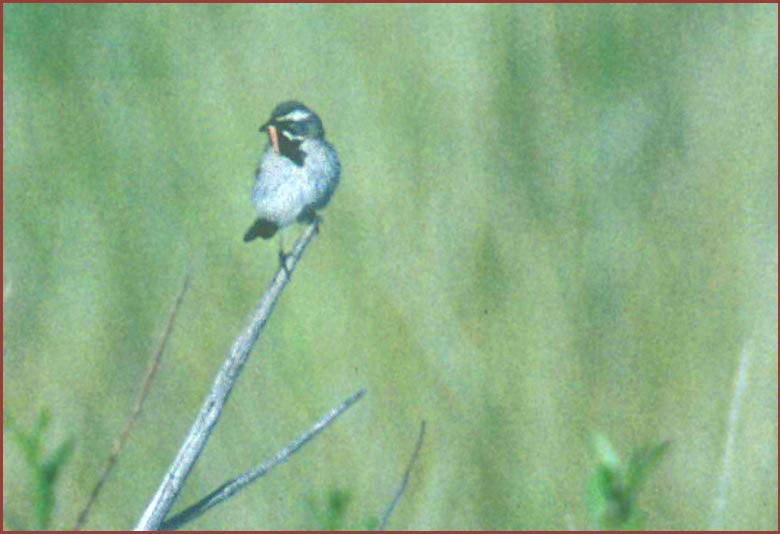 Black-throated Sparrow
12 July 1997 along Granite Springs Road

El Dorado County is another in a steady slate of Gold Rush counties that divvy up the western Sierran slope. "El Dorado" was the land of riches searched for by 16th century explorers in South America; the name means "a place of fabulous wealth, abundance, or opportunity." I assume the county name arose from John Marshall's discovery of gold at Sutter's Mill along the American River in 1848 in the western foothills of this county. It was one of the original 27 counties, with its original county seat in Coloma, the site of Sutter's Mill. In 1851, Placer County was created from parts of El Dorado, and in 1854 Amador & Alpine counties were pieced from others parts. The county seat moved to Placerville in 1860. Today the county stretches from the Sacramento suburbs to South Lake Tahoe. The county includes the southern half of California's share of Lake Tahoe. Between these points the county has a wide variety of habitats: valley grassland to chaparral to oaks to pines to firs, and, over the Sierran divide, to sagebrush. The south fork of the American River cuts through much of the county, and the jurisdiction takes in a portion of Folsom Lake in the far west.
County birding statistics and links are on Joe Morlan's site.
For El Dorado County the prime photo is a Black-throated Sparrow, a vagrant to the western slope of the Sierra Nevada. Yet it has occurred in open burned hillsides previously, and my photo documents the first confirmed breeding evidence for the county. The male is carrying food to a nest.
All photos & text © 2006 Don Roberson; all rights reserved.
TO NEXT COUNTY
TO CALIFORNIA COUNTIES PORTAL PAGE
TO CREAGRUS CALIFORNIA LIST PORTAL PAGE