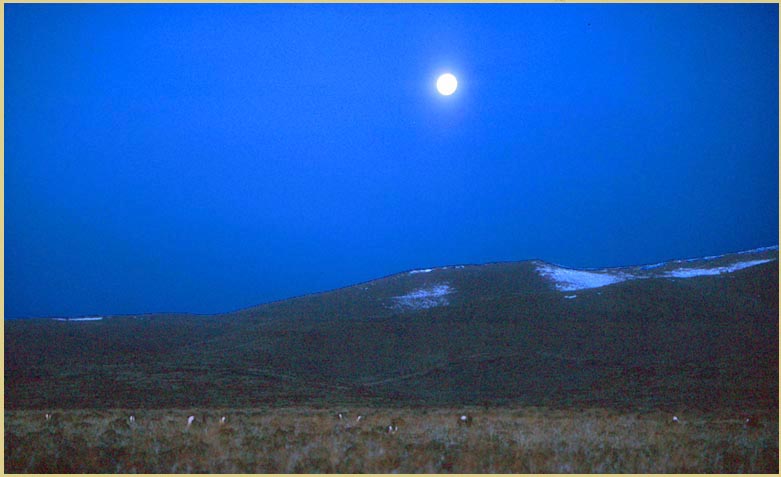 Greater Sage-Grouse lek at dawn
5 Apr 1996 below Shafter Mt.

Lassen County is a large square chunk of high desert sage in northeastern California. There are actually bits of mountain ranges here and there, and some very large lakes [Honey Lake, Eagle Lake], but the county has plenty of sage. It is thus quite unlike most of California. It has only one decent-sized town (Susanville) and lots of room to roam. Birders often prefer winter: there is then the chance for Northern Shrike, Bohemian Waxwing, and American Tree Sparrows — species that are regularly here but hardly anywhere else in the State. Honey Lake is the center of a major waterfowl refuge. Yet at the county's western edge there are extensive forests, small lakes, and mountain meadows.
County birding statistics and links are on Joe Morlan's site.
For Lassen County the headline photo is of a Sage Grouse lek just at dawn. It is freezing cold but the grouse are out 'dancing' as they have for eons. I'm lying on the frozen ground behind a small barricade of volcanic rocks, listening to the 'plop, plop' sounds of the displaying birds. I was just really taken by this scene: the grouse, the sage, the moon — and although my equipment was not up to the task (slow shutter speed, high-speed grainy film), it does take me back to the memory. A closer look at a displaying Sage Grouse is below (left), taken after the sun was up. Later that day Rita & I checked out Honey Lake refuge and found that male Yellow-headed Blackbirds had just arrived on territory (below right).
A view of Honey Lake from the hills, with threatening clouds looming overhead, is the subject of this Feb 1981 photo: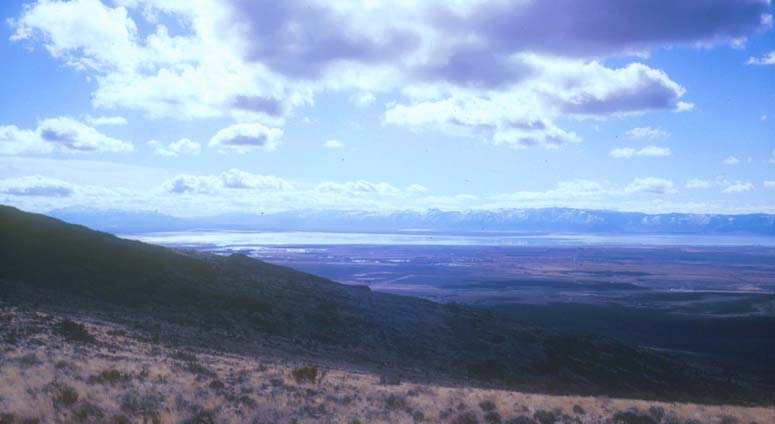 All photos & text © 2006 Don Roberson; all rights reserved.
TO NEXT COUNTY
TO CALIFORNIA COUNTIES PORTAL PAGE
TO CREAGRUS CALIFORNIA LIST PORTAL PAGE