Lassen County is a superb locale for the State's summer odes. In this shot (above) the sky is darkened by wildfires in the hills and thunderstorms over the marshes of Willow Creek Wildlife Area. These contrasts — hot days, extensive Great Basin marshes, conifer-clad hills, high mountain lakes, ever-changing weather — produce a fine diversity of odonates during the summer months. Located near the northeastern corner of the State, Lassen's list of 74 species is among the highest for any county in California. Two county sites are so grand that they have separate pages. Click on the photo links below to reach photo-reports from Ash Creek Campground (below left; in extreme northwestern corner of the county) and Blue Lake (below right; in extreme northeastern Lassen Co.). All the places shown here were pioneered by Tim Manolis and others, and many more details are available on-line at CalOdes discussion group, among the Yahoo groups.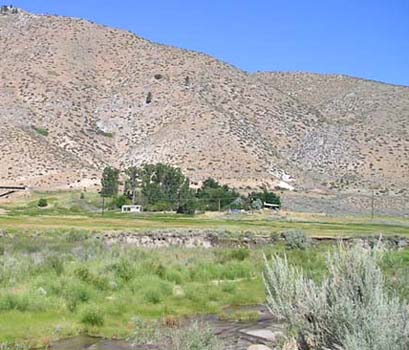 Long Valley Creek (above) and Zamboni Hot Springs (right; Long Valley Creek in foreground) are along Hwy 395 in southeastern Lassen County, about 8 miles south of Doyle. The "Hot Springs" are on private property, and there is an adjacent ramshackle house which is fenced in and has dogs (but signs offer pottery for sale; the owner may be willing to show pottery if you are interested). A marsh and canals are accessible from a public (but unmarked) dirt road going west from Hwy 395 just north of the 395 bridge over Long Valley Creek. As this is private land, stay in the immediate vicinity of the dirt road. Near where the dirt road joins Hwy 395, one can also follow cattle trails down into the floodplain and access Long Valley Creek.
Paiute Dancer (2nd row below) and Eight-spotted Skimmers are common. The specialty species are Comanche Skimmer (below left), Hoary Skimmer (below right) and Desert Whitetail. I missed the Whitetail on both visits in June-July 2007. But we did find the lone female Comanche (at Zamboni) and several male Hoary Skimmers (along the creek) during the early July visit. The broad but shallow river also had Gray Sanddragon, and Ray Bruun recently added White-belted Ringtail to the county list here.

Susanville is the county seat and the largest town in Lassen. There are lots of motels, but the whole town can be booked on weekend nights in mid-summer, so reservations can be necessary. The Susan River flows through the northeast part of town, and the Susan River Parkway, opposite the high school playing fields off River Road, is said to be a fine odeing spot (my only visit was too early in the morning). It is a regular site for River Jewelwing, and the only place where both Bison and Great Basin Snaketails occur.

Willow Creek Wildlife Area is just 16 miles north of Susanville along Highway 139. It is a vast marsh and canal system, with trails along dikes, accessed from a parking lot and entrance kiosk (right).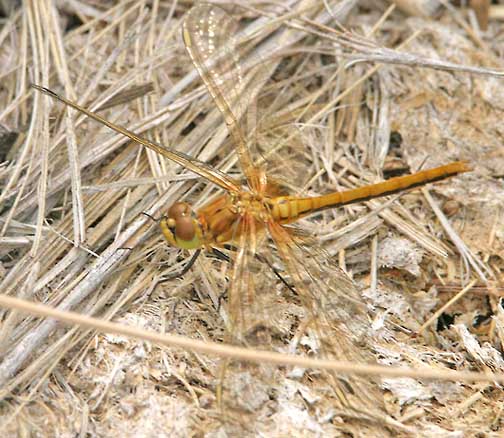 Among odites, Willow Creek Wildlife Area is best known for its meadowhawks. My first visit was on 9 June 2007, rather too early in the summer for a good variety of species, although I did find a few teneral Saffron-winged Meadowhawk (left) right at the edge of Willow Creek itself, where it crossed Hwy 139. On the next visit in July, there were thunderstorms (top photo on this page).
Willow Creek W.A. is one of only two well-known sites in California for Cherry-faced Meadowhawk, a widespread species of expansive marshes throughout the Great Basin. The other CA site is Modoc NWR. These two sites do have wide-open marshes that recall the "Big Sky Country" of the interior West.
Willow Creek Wildlife Area should not be confused with various other "Willow Creeks" in Lassen, Plumas & Modoc counties.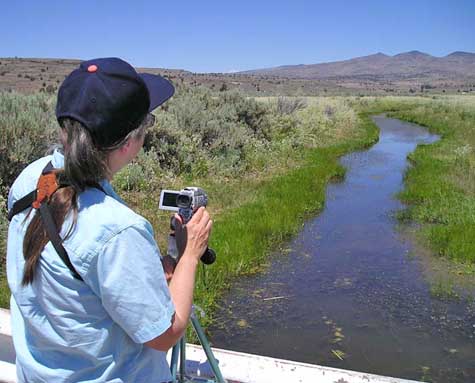 Secret Creek (left, where Rita is videoing odes) and Bailey Creek (above) are two small but accessible marshy creeks running through sagebrush country in central Lassen County.
Secret Creek is just west of Hwy 395 and a fair drive northeast of Susanville. Take Kelso Road west off 395 and that road (which quickly becomes dirt) also immediately crosses Secret Creek. The photo (left) is from that bridge.
Bailey Creek is a marsh and series of canals that cross Termo-Grasshopper Road, at about the midway point on that paved road between Hwys 395 and 137, in the Dry Valley gap between Grasshopper Valley (to the west) and the Madeline Plain (to the east). My access was 8.9 east of Hwy 139 on the Termo-Grasshopper Road. Both sites seem to be on private land but are accessible just where the creeks cross the public roads.
| | |
| --- | --- |
| During my visit to Bailey Creek in early June, migrant Wilson's Phalarope (right) were in the creek. At Bailey Creek, the odes of interest included a tandem pair of Dot-tailed Whiteface at Bailey Creek (below right), and nice views of a male Aztec Dancer (2d row below) at Bailey Creek. I believe this (and Secret Creek) are among the few spots in California where California Dancer is not known to also occur (and thus create an enormous i.d. headache). I netted Aztecs for confirmation here and at Secret Creek in early July. Secret Creek also had four species of bluets, all netted to confirm in-hand: Boreal, Northern, Tule, and River Bluet (latter is shown below left). | |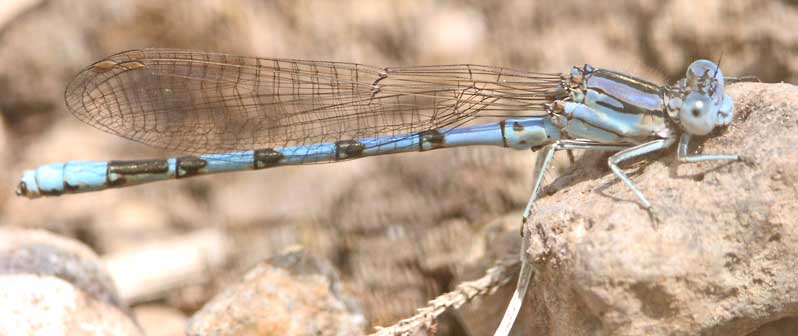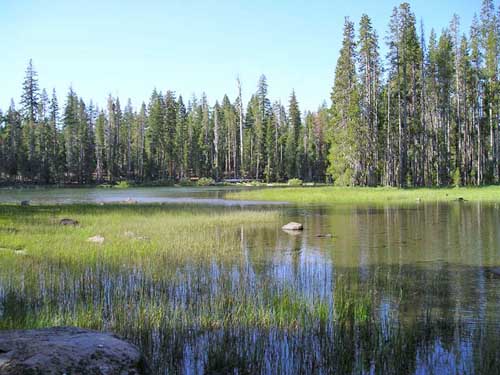 Two more great spots are in the high mountains of western Lassen County. Silver Lake (right) and Cooper Swamp (above) are both at about 6400' elevation, and surrounded by fir forests. Silver Lake has several campgrounds and private homes; we found the best odeing spot was at the day-use picnic area at the northeast corner. Cooper Swamp is directly east of Silver Lake (although access is about half-mile farther south) and is a huge wet meadow. Cooper Swamp is known as one of only two spots in California for Sedge Sprite. The other spot is Willow Lake in Plumas County. [On our trip we found the sprite only at Willow Lake.] Highlights during our July visit were (clockwise from upper left, below): an adult Spotted Sandpiper guarding recently fledged young (Silver Lake), Crimson-ringed Whiteface (Silver Lake), American Emerald (perched! Cooper Swamp), and Taiga Bluet (both sites).