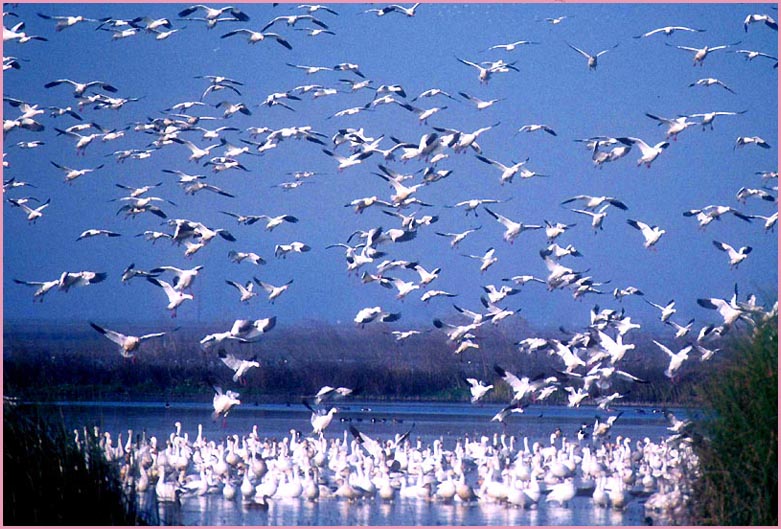 Snow & Ross's Geese
26 Dec 1999 at Merced NWR

Merced County is a stereotypical Central Valley county. It is mostly agricultural fields but has some grasslands in the east and a bit of savanna foothill to the west. In the birding world it is best known for its waterfowl refuges — Los Banos NWR, Merced NWR — and the wetlands along Sandy Mush Road. These attract geese, swans, Sandhill Cranes, and puddle ducks in winter, and White-faced Ibis and Swainson's Hawks breed in summer. San Luis Reservoir on the western edge hosts huge numbers of diving ducks and gulls, including vagrants from time to time. Nearby riparian stretches and local campgrounds are good passerine migrant traps.
County birding statistics and links are on Joe Morlan's site. A nice introduction to county birding sites is on the Stanislaus Audubon Society site.
For Merced County the focus is on the flocks of wintering geese — Snow and Ross's in these shots — that bring drama to a winter's day. These were all taken the day after Christmas in 1999 during a loop around Merced NWR.
All photos & text © 2006 Don Roberson; all rights reserved.
T
O NEXT COUNTY
TO CALIFORNIA COUNTIES PORTAL PAGE
TO CREAGRUS CALIFORNIA LIST PORTAL PAGE