Little Curlew
9 Sep 1994 on Carmel State Beach

Monterey County has a wide range of diverse habitats along the central California coast. It regularly vies with larger San Diego and Los Angeles counties for the highest county list, and local birders hold numerous statewide Big Day and Big Year records within the county. It is famed for the spectacular Monterey Peninsula, set along the southern edge of Monterey Bay, with its native Monterey Pine forest. Numerous montane species breed here at sea-level because of the cooling summer fogs. Monterey Bay features an underwater canyon, as large as the Grand Canyon, whose upwelling makes it a superb habitat for seabirds year-round. Seabirding is great both from pelagic trips and by seawatching from the tip of the Monterey Peninsula. Elkhorn Slough is one of the most important shorebird habitats in the State. Vagrants are regularly found there, and at such prime spots as the Salinas, Carmel, and Big Sur river mouths. Monterey also has an impressive mountain range (the Santa Lucias) with peaks reaching over 5000' elevation; a broad agricultural valley (the Salinas Valley), and drier foothills and plains on its eastern edge. California Condors have been re-introduced on the Big Sur coast and in Pinnacles NM (which straddles the county line), and Bald Eagles have been re-established around Lake San Antonio in the southwest.
County birding statistics and links are on Joe Morlan's site. There is a county book [Monterey Birds, 2d ed., 2002, by Don Roberson] and a Breeding Bird Atlas [Roberson & Tenney, 1993]. Extensive information on birding in Monterey County is on this web site.
For Monterey County, I chose one of the rarest species ever to occur in California — Little Curlew. The adult was discovered independently by two local birders (Bill Hill, Dave Haupt) and is likely the same bird that first visited Santa Barbara County in the late 1980s, returning for several years. My photo shows it striding along Carmel beach with the breakers crashing behind, giving a certain ambiance to the scene. [Indeed, someone I don't know once bought a reprint of this shot because it reminded her of her marriage proposal while walking on Carmel beach; she had seen the photo on my web site.]
Monterey County has been my home since 1979. I have thousands of photos of local birds, both rarities and routine species. It is almost impossible to chose a single favorite from all those shots. Here's a couple more I like: an adult Sabine's Gull on Monterey Bay (15 May 2005), and a Hermit Warbler in my Pacific Grove back yard (26 Apr 2005):
Monterey County has a spectacularly scenic coastline. Shown here are a view of the Big Sur coastline — a view of Pt. Sur from Hurricane Pt. (23 May 2004) — and big waves crashing at Pt. Pinos after a late autumn storm (24 Oct 1979). Seawatching for pelagic birds can often be great here (bottom; 30 Apr 2005).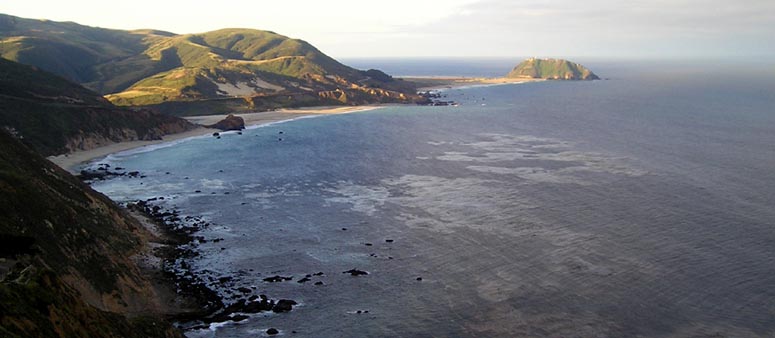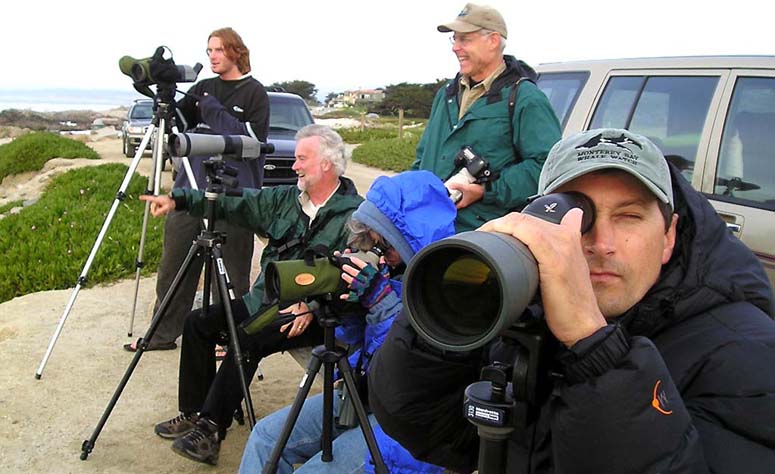 Birders shown (L to R) standing: David Vander Pluym, Dan Singer; sitting Scott Terrill, Linda Terrill, Steve Rovell

All photos & text © 2006 Don Roberson; all rights reserved.
TO NEXT COUNTY
TO CALIFORNIA COUNTIES PORTAL PAGE
TO CREAGRUS CALIFORNIA LIST PORTAL PAGE