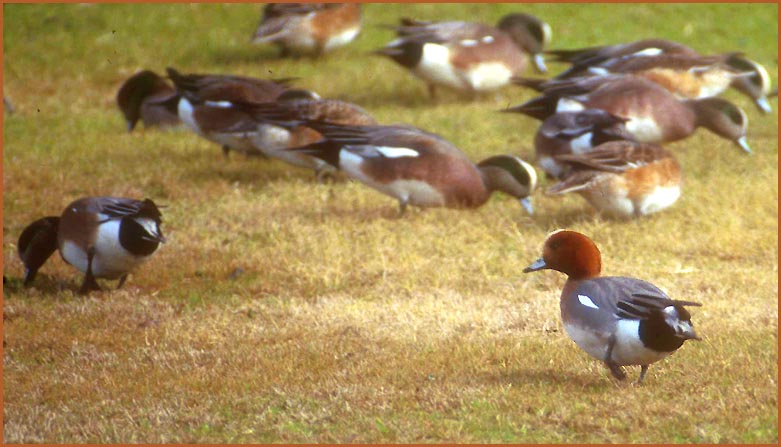 male Eurasian Wigeon with American Wigeon
14 Feb 1999 at Huntington Beach

Orange County is small county on the southern California coast. It was created in 1889 from the then-existing southern 'arm' of Los Angeles County. Once famous for its orange groves, the county is now rapidly urbanizing. Native habitats are disappearing here perhaps more quickly than any other county; the coastal plain and coastal sage scrub in particular subject to development pressures. In the eastern portion of the county, that Santa Ana Mountains rise to 5687' elev (1734 m) at Santiago Peak, assuring that there is a wide range of foothill and montane habitats. Orange County's premier birding spots are now large urban parks and coastal estuaries, and there is an efficient cadre of local hardcore birders who scour them regularly in migration. Seal Beach NWR, on Anaheim Bay, and Bolsa Chica Ecological Preserve are especially well-known. The latter has a famed nesting colony of Royal and Elegant Terns which has, over the years, attracted such vagrants as Sooty, Sandwich, and Bridled Terns. Upper Newport Bay and Doheny State Beach are among a list of other productive birding locales.
County birding statistics and links are on Joe Morlan's site. Joel Weintraub & Bob Allen's guide to local birding spots has on-line directions to many Orange County birding locales. Orange County has both a status & distribution book (Hamilton & Willick 1996) and a published Breeding Bird Atlas (Gallagher 1997). Both were published by the Sea & Sage Audubon Society.
For Orange County I have chosen a favorite shot of a male Eurasian Wigeon following a feeding frenzy of American Wigeon. Rita & I spent a day in Feb 1999 running around Orange County, ticking off vagrants; this one was at Carr Park (we saw another at Westminster Memorial Park that same day). Orange County birders have turned up some remarkable rarities. Ivory Gull is one that we chased but missed by a few hours. Another prize species was Nutting's Flycatcher, this one calling and nicely chaseable (below left; 26 Dec 2000 at Mason Regional Park, Irvine). Some of sparked controversy. Was the pristine appearing Gray Silky-Flycatcher in Cleveland National Forest a wild stray from montane Mexico, or an upslope record of an escaped cage bird? Opinion were (and are) split; my photo of the bird itself is below (right; 13 Feb 1999).
All photos & text © 2006 Don Roberson; all rights reserved.
TO NEXT COUNTY
TO CALIFORNIA COUNTIES PORTAL PAGE
TO CREAGRUS CALIFORNIA LIST PORTAL PAGE