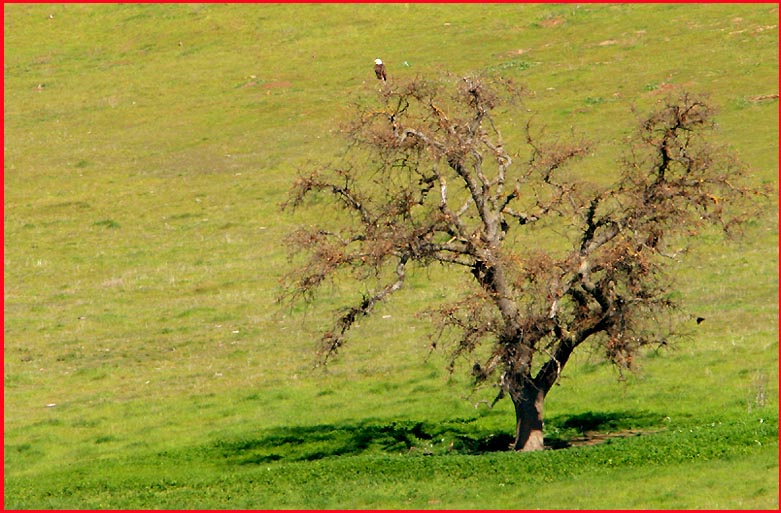 Bald Eagle on Valley Oak
25 Feb 2006 at Paicines Reservoir

San Benito County is a small foothill county dominated by oak woodlands, chaparral, and — to the east — the expanse of flat Panoche Valley. The latter site is famed for its wintering raptors and Mountain Plovers (the plovers sometimes fail to appear, however). The northern part of the county, around Hollister, is rapidly being urbanized as a bedroom community for San Jose, but the rest of the county is still very much ranch-land. San Benito Mountain rises to 5240' elevation in the southeast corner, high enough for isolated populations of Gray and Dusky Flycatchers.
County birding statistics and links are on Joe Morlan's site.
My chosen San Benito County photo is essentially a habitat shot: a grand, old Valley (or Black) Oak topped with an adult Bald Eagle. This is presumably one of the adults that recently began annual nesting near Paicines Reservoir. The photo is in late winter/early spring — the grass has greened but the oak still has no leaves. My two other county photos (below) are of more typical species for the widespread oak and chaparral habitats (Bushtit; left) and the open short-grass plains of Panoche Valley (Horned Lark; right). The Bushtit picture is one you couldn't take if you tried for hours — the tiny bird has just taken flight and fills the frame at close range [the site was the county's historical park just south of Tres Pinos]. The Horned Lark shot is more stereotyped: a singing male on his song post.
The photo below is from the dry eastern side of San Benito County. It is a view back at Panoche Valley from Shotgun Pass (25 Feb 2006).

All photos & text © 2006 Don Roberson; all rights reserved.
TO NEXT COUNTY
TO CALIFORNIA COUNTIES PORTAL PAGE
TO CREAGRUS CALIFORNIA LIST PORTAL PAGE