THE CREAGRUS CALIFORNIA LIST

A personal portfolio: San Diego & Imperial Counties — April 2006

all photos & text by Don Roberson,
all photos taken in California

These are highlights of a trip to San Diego & Imperial counties between 10-14 Apr 2006; all photos taken during that trip:
After a long morning's drive to San Diego County on 10 April, the trip began nicely with the stake-out Thick-billed Kingbird at Del Dios on Lake Hodges (left).

We then stopped at Santee Lakes. There were fewer ducks than we had expected (then again, it was near mid-April), but I was pleased with photos of a wary male Ring-necked Duck (below left) and one of the re-introduced Wood Duck (below right). Rita ticked off several other county birds for her.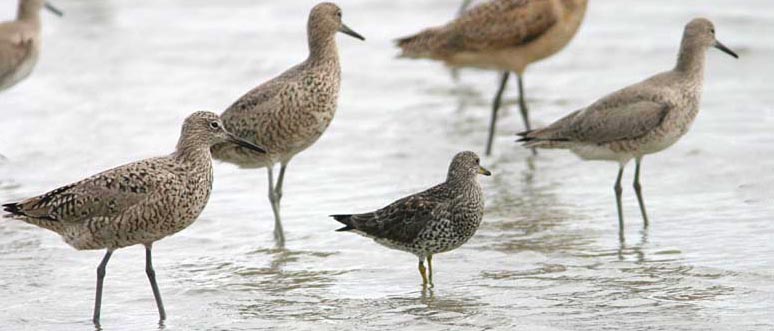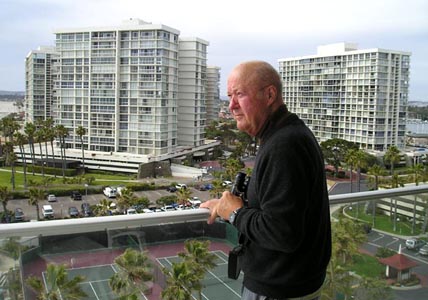 We spent the night as guests of our friends Bill (right) and Mary Rydell, in their highrise condo on Coronado beach. We were surprised to spot, from our 9th floor perch, 7 Surfbird with the flocks of willets and godwits. We ventured down to the ocean front beach for better views (one of them is above). Later, after a fine Mexican meal and several Margaritas, we were treated to a gorgeous sunset over Pt. Loma (below).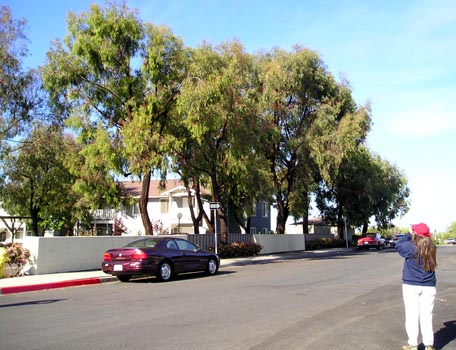 The next morning (11 Apr) we visited south San Diego Bay (above) and the Tijuana River estuary, including a small grove of eucalpts adjacent to the visitor center parking lot (left). Here it was high tide and we saw a Clapper Rail, and then did very well with southern herons. The suburban eucalpt grove had two Yellow-crowned Night-Heron at roost (both adults are shown directly below). The bayshore of the Silver Strand had a feeding Little Blue Heron (second row, below right, unfortunately silhouetted against the light) and while watching it a Reddish Egret flew in and flushed it after a brief interchange (second row, below left, another unfortunate backlit digiscoped shot). All these herons are long-time stakeouts and presumably ho-hum to locals, but for those of us from Monterey County, all were treats. [MTY still lack any YCNH records, and both REEG & LBHE are very rare].
| | |
| --- | --- |
| | At mid-day we struck out on some Pt. Loma vagrants (e.g., Baltimore Oriole) but netted additional new county birds for Rita (among them Pelagic & Brandt's Cormorants at Sunset Cliffs). At San Elijo Lagoon in the afternoon (below), highlights included a migrant Vaux's Swift, singing Yellow-breasted Chat (apparently newly arrived), and California Gnatcatcher (left). The latter, of course, does not get into northern California and this was my first photo of the species. |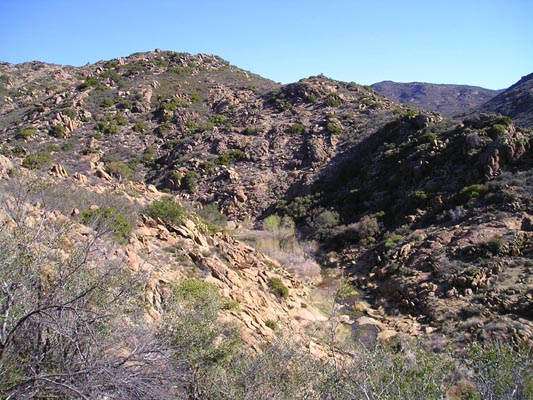 The next morning (12 Apr) we were at Kitchen Creek early, enjoying yet another gorgeous day (it had been steadily raining in Monterey the last couple of weeks). We wandered along the Pacific Coast trail until we had this view down to Kitchen Creek (right). Migrants were scattered throughout the chaparral: male Rufous Hummingbird, Warbling Vireo, Townsend's & Orange-crowned & 'Audubon's' Warblers among them. Returning to our vehicle, we suddenly had two singing Gray Vireo across the street, singing and chasing each other about and acting as they'd just dropped out of the sky. Here also was a male Scott's Oriole and later, at the campground, we heard Mountain Quail (but Black-chinned Sparrows had apparently not yet arrived).

We headed upslope and north to Cuyamaca State Park and found much of the habitat burned from the 2003 fires (habitat at Stonewall Mine, below). Yet there was a good smattering of montane species, and migrants such as Townsend's Warbler and singing Lark Sparrows.

All photos © 2006 Don Roberson; all rights reserved.
Readers may use this material for their own private enjoyment, study, or research but none of the photos or text herein may be used commercially nor may they be reposted on other web sites without written permission. All material is copyrighted.

TO HOME PAGE

TO CREAGRUS CALIFORNIA LIST PORTAL PAGE

Page created 17 Apr 2006