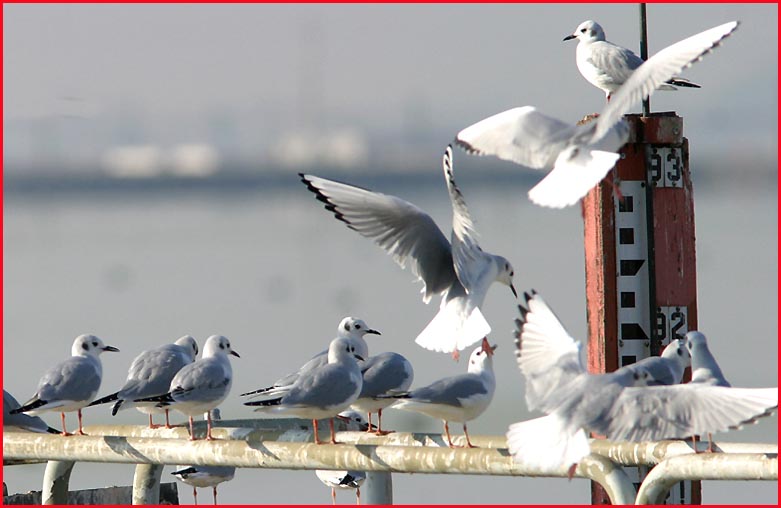 Bonaparte's Gulls
20 Nov 2005 at Stockton wastewater treatment ponds

San Joaquin County is a slice of the upper San Joaquin Valley at the edge of the Sacramento-San Joaquin River delta. It was an original county in 1850 and the boundaries have remained basically the same since then. It includes the rapidly growing cities of Stockton and Lodi but still has rural pastureland to the east. There is a famed Sandhill Crane refuge along Woodbridge Road near Stockton, and also a large wastewater treatment facility at Stockton. Those ponds, and a smaller facility near Lodi, have attracted a wide variety of rare waterbirds over the years. Several suburban parks act as vagrant traps, and there are riparian stretches along the Stanislaus River on the southern border.
County birding statistics and links are on Joe Morlan's site. An introduction to local birding spots in San Joaquin County is on the Stanislaus Audubon site.
For San Joaquin County the focus is on the wintering flocks of Bonaparte's Gulls. Although these dainty gulls are widespread in California in migration, this is a famed spot for large concentrations in winter. In 20 March 1979, Dick Erickson found a Little Gull among the Bonaparte's; I chased it that afternoon and was successful (below left); it was one of the first chaseable Little Gulls in California, and would start a string of nine winters in which the Stockton ponds hosted up to 4 different Little Gulls. That afternoon of 20 March 1979, I discovered an adult Black-headed Gull. That individual would return for 8 consecutive winters (my shot below right is from Oct 1982, during its 5th year of known occurrence). These two species would make the Stockton ponds famous throughout North America.
Below are a couple views of those Stockton wastewater ponds (both taken 20 Nov 2005). The lower shot shows Rita Carratello and Tim Manolis birding the ponds. It is very much a "scope necessary' sort of spot.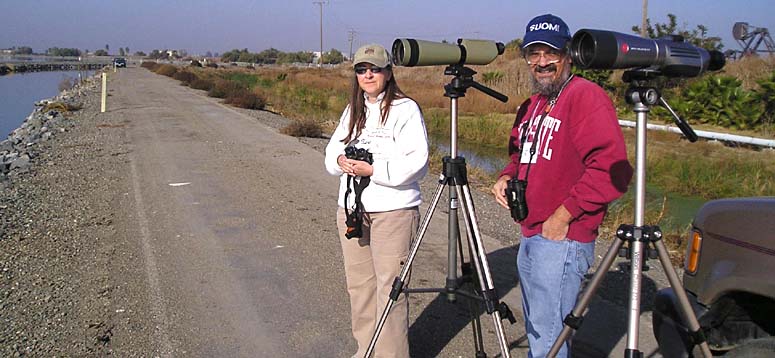 All photos & text © 2006 Don Roberson; all rights reserved.
TO NEXT COUNTY
TO CALIFORNIA COUNTIES PORTAL PAGE
TO CREAGRUS CALIFORNIA LIST PORTAL PAGE