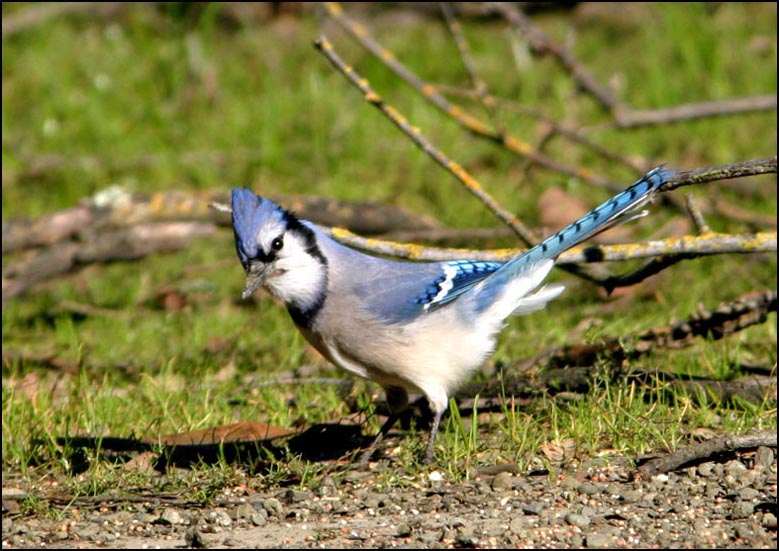 Blue Jay
15 Jan 2006 at Fairfield

Solano County is just a small county in the Sacramento-San Joaquin River delta. It was important historically — it was an original 1850 county and one of the early State capitols was there — but today it seems a monotonous stretch of suburbia. Its boundaries have not changed much in over 150 years. Yet there is fine delta marshland habitat at Grizzly Island reserve, and foothill woodlands in the northeast extend to Monticello Dam and along Putah Creek. There is excellent riparian habitat here. In the southeast, Solano has a bit of the Yolo Bypass bottomland.
County birding statistics and links are on Joe Morlan's site.
For Solano County it a vagrant Blue Jay that headlines my county shots. I've not been here often; it has usually been to chase vagrants. During the remarkable January of 2006, Solano had this Blue Jay, a wintering Ovenbird (below left), a wintering Northern Shrike, and a two-day wonder Snowy Owl (which we missed). I would have never anticipated this selection of rarities to occur in this much overlooked county. Lake Solano County Park, in the oak woodlands along Putah Creek, is a fine birdwatching spot; I shot this White-breasted Nuthatch (below right) there the same day as the Blue Jay and Ovenbird.
Below is a view of Putah Creek below Monticello Dam; Solano County is left of the creek and Yolo County to the right (the road at this point is in Solano; 6 Mar 2005). Here Solano County has foothills, but much of the county is flat, delta bottomland: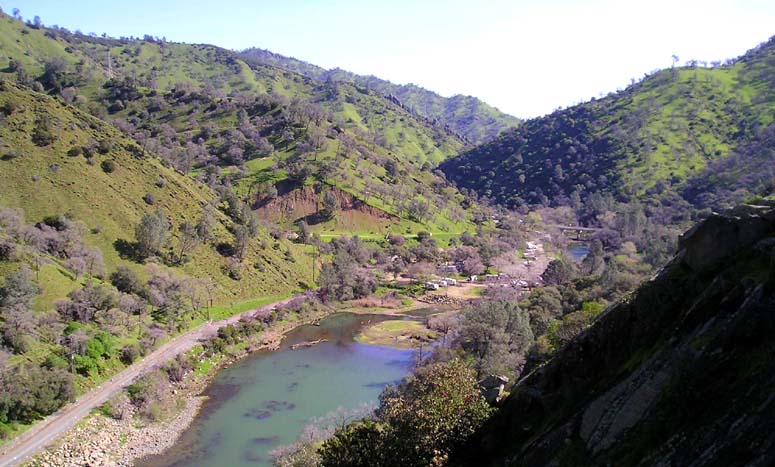 All photos & text © 2006 Don Roberson; all rights reserved.
TO NEXT COUNTY
TO CALIFORNIA COUNTIES PORTAL PAGE
TO CREAGRUS CALIFORNIA LIST PORTAL PAGE