Rita Carratello and I were very lucky to hear about the report of a Harlequin Duck at the Stockton wastewater treatment ponds on the morning of 20 Nov 2005, and we stopped there on our way out-of-town from the Central Valley Birding Symposium. Thanks to David Yee, Kurt Mize, and Margaret [last name not known to us], we were able to arrange access through the gates. Tim & Annette Manolis also arrived at the same time, and we began searching the NE corner of the large eastern pond. I eventually found the bird out near the center of the east end of the pond. It appeared to be actively feeding by picking at the surface gunk, rather as the adjacent American Coots were doing. At one point it stretched its body up and out of the water surface and flapped its wings. I was able to determine that all the wing feathers were in fresh condition, without any evidence of molt in the primaries or secondaries. Because of this, and the otherwise 'female-type' plumage, I believed the duck to be in juvenal plumage. Given that, I don't believe I can assign a sex to this bird. It could be a juv. female or a juv. male.

I was told by Bruce Webb and others who congregated with us that the duck had been very flighty earlier. I didn't see it in flight but had a great back view of the entire stretched wings, as just described. I tried some digiscoping — below are my best two shots:
Although these were taken at quite a distance, one can note the small size — about the size of the coots — and the dainty shape, cocked-up tail, shortish bill, and double white patches on the face. It also had an entirely dark body, including belly and undertail coverts. Oh, and when it flapped its wings, the entire upperwings — coverts, primaries, secondaries — were uniformly dark and matched the same color as the body. I was thus rather surprised when David Yee mentioned in email today that there were some who thought this might be a White-winged Scoter. I've now read the interesting discussion on the Central Valley chat line — what fun! A good controversy with many excellent points made all around. To add to the discussion, here are shots of female-plumaged ducks in Monterey: White-winged Scoter (left below; it is possible this is a juv) and Harlequin Duck (below right; because this remained through summer, we know it was an adult female):
| | |
| --- | --- |
| Dec 1979 © J.M. Langham | 15 May 2005 © D. Roberson |
Among the points to note:
White-winged Scoter has a huge and long bill, at least as long as the width (front to nape) of the head, or longer; Harlequin has a short bill that is much shorter than the width of the head
White-winged Scoter has a huge nail at the bill tip, and the bill is exceeding broad throughout; Harlequin has a more pointed bill without an apparent nail
White-winged Scoter has a big, blocky, flat-topped head; Harlequin has a much smaller head proportionately, with a steeper forehead and more rounded nape
The white patches on the head are in different areas. On White-winged, the front patch is near the top of the base of the bill and extends out in a feathered lobe along the upper mandible while in Harlequin (look at the photo below because this adult female above has more white than younger birds) the front white patch is near the base of the lower mandible, and there is no lobe out the upper mandible. The rear patch is also different, being more petite and well-defined and toward the rear of the head on Harlequin, and well behind the eye, while that on White-winged it is more oblong and more on the cheek, with the front edge basically below the eye
White-winged Scoter has mostly white secondaries; Harlequin has an all-dark wing. The white patch in WWSC exists even in juvenal plumage, per Palmer's Handbook and BWP
Harlequin Duck has a proportionately longer and more pointed tail
Of course these ducks are very different in size and weight, with Harlequin being coot-sized and the scoter being much larger and heavier.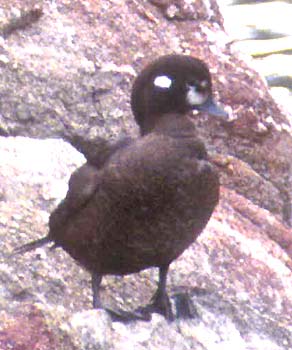 This is presumably the same female Harlequin Duck in Monterey as the swimming bird above, but two years younger: this shot is from Jan 2003. Note that the white spots on the face are much reduced at this younger age: there are actually three discrete spots — the well-defined rear spot, a more poorly-defined front spot at the base of the bill, and a tiny white spot just above and in front of the eye. I don't find this latter spot on any White-winged Scoter photos I have reviewed, but it is apparent on Richard Hall's photos of the Stockton bird.

Note also the entirely dark belly and the all-dark legs. From the literature, it appears that both White-winged and Surf Scoters have dull yellowish to brownish-red legs as young birds (Palmer, BWP). I think Joan Humphrey makes an excellent point.

There are Atlantic and Pacific populations of both species [it is also possible that Old World White-winged Scoters may be split as a separate species in the future]. Palmer gives measurements of Pacific Harlequins of bill lengths from 26-30 mm (avg 27.4, which a a mm longer than the Atlantic avg), and flattened wing lengths as 195-211 mm. Weights of Alaskan adults 520-594 gm. in adult females. Some measurements for Pacific White-winged Scoters (females) are bills 35-41 mm, wings 258-274 mm, and weights of 1548-1700 gm. Thus in body weight, scoters are 3X bigger than Harlequin Duck. Wing length is also much longer in the scoter, but the shortest WWSC female bill was only 5 mm longer than the longest female Harlequin bill. Although generally the difference in bill length is very obvious, perhaps the Stockton bird is on the long-billed side of HADU, which led to some confusion. [Incidentally, weights of American Coot given by BWP range 320-660 gm; consistent with Harlequin but much smaller than a scoter.]

I also believe that Smith's Longspur is ruled out on a suite of characters, including belly color, facial pattern, and details in the upperwing coverts. I rule out Eurasian Skylark as well, on bill color, lack of an eyering, and tertial and back patterns. In addition, I believe the bird's swimming behavior would be very unusual for either a longspur or a lark.

I thus conclude that we saw a juvenal-plumaged Harlequin Duck, a most interesting bird for the Central Valley.