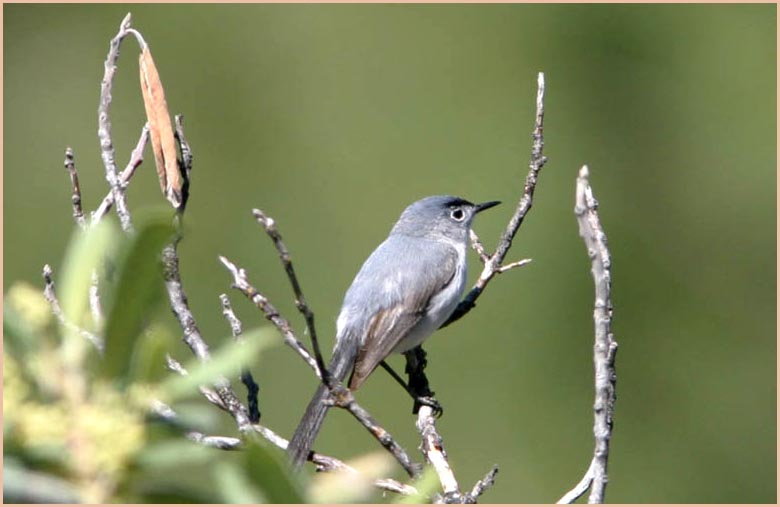 Blue-gray Gnatcatcher
19 June 2006 along Wildwood Road

Trinity County is a rugged, mountainous county in northwestern California. It was one of the original 27 counties in 1850, and much larger back then. But Klamath and then Humboldt counties were created from its coastal areas in 1851 and 1853, respectively, leaving it landlocked. [In 1859 Del Norte took some of Klamath, and in 1979 Klamath County disappeared when Humboldt & Siskiyou expanded.] Most of today's Trinity County is coniferous forest; a fair amount is wilderness in the Trinity Alps and another huge chunk is National Forest land. There is rather little habitat diversity, but there is a huge reservoir (Trinity Lake) in the northeastern quadrant where the Trinity River is dammed. Sometimes there is shorebird habitat in early fall when the reservoir drops. There is also nice birding at Lewiston Lake below Trinity Dam. There are only a few small towns (Weaverville, Hayfork — the latter has grasslands and a wastewater treatment pond) that are connected to the rest of California by long and winding roads. South of Ruth Lake, in the extreme southwest corner, birders can reach the only chaparral within the county.
County birding statistics and links are on Joe Morlan's site.
Since I've only photographed one bird in Trinity County so far, it is pretty easy to make this pick. It's a Blue-gray Gnatcatcher on territory along Wildwood Road in southeast Trinity. There are patches of montane chaparral here among the conifer-clad ridges, at spots where a river is roaring down in the canyon below.
Here's a view of typical Trinity County coniferous habitat, with the Trinity Alps in the distance (Aug 2001):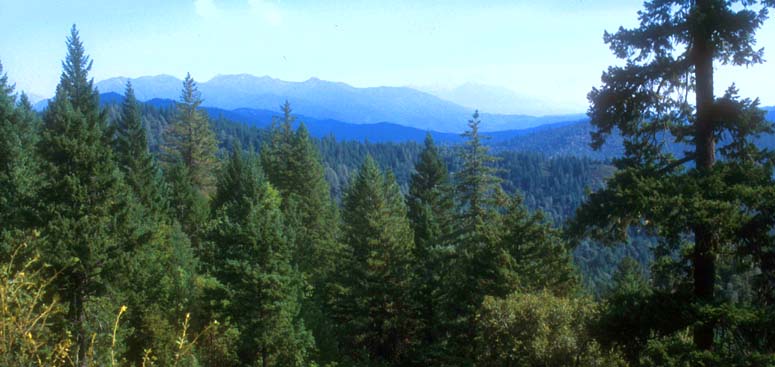 All photos & text © 2006 Don Roberson; all rights reserved.
TO NEXT COUNTY
TO CALIFORNIA COUNTIES PORTAL PAGE
TO CREAGRUS CALIFORNIA LIST PORTAL PAGE