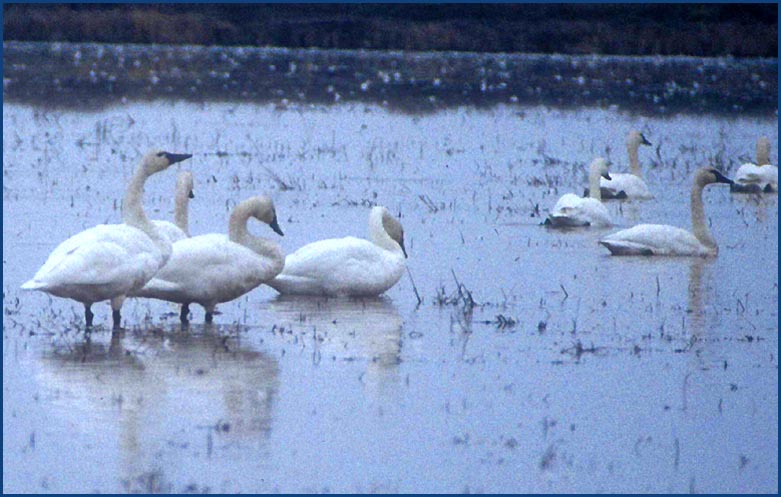 Tundra Swan
26 Nov 2000 in flooded fields north of Marysville

Yuba County is yet another of the many Gold Rush counties in the State. It was an original 1850 county but by 1852 two new counties [Sierra & Nevada] had been carved out of it by mining interest, leaving it a bit of the Sacramento Valley and some foothills. The only town of significance is the county seat, Marysville [strangely enough, the town of Yuba City is in adjacent Sutter Co.]. This limits diversity in the small county, although the (mostly) agricultural bottomlands attract good numbers of waterfowl in winter. There is the usual progression of chaparral, oak woods, and then coniferous forests up the Sierra slope; the county gets as high as about 3900' elev [1200 m]. There are foothill marshes that have Black Rails in summer.
County birding statistics and links are on Joe Morlan's site.
For Yuba County the prime photo is of a group of Tundra Swan in winter; the rice fields north of Marysville host good numbers. I have not birded this county much, and located only two photos from here in my files: the swans and this Varied Thrush (below). Rita and I spent one day (5 Mar 2005) trying to get as high up the Sierran slope as we could in Yuba, until we were finally blocked by snow at ~3300' elev. So we detoured down a side road near Strawberry Valley and this thrush flew up from the roadside and perched briefly in the conifers.
All photos & text © 2006 Don Roberson; all rights reserved.
TO NEXT COUNTY
TO CALIFORNIA COUNTIES PORTAL PAGE
TO CREAGRUS CALIFORNIA LIST PORTAL PAGE